Rice Will Appeal Indefinite Suspension: Reports
@AFP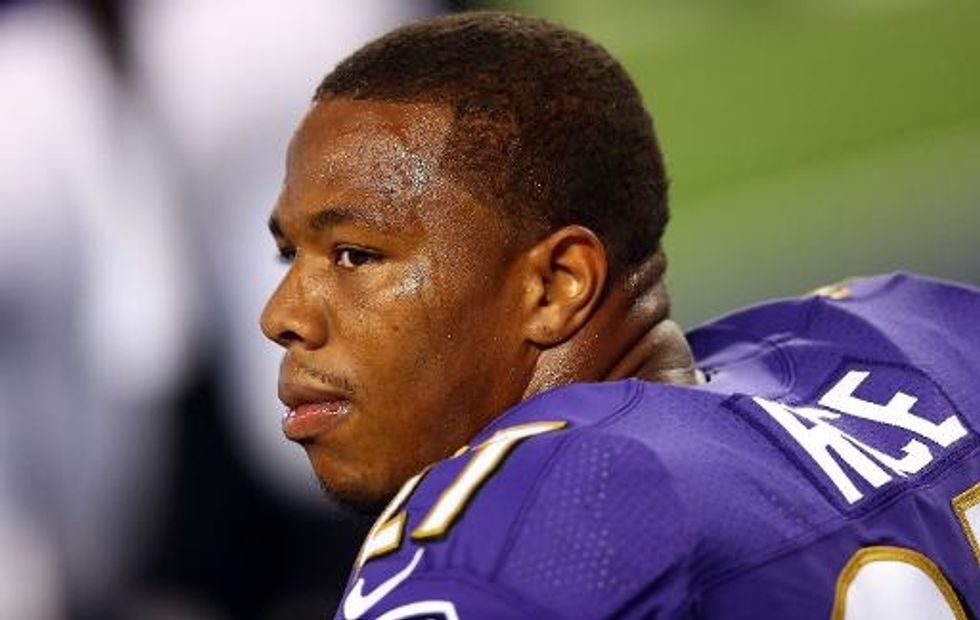 Baltimore (AFP) — Ray Rice, the National Football League star banned indefinitely after video of him knocking out his then-fiancee surfaced, will appeal the suspension, according to multiple reports.
NBC, the Baltimore Sun and ESPN on Sunday reported that Rice, a star running back who helped the Baltimore Ravens win last year's Super Bowl, would challenge the indefinite ban handed down by NFL commissioner Roger Goodell shortly after the Ravens fired Rice last Monday.
The same day, an Atlantic City casino elevator video revealed by TMZ showed Rice swinging a brutal left-hand punch that knocked Janay Palmer unconscious last February.
Rice avoided jail time on domestic violence charges from his brutal punch by agreeing in May to a pre-trial intervention program.
Goodell, who has guided the NFL since 2006, imposed only a two-game ban on Rice in July, one that drew widespread criticism as too lenient.
Last month, Goodell said he had made a mistake and toughened future NFL penalties for domestic violence.
But after imposing the indefinite ban, Goodell said any team wishing to sign Rice must come to Goodell first.
Rice is expected to argue "double jeopardy," that he is being punished twice for the same rules infraction.
The NFL Players Association will push the appeal in part to establish a process and punishment terms under Goodell's recent plan to toughen such penalties for domestic violence.
The union has until late Tuesday to file an appeal, a deadline set by Friday's letter from Goodell to the union outlining the reasons for the tougher punishment on Rice, whose original ban would have ended Friday.
Goodell has said that the video showed details substantially different from the account Rice gave of what happened in the elevator when he spoke to Goodell about the incident.
Goodell says no one at the NFL saw the video although reports that the video was sent to the NFL prompted the league to have an independent investigator, former FBI director Robert Mueller, look into the matter.
Mueller will have access to all records and employees of the league, Goodell said, and the probe will produce a public report.
Critics have questioned the oversight role for the probe of two NFL team owners who are attorneys, Art Rooney of the Pittsburgh Steelers and John Mara of the New York Giants, both past supporters of Goodell.
Losing his job with the Ravens cost Rice the remaining $10 million on his contract.
AFP Photo/Ronald Martinez
Interested in more national news? Sign up for our daily email newsletter!