Is Rick Santorum In Business With 'The Devil?'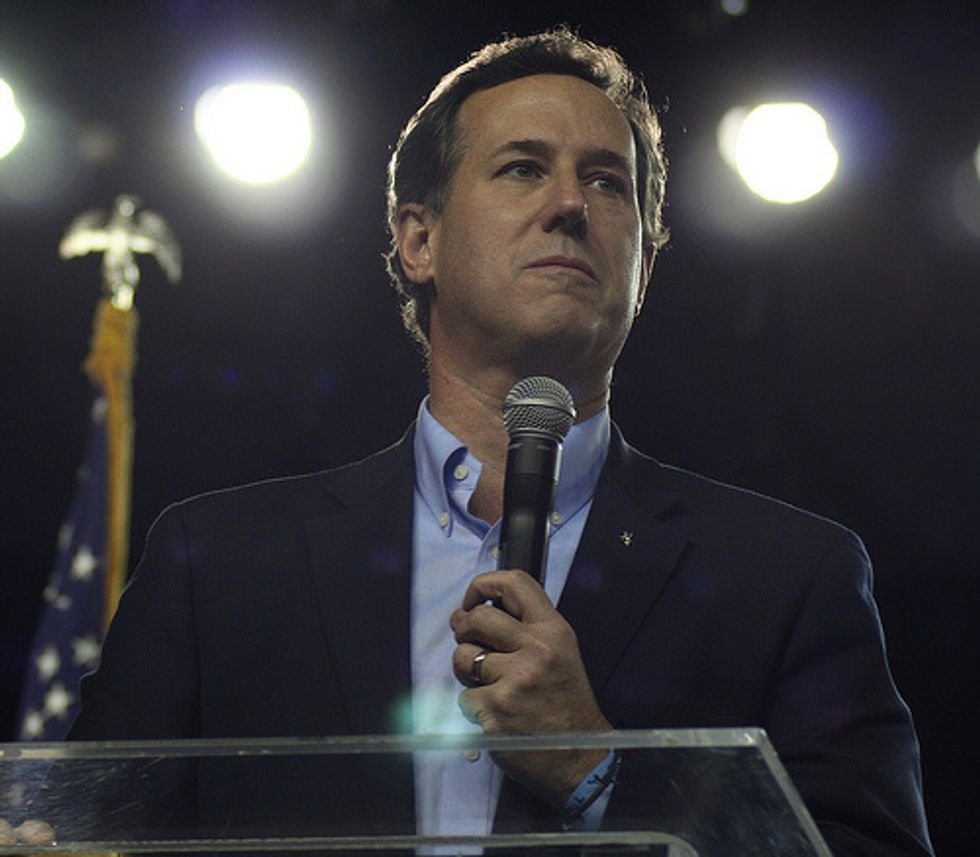 Former senator Rick Santorum (R-PA) was in full rant mode. His message, while hyperbolic, spoke directly to those who tuned in: The Devil runs show business, and this has to be stopped.
"This is a tough business, this is something that we're stepping out," Santorum said to supporters who dialed in to the live web event last October, "and the Devil for a long, long time has had this, these screens, for his playground and he isn't going to give it up easily."
Now, as CEO of EchoLight studios, Santorum has made it his business to promote a Christian message and provide an alternative to the sex, violence, and sin pervasive in Hollywood. What Santorum and other executives at EchoLight are not touting, however, is that one EchoLight manager has provided a Devil's playground for years with another production company.
Santorum has said he was introduced to EchoLight when someone mentioned the company as a possible investment opportunity while then-candidate Santorum was campaigning in Texas. "I was interested, and the more I got involved, well, they offered me the CEO position this past summer," Santorum told the National Catholic Reporter.
Prior to ushering in Santorum as CEO, other executive changes were taking place at EchoLight.
According to documents on file with the Texas secretary of state, with unanimous "written consent of the members of the Company" Jacob M. Hilton was replaced by Gen Fukunaga as manager of EchoLight on October 29, 2011.
This was, no doubt, a wise business move. Fukunaga is an extremely successful television producer, who founded the anime company FUNimation in 1994 (Fukunaga describes himself as CEO and founder of FUNimation here). FUNimation became extremely successful when it brought popular Japanese anime shows like Dragon Ball Z to North America for the first time.
Aside from harmless shows like Dragon Ball Z, FUNimation is also responsible for distributing more adult content in the United States. It's not unfair to label some of the shows distributed by FUNimation as overtly sexual, if not patronizing and degrading to women. This clip (slightly NSFW), for example, is a "Quickie" from the "FUNimation Show," a YouTube series produced by Fukunaga's company.
Other adult shows brought to North America by Fukunaga's FUNimation include the racy Panty & Stocking with Garterbelt. FUNimation's website describes the show as follows:
Panty and Stocking are nasty angels who were banished from the pearly gates for being foul-mouthed bad girls! Now they spend their days hunting ghosts in the lecherous abyss between Heaven and Earth. Panty likes sex, Stocking likes sweets, and their afro-sporting main man Garter Belt has a fetish we can't mention. Together, they're keeping the streets free of bodily fluids!
Other adult anime shows like Girls Bravo are also distributed in North America by FUNimation. In one particularly graphic sexual scene of Girls Bravo, a young female character simulates oral sex on a banana while a male onlooker experiences sexual gratification by watching. The scene is, by any measure, downright pornographic.
Ironically, Santorum is on record claiming that television can directly influence culture as a whole. In 2013, he was taped explaining why he believes the TV show Will & Grace led the country to accept gay marriage. "One program on television started to change things and that is Will & Grace," the former senator said at a CPAC conference.
So have FUNimation shows led to the degradation of society? By Santorum's standards, yes.
Shows like Panty & Stocking with Garterbelt, for example, have inspired young girls to dress up like the cartoon characters and post seductive photos of themselves on web forums like Reddit. (There's also a fair amount of X-rated fan art on the web).
Obviously, in light of the evidence, it's no surprise that people are wondering: Is Rick Santorum in business with the very devils he sought to exorcise from the industry?
(Rick Santorum's Patriot Voices and EchoLight did not respond to requests for comment on this story.)
Matt Wansley via Flickr