Rick Scott Backs Off Medicaid Expansion Days After Announcing Re-Election Bid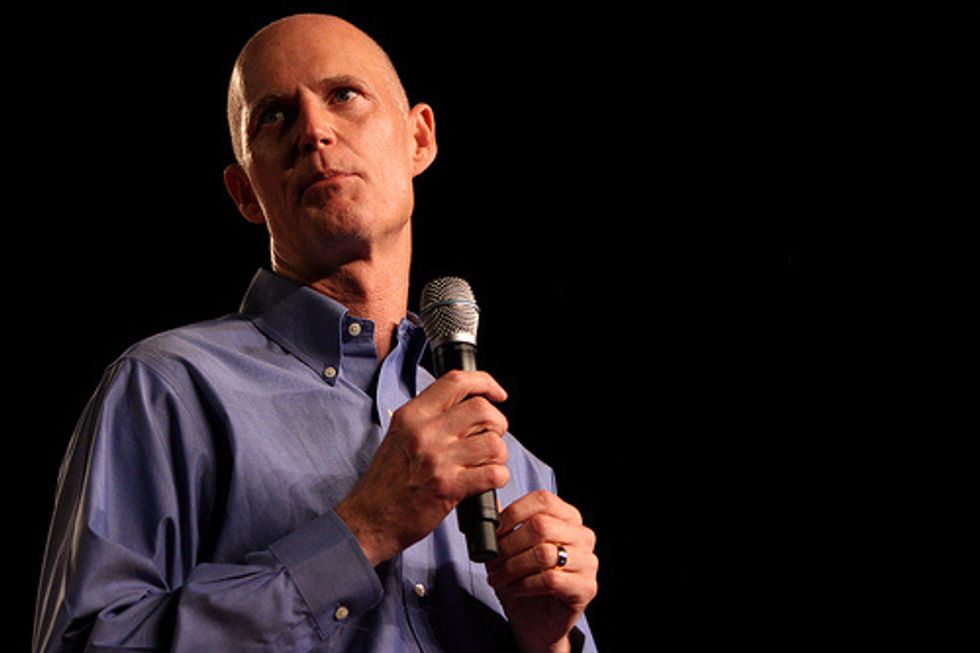 Just after making his 2014 re-election campaign official, Florida governor Rick Scott (R) appears to be backtracking on Medicaid expansion, avoiding questions concerning his past support on the expansion of the program in his state.
During an appearance on Wednesday, reporters asked the governor if Florida would pursue federal funds available through the Affordable Care Act to expand the state's Medicaid program.
Scott ignored the question and instead focused on criticizing the health care reform law, which he says will cause "300,000 people in our state" to lose their insurance before the new year.
The comments echoed those made just a day before, when Scott dodged another question about expanding Medicaid, saying that "the biggest issue we're dealing with right now" is the health care cancelations he says people in his state are "concerned about."
"On top of the fact you see the plans that have been proposed, they have high deductibles, so I'm concerned about cost, quality, and access to health care, that's our biggest problem right now," Scott said.
The comments hint that Scott is now retracting his support for Medicaid expansion – a stance he surprisingly took earlier this year when he said that he would accept Obamacare funding to expand the program for low-income Americans in his state.
Even though $51 billion in federal funds are available for Florida, the state's GOP-controlled legislature refused to pass a budget that included funding for Medicaid expansion.
At the time, Scott declared that "while the federal government is committed to paying 100 percent of the costs, I cannot, in good conscience, deny Floridians who need access to healthcare."
Scott's most recent change of heart is not too surprising now that his re-election bid is official, but it does offer his Democratic challenger — and former Florida Republican governor — Charlie Crist a point of attack.
Considering that Florida has the second-highest uninsured rates in the nation, Medicaid is especially important to constituents, specifically the approximately 850,000 Floridians who do not qualify for subsidized insurance under the federal law, but also do not qualify for Medicaid.
Without an extension of the program, those 850,000 low-income Floridians will continue to go uninsured.
The entire state also stands to lose should Scott decide to reject federal funds to expand Medicaid; a report released by the Commonwealth Fund finds that not extending the program — which "generates a net loss of federal funds" — will cost Florida taxpayers over $5 billion by 2022.
Photo: Gage Skidmore via Flickr
Correction: According to the Commonwealth Fund, rejecting Medicaid expansion will cost Florida over $5 billion by 2022, not $9.2 billion as this post originally stated.