Right-Wing Media Scramble To Recast Obama As Trump-Era Villain
@EricBoehlert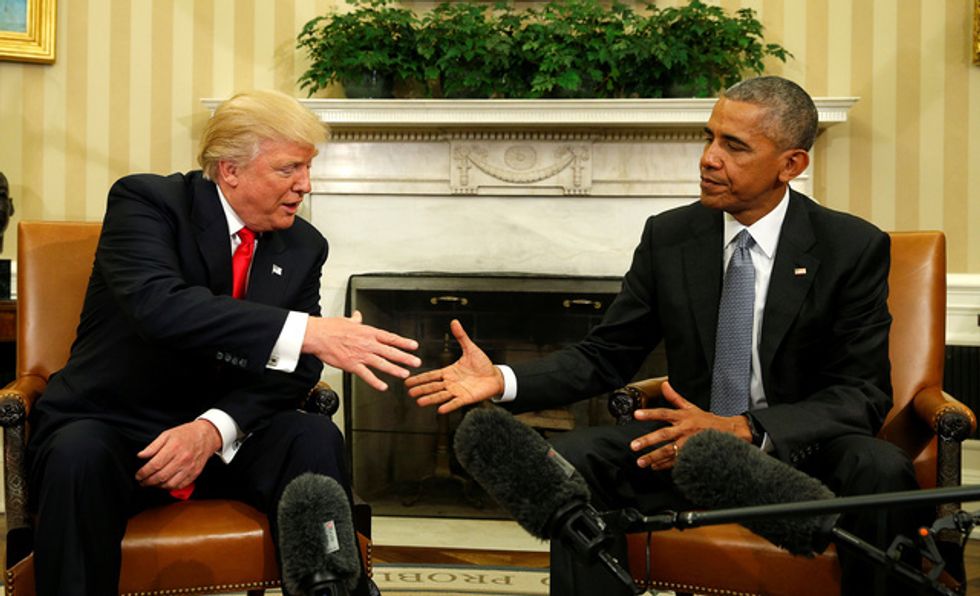 Reprinted with permission from Media Matters for America.
In science, nature abhors a vacuum. On cable news, Fox News abhors not having a Democratic villain. So the network is trying to bring back former President Barack Obama for the starring role.
Desperately searching for someone with a high profile to blame for the generally chaotic start of Trump's controversy-filled administration, the conservative media are refitting the former Democratic president, who has kept a low profile since exiting the White House, as an all-powerful gremlin who's to blame for Trump's laundry list of political woes.
And now, of course, Trump has seized on the right-wing media theme. Brandishing little more than a right-wing radio rant that was typed up by Breitbart, Trump over the weekend made the wholly unsubstantiated, and nonsensical, claim that Obama ordered a wiretap at Trump Tower. Trump then demanded that Congress investigate the alleged abuses. (Surprise! Trump's right-wing media allies support the call.)
The burgeoning blame game started last month with allegations that Obama was responsible for the big crowds protesting Trump's presidency. (He wasn't.) Since then, the allegations have widened, and now Obama is viewed as some sort of all-powerful troll who's mysteriously capable of disrupting all factions of the Trump administration.
But let's take a step back and understand what's also going on: The right-wing media cannot survive without high-profile liberal villains who can be used to rile up the Republican masses. For the previous eight years, Obama was portrayed as an almost demonic figure bent on destroying the American way of life. And for the last two years of Obama's term, Hillary Clinton received co-star status as America's Villain on Fox News and in other right-wing media, which denounced her every move, real or imagined, as an outrage.
Being outraged, and especially being outraged about made-up things, has been a signature of the far-right press for years. It certainly defined the Obama era, blossoming into Fox News' entire programming blueprint. Fox News posted huge profits each year by overreacting to imagined Obama slights. (Remember when Obama disrespected the Oval Office by putting his feet on his desk, watched too much sports television, was too mean to Republicans, and ordered too fancy a mustard on a burger?)
But with Republicans now controlling the White House, the Senate, the House, and possibly soon the Supreme Court, it's getting hard for Republicans to focus on a single villain. (Can Trump's failures really all be blamed on the House Minority Leader Nancy Pelosi?)
So Fox News and friends have for weeks been trying to drag Obama out of retirement for the top role of Democratic scoundrel. Even though Obama has remained mostly silent since Trump was sworn in, he has been denounced as a devilish figure and used to rile the GOP base.
Today, from Fox News to the National Enquirer, from Alex Jones to Rush Limbaugh, the rallying cry is emerging: Barack Obama is an omnipotent force who's obstructing and dooming Trump's agenda.
Here wasNew York Post writer Paul Sperry frantically sounding the Obama alarms on Alex Jones' conspiratorial radio show, according to a transcript from the Austin American-Statesman (emphasis added):
"Forget about Hillary, Hillary's gone. His main concern right now is Obama. I mean the guy's set up a bunker down the street from the White House..He's got a mansion. He's got an office. OFA, the Obama Foundation he's setting up. He's got his own chief of staff, press secretary. He's setting up his own shadow White House, just within two miles of the White House .. This is something on the order of a civil war here."
Jones was a believer: "And I agree with you, at a gut level I am more concerned about this than anything I've seen in 20 years on air."
The right-wing Daily Mail has also been issuing the warning, insisting that "Obama's goal is to oust Trump from the presidency either by forcing his resignation or through his impeachment" and that Obama's new Washington, D.C., home was being turned "into the nerve center of the mounting insurgency against his successor."
Politically, why the urgent need from the Trump loyalists in the press to bring back Obama, and his allegedly conniving cohorts, just weeks after he left office? Because there has to be an explanation for why Trump and his administration have suffered such a chaotic first few weeks, why they have sparked so many controversies and experienced so many early losses. There must be an explanation for why Obamacare hasn't been repealed, why the White House travel ban was overturned by the courts, and why Trump is so deeply unpopular.
Yes, the White House has declared war on the press, but that blame game doesn't really address Trump's endless political setbacks. So the default explanation has become "It's Obama's fault." That, and his all-powerful "shadow government." (He's kinda like George Soros, but with Secret Service protection.)
By elevating the supposed looming, off-stage threat of Obama, the right-wing media also allow Trump to play the perpetual victim.
What's funny is that while Obama has remained mostly mum about his successor, it was former Republican president George W. Bush who made headlines last week when he seemed to voice concerns about Trump's presidency.
FromTheNew YorkTimes:
"Former President George W. Bush implicitly criticized President Trump on Monday, taking issue with his approach to immigration and the news media, and suggested that any ties between the new president's team and Russia should be investigated."
Today, there's no evidence to support right-wing media claims that Obama has turned his home into an anti-Trump "nerve center," or that he's marshaling the forces of his "shadow government" to overthrow the administration. But there is plenty of proof that Obama's living rent-free inside the heads of Fox News pundits.
IMAGE: Barack Obama meets with Donald Trump in the Oval Office of the White House. REUTERS/Kevin Lamarque