Right-Wingers In Dizzying Spin To Explain Away Kansas Abortion Vote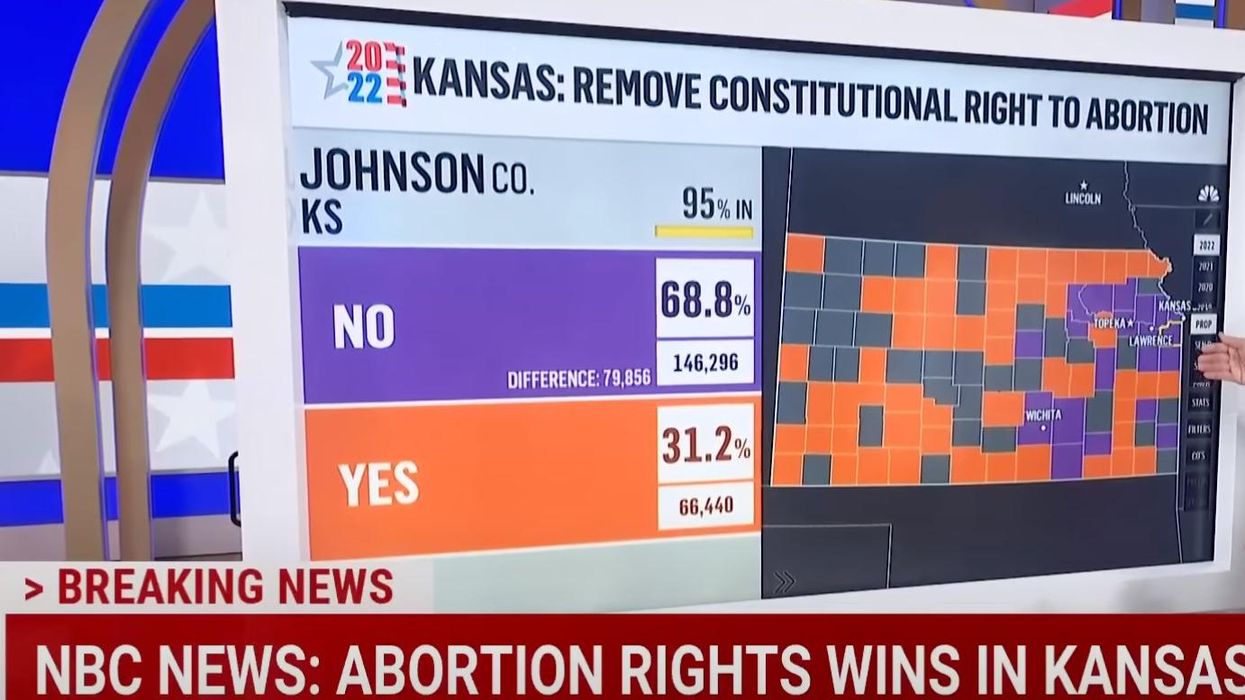 Youtube Screenshot
The political world is still digesting Tuesday's referendum vote in Kansas, where voters resoundingly rejected a proposed amendment that would have removed constitutional protections for abortion rights in this Republican-dominated state. The final result was not even close, with the pro-choice side winning 59 percent of the vote in the first direct political test of abortion rights since the Republican appointees on the Supreme Court overturned Roe v. Wade over a month ago.

The referendum received high turnout despite being scheduled during a summer primary, which typically should have favored conservatives in this red state. In fact, a large number of independent voters participated in the referendum outside of the party primaries, while NBC News elections expert Steve Kornacki has estimated that at least 20 percent of Republican voters opposed the amendment. The referendum's defeat also occurred despite weeks of national and local media coverage that has often platformed anti-abortion advocates with little pushback.
Right-wing media outlets are still figuring out how to spin this.
Blaming it on campaign money — and on their own unpopular position
As the results were coming in Tuesday night, Fox News contributor Mollie Hemingway, who is also editor-in-chief of right-wing site The Federalist, first attempted to spin away the looming political defeat by chalking it up to the notion that "so much money was spent by hardcore abortion supporters."
Hemingway also seemingly conceded that her side did have a political problem, though, when she said that "pro-life initiatives do much better when they're incremental." At the same time, she said that there would be continued work for years in fighting "the scourge of abortion," implying that even incremental restrictions would only be a political means toward a hardline end.
Hemingway's employer, The Federalist , also published a piece in which writer Michael J. New declared "supporters of legal abortion can almost always outspend pro-lifers," and claimed that the main campaign organization for the "No" side had outspent its anti-abortion counterpart "by over 1 million dollars." The linked article that New provided did not say that , instead putting the main pro-choice group's spending edge at under a half-million dollars.
The latest media reports indicate that campaign spending on both sides was nearly even , when all allied and outside groups were added together. With more than $12 million spent in total on a hotly contested campaign, any narrow advantage for one side or the other certainly can't just explain by itself an 18-point margin.
Similar to Hemingway, New also wrote that in order to succeed, "the pro-life policy change must be popular, incremental, and difficult to caricature." This might come as a surprise to anyone who usually reads The Federalist, as the site typically promotes absolutist bans of abortion and prosecution of patients seeking them.
Conservatives explain this is just democracy in action — and it's "too soon" for that
Another talking point now emerging is that the Kansas result actually vindicates the decision of the Supreme Court's Republican-appointed majority to overturn Roe . This idea, which popped up in June, was that the Supreme Court did not directly make abortion illegal, but instead turned abortion bans into a matter of legislation for the states that voters can directly reject themselves. The pitfall for conservative media in pushing such a view is that this proposition can only be borne out by Republican candidates losing elections, or for their extreme positions to lose via direct democracy in referendum votes.
The logical problem here can perhaps be illustrated by two tweets from right-wing commentator Erick Erickson. In a tweet Tuesday night, Erickson wondered if the referendum proposal by Kansas Republicans and anti-abortion activists had not gone far enough and thus turned off some of their own supporters by leaving room for some abortion exceptions. But by the morning, Erickson had switched gears to now say that the Kansas result had really been the intended outcome of the Supreme Court's decision:
On Fox Business' Mornings with Maria Bartiromo , Fox Business anchor Dagen McDowell also argued that the Supreme Court's decision had been "a return to democracy," as illustrated by Kansas voters.
"So, that all blows up the Democrat narrative of 'the Supreme Court is destroying our democracy,'" McDowell said, adding, "And in fact, they're saving it."
On Fox's America's Newsroom , former Trump adviser Kellyanne Conway likewise claimed "this is exactly what the Dobbs decision designed the next steps to be, which is kick it back to the states, let the people decide." She then added that it "may be too soon" to impose abortion restrictions on the ground that "emotions are raw, confusion is deep."
Citing increased donations to Planned Parenthood since the Dobbs decision was handed down, Conway said that "people are concerned that we've gone from all abortion anywhere, any time, anywhere, essentially under Roe , to nothing in some of these states. So, it may be a little too soon for that." (Conway's political talking point here was absolutely false, as plenty of restrictions on abortion existed for decades under Roe .)
Conway made the seemingly useful point that simply looking at states as red or blue was "not really respecting the diversity of opinion" and the people of those states. She then added, "But maybe it's a little too soon for some voters to be going to the ballot box and saying no to abortion."
The problem with such a complaint is that under America's constitutional system, people are going to the polls this year. Regardless of whether some people think it might be "too soon" to face the political consequences of their own positions, the time for voting on important issues like the future of abortion rights is now.
Reprinted with permission from Media Matters .