RNC Chair Decries 'Nepotism' — But Trump Likes It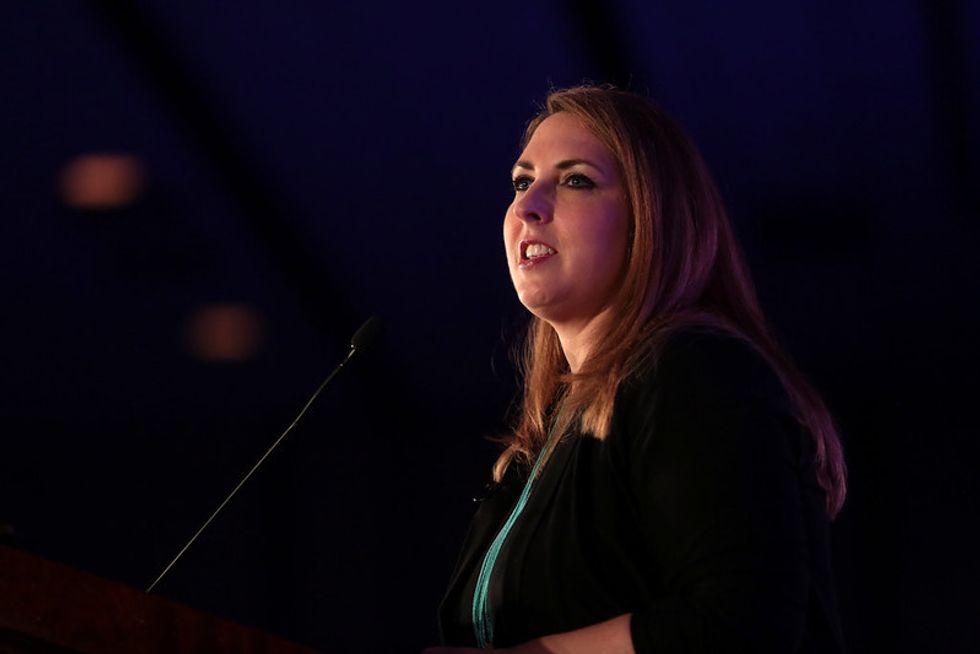 Reprinted with permission from Alternet
GOP Chairwoman Ronna McDaniel earned widespread mockery on Tuesday after she went on the attack against former Vice President Joe Biden's son Hunter.
Hunter Biden has faced scrutiny for his involvement with a Ukrainian oil company while his father served as vice president, who conducted diplomacy in the region. Hunter Biden gave something of a defense of his actions in a new interview with ABC, though he conceded he showed "poor judgment" by working with foreign companies while his father was in office.
McDaniel pilloried Hunter, but in doing so, she opened herself up to predictable accusations of hypocrisy:
Let me get this straight…

Hunter Biden got $50K a month from a Ukrainian energy company, despite having ZERO experience in energy.

His justification?

That he was also on the board of Amtrak – more obvious nepotism.

If that's not the swamp, I don't know what is!

— Ronna McDaniel (@GOPChairwoman) October 15, 2019
Of course, people were quick to point out that McDaniel herself had undeniable family connections to power:
Says one of Trump's most loyal minions, who is HERSELF a daughter (Mitt's sibling), granddaughter (of George) and niece (of Mitt) of Privilege. #WhitePrivilege is real. Tragically, those who benefit from it most, never ever admit that they have. #MsRomney #RonnaRomneyMcDaniel https://t.co/CjmoLxsIQ1

— Sophia A. Nelson (@IAmSophiaNelson) October 15, 2019
Just today, I have seen Donald Trump's son, Ron Paul's son and Mitt Romney's niece speak out forcefully about how bad it is to use family connections to advance your career.

— Kevin M. Kruse (@KevinMKruse) October 15, 2019
It also became clear that, though the GOP appears to be barreling forward with an anti-nepotism line for the 2020 campaign, such an argument can easily backfire. Hunter Biden's family name and connections to power almost certainly were the reason he had access to cushy and lucrative jobs, and this status quo is certainly objectionable on its own. But the problem is widespread in American society — and Hunter is far from the most egregious example. The most notable example is President Donald Trump himself — who is wealthy only because of his father's achievements — and his own children working in the White House and at the top of the Trump organization.
As NBC News' Vaughn Hillyard pointed out, Trump himself has previously explicitly defended his own nepotism:
Trump to Larry King in 2006: "I like nepotism. I think, you know, a lot of people say, 'Oh, nepotism.' Usually these are people without children. But I like nepotism." https://t.co/wWVCavAiog pic.twitter.com/8YbkLbmJZu

— Vaughn Hillyard (@VaughnHillyard) October 15, 2019
And while there's been no proof that, in addition to the troubling fact of Hunter Biden profiting off his connections, the Bidens were actually involved in outright corruption, the Trump family's conflicts of interest and opportunities for corruption are myriad. While Ivanka Trump and her husband Jared Kushner work in the White House, jobs they obviously only have because of their family ties to the president and an apparent loophole in anti-nepotism laws, they have been profiting from their own international business dealings. Trump himself and his sons Eric and Don Jr. have, too, been profiting internationally during the Trump presidency as well, creating a vast web of conflicts of interest that are not yet fully understood. And that doesn't even account for all the ways Trump uses government funds to funnel money to himself through his businesses as president.
And while McDaniel wanted to focus on Hunter Biden, she has heaped praise on Ivanka, despite the fact that she occupies an inherently more corrupt position obtained through even more blatant nepotism:
Great to see a spotlight on @IvankaTrump's #WGDP initiative at the G-20 summit!https://t.co/gNBFNZOouF

— Ronna McDaniel (@GOPChairwoman) June 29, 2019
She even praised Ivanka while attacking Rep. Alexandria Ocasio-Cortez — despite the fact that the New York Democrat earned her place in Congress through aggressive campaigning, rather than riding on a famous family name:
In case Ocasio-Cortez wants to compare records:@IvankaTrump championed a 100% increase in the child tax credit that's saving families $2K a year.

AOC's biggest legislative accomplishment?

Writing a socialist plan that would require a 100% tax rate on any family earning $30K+

— Ronna McDaniel (@GOPChairwoman) July 1, 2019