Roger Stone Shrieks As January 6 Panel Scrutinizes Seditious Conduct
@next2godwin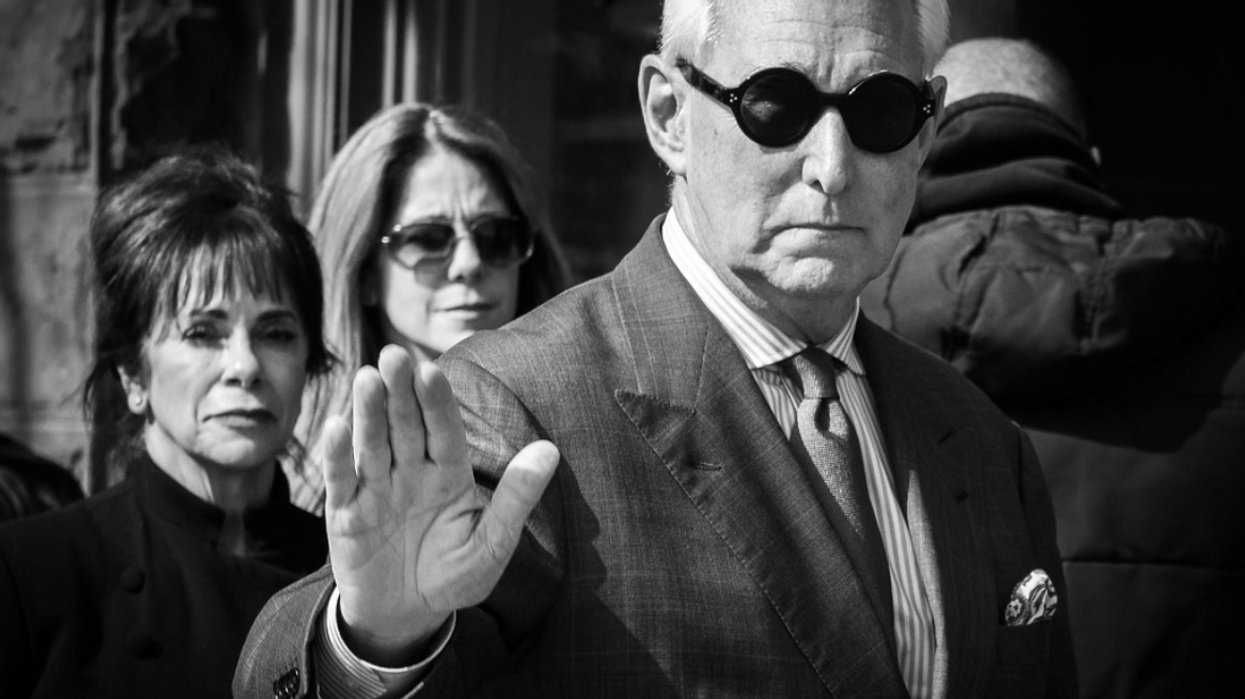 The House Select Committee emerged from its summer hiatus and saw out its ninth — and possibly last — hearing in a rather dramatic fashion, voting to subpoena former President Trump and calling the bluff of his longtime ally, Roger Stone.
Some three weeks ago, the select committee teased more stunning revelations about Stone after reports emerged that its investigators had traveled to Denmark to review crucial footage recorded by a Danish film crew that shadowed the Republican operative for two years, including on January 6, 2021.
Stone dismissed the reported trip as a wild goose chase that would turn up "no evidence of wrongdoing." However, the committee delivered on its promise, airing in its high-profile Thursday hearing a previously unseen video of Stone that paints a clearer picture of his role in the January 6 attack.
In the first video clip, Stone is seen spelling out plans, in a blaze of obscenity, to hijack the election if Trump lost.
"Let's just hope we're celebrating," Stone said in a video clip. "I really do suspect [the 2020 election results] will still be up in the air. When that happens, the key thing to do is to claim victory. Possession is nine-tenths of the law. No, we won; fuck you."
\u201cRecently, the Select Committee obtained footage of Roger Stone before and after the election.\u201d

— January 6th Committee (@January 6th Committee) 1665682589
In another clip, Stone cheered the prospect of post-election violence, saying, "I say fuck the voting, let's get right to the violence. We'll have to start smashing pumpkins, if you know what I mean."
While the select committee aired the clip to the American public, Stone had a meltdown on Telegram, excoriating the congressional panel for its shocking exposé.
"In 2000, when the Bush v. Gore election was still in doubt James A. Baker III urged Bush to claim victory, which he did and was hailed as a genius," Stone ranted. "When I said Trump should do the same thing (in public but not to either Trump or anyone around him) and I am accused of criminal conduct. Total BS."
According to The Daily Beast, Stone attempted to mock the select committee by posting the photo of an empty hamburger bun, implying its hearing was nothing more than a "nothing burger."
"All I've seen in today's Jan 6 Committee is guilt by association," he declared. "The fact that I know or have met someone is most certainly not evidence of criminal conspiracy. If the committee has actual proof and content of communication between me and any one charged with a crime, they should produce it."
The select committee had produced such evidence of communication in its previous hearings and did so again on Thursday in a brutal rebuke of Stone, whom Rep. Zoe Lofgren (D-CA) described as "a political operative with a reputation for dirty tricks."
"In November 2019 he was convicted of lying to Congress and other crimes and sentenced to more than three years in prison… Mr. Trump pardoned Roger Stone on 23 December 2020," Lofgren added.
The select committee reiterated Stone's ties to right-wing militias Proud Boys and Oath Keepers, several members of which had pleaded guilty to seditious conspiracy charges concerning the January 6 insurrection.
\u201cJan 6 Committee lays out Roger Stone\u2019s connections with members of the Proud Boys and Oath Keepers, several members of which have been charged with seditious conspiracy in relation to the attack on the Capitol.\u201d

— nikki mccann ram\u00edrez (@nikki mccann ram\u00edrez) 1665683427
The FBI disclosed in May that the longtime Trump confidante had communicated with the Oath Keepers in the days leading up to January 6, and a contingent of the armed members of the Oath Keepers was seen with Stone on January 6, acting as his security team.
The California Democrat, in a rather somber tone, also spoke of Stone's inner-circle efforts to overturn Joe Biden's victory.
Stone, Lofgren said, "apparently knew of Mr. Trump's intentions" to reject the election results in the event of his loss and pitch to the then-president the sinister idea to appoint a special counsel to "ensure those who are attempting to steal the 2020 election through voter fraud are charged and convicted and to ensure Donald Trump continues as our president"
Incensed by the trove of evidence laid out by the select committee, some of which were obtained from the film crew, "The Ark," led by Danish filmmaker Christoffer Guldbrandsen, Stone threatened to take his grievances, and Guldbrandsen, to court.
"Danish filmmaker Christoff Guldbranson [SIC] looks quite unhealthy having put on quite a bit of weight," Stones wrote on Telegram, displaying a knack for personal insults characteristic of the Republican party.
"He's already had one heart attack and he's going to have another one when I win a $25 million judgment against him for defamation. You can't just accuse people of crimes in the United States without actual evidence. In various media interviews he has accused me of crimes which his documentary do [SIC] not prove. He will soon be able to tell it to a Florida judge," Stone added.