Roger Stone Says He's In Communication With The White House About The Seth Rich Lawsuit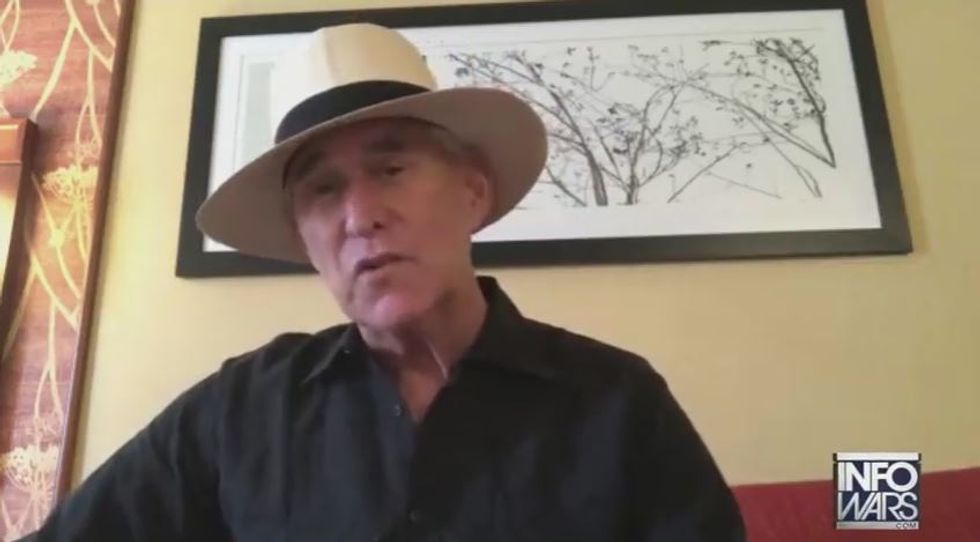 Reprinted with permission from MediaMatters.
Roger Stone is doing damage control following the filing of a lawsuit alleging a scheme by Fox News and Trump administration officials — including possibly the president himself — to use the murder of Democratic National Committee staffer Seth Rich to absolve the Trump campaign of accusations it coordinated with Russia.
During an appearance on Alex Jones' conspiracy theory program, Stone said that officials he has spoken to at the White House are calling the lawsuit "bogus" and that he thinks the lawsuit will be dismissed "summarily."
NPR reported on August 1 on a defamation lawsuit filed by Fox News contributor Rod Wheeler against 21st Century Fox, Fox News, Fox News reporter Malia Zimmerman, and frequent Fox guest Ed Butowsky.
Wheeler alleges that Zimmerman published fake quotations attributed to him in a since-retracted May 16 story about Rich, and that Trump administration officials, including the president himself, were involved in crafting the story. The retracted story suggested that Rich, rather than Russia, provided WikiLeaks with emails stolen from the Democratic National Committee.
Former White House press secretary Sean Spicer acknowledged to NPR that he did meet with Butowsky and Wheeler prior to the story's publication. The lawsuit also alleges that Trump himself reviewed the Zimmerman story before it ran.
Rich was murdered in Washington, D.C., in July 2016 in what local police believe was a botched robbery attempt. Conspiracy theories began spreading within weeks of Rich's death and percolated throughout fringe right-wing media for nearly a year before finally exploding into the national conversation thanks to Fox News host Sean Hannity, who continuously hyped Zimmerman's May 16 report.
During the August 1 broadcast of conspiracy theory program The Alex Jones Show, Stone, a longtime Trump adviser, said, "My sources at Fox and my sources in the White House tell me that the lawsuit filed by the black private investigator, former D.C. police officer, is completely and totally bogus." Stone also added that he thinks the lawsuit will be quickly dismissed.
Stone was one of the first prominent figures to promote conspiracy theories about Rich's death.
On August 9, 2016, less than a month after Rich's death, Stone included Rich in a group of four murdered people for whom he blamed the Clintons:
Four more dead bodies in the Clinton's wake. Coincidence? I think not.@ClintonsWar pic.twitter.com/t8Skx2stOB

— Roger Stone (@RogerJStoneJr) August 9, 2016
In recent months, Stone has turned his sights on Rich's parents, first calling their behavior regarding the investigation into their son's death "suspicious," and most recently saying that Rich's "parents should be charged with obstruction" of the investigation.