Romney Adviser: Diplomacy With Britain Requires 'Anglo-Saxon' In White House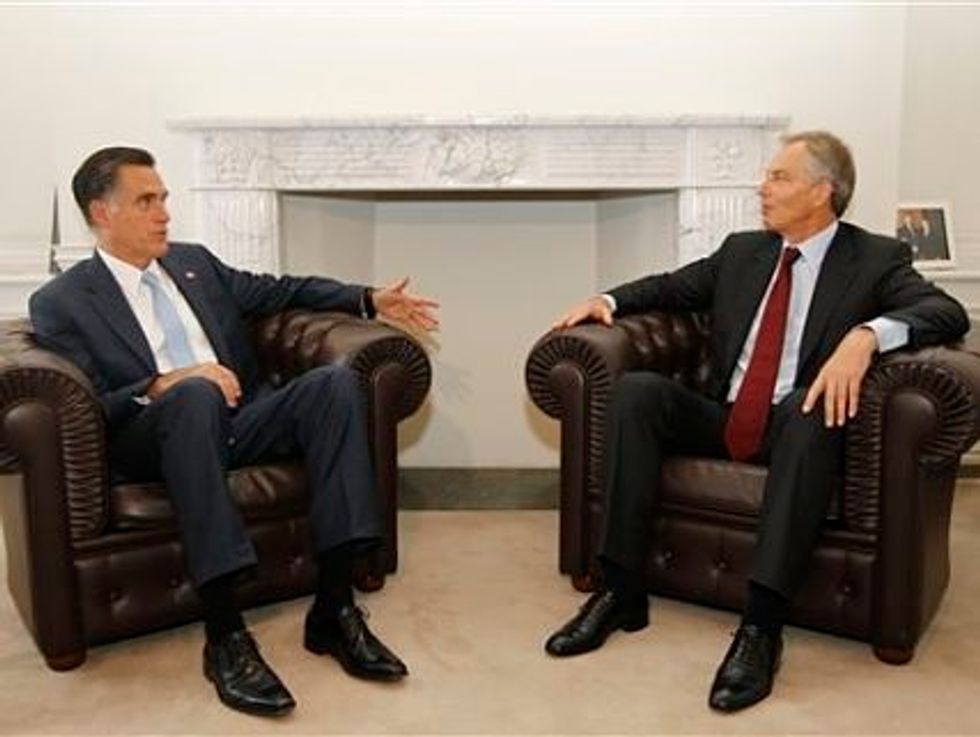 Mitt Romney's presidential campaign made the leap from quiet xenophobia to full-blown racial politics today, when an unnamed foreign policy adviser to his campaign told The Daily Telegraph that Romney understands diplomacy with Britain better than President Obama does, because he is "part of an Anglo-Saxon heritage."
John Swaine reports:
In remarks that may prompt accusations of racial insensitivity, one suggested that Mr Romney was better placed to understand the depth of ties between the two countries than Mr Obama, whose father was from Africa.

"We are part of an Anglo-Saxon heritage, and he feels that the special relationship is special," the adviser said of Mr Romney, adding: "The White House didn't fully appreciate the shared history we have."
So Republicans have gone from thinking that President Obama is not black enough to thinking that he is too black to "fully appreciate" our relationship with Britain. Lovely.
Almost as soon as the controversial comments were published, the hunt for their source began. Speculation has focused on Nile Gardiner, who serves as co-chair of Romney's European foreign policy team. Gardiner — who has ties to the cultish Unification Church, which does not exactly have a sterling record on race issues — makes sense as a potential source because he blogs for the Telegraph, and has a history of using similar language in his writings.
Gardiner denies these allegations, however, telling The Washington Post's Greg Sargent that he was contacted by Swaine, but referred the call to Romney spokesperson Andrea Saul.
The Romney campaign also denies any responsibility for the comment. Spokesperson Amanda Hennenberg said in a statement that "It's not true," and "If anyone said that, they weren't reflecting the views of Governor Romney or anyone inside the campaign."
Additionally, Romney spokesperson Ryan Williams accused the Obama campaign of using "a false quote from a foreign newspaper to prop up their flailing campaign."

Despite these harsh denials, however, the Telegraph has told Talking Points Memo that the Romney campaign has not requested a correction or retraction of the story.
Whoever made the comment, the fact remains that it was published, and the Romney campaign cannot un-ring that bell. Between the Telegraph article — which immediately calls to mind Newt Gingrich's declaration that Obama exhibits "Kenyan, anticolonial behavior" — and campaign surrogate John Sununu's recent declaration that Obama must "learn how to be an American," it is once again clear that Republicans aren't afraid to engage in the politics of race baiting.
If the Romney campaign's goal is to "take the gloves off" and run a race that would make Andrew Breitbart proud, then they are succeeding.
If the goal is to establish Romney's foreign policy credentials, however, then the campaign is clearly failing. The controversy over the "Anglo-Saxon" remarks is certain to overshadow the British leg of Romney's week-long foreign trip, and it threatens to make Romney look un-presidential at the exact moment that he tries to do the opposite.
To that end, Vice President Joe Biden slammed Romney this afternoon by releasing a statement saying
Despite his promises that politics stops at the water's edge, Governor Romney's wheels hadn't even touched down in London before his advisers were reportedly playing politics with international diplomacy, attempting to create daylight between the United States and the United Kingdom where none exists…This assertion is beneath a presidential campaign.
Whether the controversy will dog Romney throughout the campaign or join "Who Let The Dogs Out" on the long list of awkward interactions between Romney and the African-American community is unclear. One thing is certain, though: if Obama's lack of an "Anglo-Saxon heritage" makes him unqualified to deal with Britain, then Romney — whose church, let's remember, did not allow black members until Romney was 31 years old — definitely can't appreciate the "special relationship" between African-Americans and the American government. And he definitely isn't, as he laughably claimed before the NAACP, the best candidate for the black community.