Romney's Case To Women Fails To Convince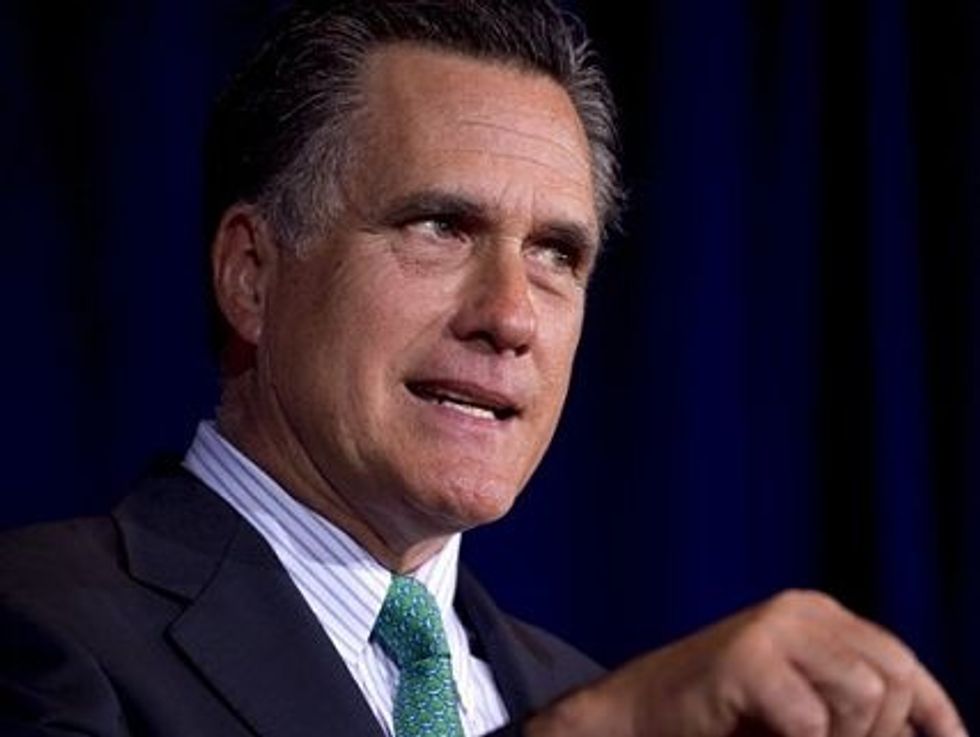 Mitt Romney may be a perfect husband. He's clearly devoted to Ann Romney. Their storybook relationship began as blushing teenagers, and 43 years and five sons later, Mitt is still smitten with Ann. Lovely.
The problem for Romney is that most women don't live such fairytale lives. And the candidate's obvious devotion to one woman doesn't have a great deal of relevance to them as voters. Women are increasingly the household breadwinners, and more women now graduate from college than men. Yet women still earn less then men do, even in comparable positions. They tend to do more of the caring for elderly parents and are more likely to leave the workforce temporarily or limit their hours to see to the needs of young children.
The challenge for both the Romney and  Obama campaigns now is to court undecided female voters, a large enough demographic that they could swing the election. To that end, let me make a suggestion: Stop viewing us as a needy constituency and treat us more as equals.
In this, Obama has the edge so far. He shows it in the words he chooses when discussing issues that affect women more directly than men, such as unequal pay and contraception. He also walks the talk, as when he signed the Lilly Ledbetter Fair Pay Act.
The candidate who will win the undecided women's vote will be able to honestly discuss inequities that face women, especially in the workplace, yet not talk down to them or only to their wombs. It's about including women as equals without pandering.
Both Romney and Obama can point to strong, intelligent women who were influential in their lives — both of their mothers qualify. Each man has lived through an era in which women's roles in the home and workplace changed dramatically.
Many female voters are looking for a candidate who understands the difficult choices women are compelled to make with respect to family and work, who understands the pressure women feel from society's often-outmoded notions of gender roles. They want a candidate who can show he has learned from women's experiences during his lifetime, and empathized and stood alongside them when necessary.
Romney's awkward debate gaffe about "binders full of women" only highlighted what many suspect: that he's not comfortable discussing the problems many women face. In fact, Romney offered the much-parodied comment while trying to sidestep a question about equal pay. Instead of answering it directly, he boasted about making extra efforts to hire women as cabinet members when he was governor of Massachusetts.
What went unexplained was whether Romney understands why such extra efforts are still needed to ensure a range of qualified people are considered. It's because the deck is still often stacked against women, with unequal pay and promotion for equal work and by attitudes that continue to see their input as extraneous.
It also raised the question of how a man could rise as high as Romney had in private and public life and not have a Rolodex full of women who had proven their value in his most trusted circles.
The regrettable thing for Romney is women will never know which is his true self. Is it moderate Mitt of years past who conceded that abortion should be legal, not so much as an endorsement of the procedure but as a safeguard of women's health and safety? That's the sort of nuanced position many women value. Or is it the "severely conservative" Mitt who pandered to the GOP's right wing throughout the party's primaries by mimicking its threats to Planned Parenthood? Romney is forever suspect as a flip-flopper. Women don't like to be lied to, and many of us know how to listen for clues to that end.
Is Romney the type of man who is respectful in a woman's presence, but wholly different when he gets back with a huddle of guys? Like many politicians, he holds certain women in places of honor. No arguments there. But it's not clear that he will have all women's interests in mind when it counts.
As a prospective steward of public policy that affects all women, he fails to inspire confidence. This is the nearly insurmountable hurdle that Romney now faces.
(Mary Sanchez is an opinion-page columnist for The Kansas City Star. Readers may write to her at: Kansas City Star, 1729 Grand Blvd., Kansas City, Mo. 64108-1413, or via email at msanchez@kcstar.com.)
Photo credit: AP/Steven Senne