How Ron DeSantis Made Himself A Communist Dictator's Best Friend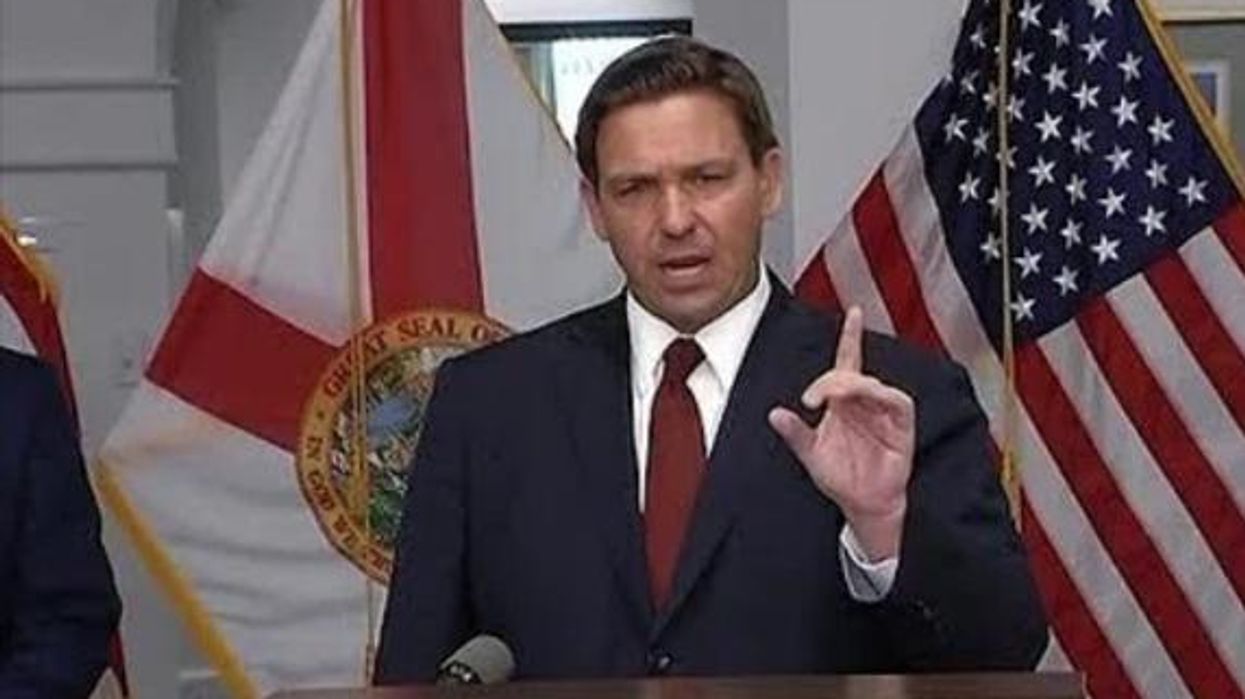 Ron DeSantis never gets bored of telling us how much he despises communism.
Not only does the Florida governor frequently mention his hatred of communism, but last spring he signed a law that memorializes its victims and mandates an annual day devoted to teaching its harmful history in the Sunshine State's public schools. "I know we don't need legislation here to do this," said DeSantis when that bill passed, "but I think it's our responsibility to make sure people know about the atrocities committed by people like Fidel Castro and even more recently people like Nicolas Maduro" — yes, the autocratic ruler of Venezuela.
The first "Victims of Communism Day" since the passage of that law is coming up on November 7, but it's not at all clear why those who have suffered under such regimes would be in any mood to mark the occasion with DeSantis. To advance his career, the belligerent governor is himself now victimizing those who have fled communism — and he may have violated the law in doing so.
After Maduro, the greatest oppressor of Venezuelans, who also treats them like dirt, is none other than DeSantis.
Among the millions fleeing Maduro's crashed economy and brutal repression, many have sought refuge in the United States, which has vowed to help them. And some who entered this country, exercising their legal rights under our asylum statutes, had the misfortune last week to encounter covert agents of the DeSantis administration who deceived them last week into boarding flights northward.
A "tall blond woman" calling herself "Perla" promised the immiserated and exhausted Venezuelans, whom she found near a migrant center in Texas, that they would receive "employment, housing, and educational opportunities" if they got onto a small plane that she said would take them to Boston. The charter flight landed instead on Martha's Vineyard, an island off Massachusetts that is a summer destination for affluent vacationers.
The next day, as everyone now knows, DeSantis announced boastfully that he was responsible for the cruel ruse. It later emerged that the governor had bragged beforehand about this plan, financed by Florida taxpayers, at a "briefing" for the Republican Party's biggest donors. No doubt those plutocrats were amused by what DeSantis portrayed as a clever prank. But others with long memories were reminded of the 1960s segregationists who deceived poor Black people into boarding buses from Mississippi to Hyannis, another Massachusetts resort town, where President John F. Kennedy's family maintained a residence (and still does).
If the point was to demonstrate the hypocrisy of liberals, who were perhaps expected to shun or stigmatize the unexpected guests, it failed. The good people of Martha's Vineyard rallied instantly to provide cash, copious food, safe shelter, amusements for children and anything else the Venezuelans needed until the state moved them to an Air Force base on nearby Cape Cod.
Now, more than one law enforcement agency is investigating whether DeSantis violated any laws by transporting the Venezuelans under false pretenses, and some of the asylum seekers are suing him in federal court.
Many details of how the governor's minions carried out this plot remain to be discovered. For instance, he has refused so far to release the state's $12-million contract with the aviation firm that oversaw the flights, but news outlets have reported that its owners are major Republican donors with longstanding financial ties to a top DeSantis aide. That firm has also done business with a sanctioned Russian helicopter company. Russia, of course, is Maduro's chief protector and patron.
Aside from the usual sleazy grift, what remains so striking here is the casual abandonment of the Republicans' own professed principles. While DeSantis claims to empathize with the victims of Maduro's incompetence and violence, that didn't stop him and his undercover goons from scamming them.
Indeed, the Florida law that financed the Vineyard flights stipulates that Venezuelans escaping the Maduro regime are not "unauthorized aliens," meant to be shipped away like other Central American refugees, because they are exercising a legal right to asylum. Evidently such distinctions don't matter to DeSantis, whose mission is to impress Republican voters by "owning the libs." DeSantis believes this nasty demagogic exploitation of the Venezuelans' misery will help lift him to the 2024 presidential nomination. Here it's worth recalling that one DeSantis ancestor was an illiterate Italian woman deemed "undesirable" who was somehow able to slip past those regulations — luckily for her descendant, the immigrant-baiting Ronald.
His "prank" must be making one man laugh the loudest. That would be Maduro, who can only view DeSantis' sadistic treatment of the Venezuelans as a clown show that benefits him. The Florida governor has made himself a useful idiot for the Caracas regime and by extension, Vladimir Putin.
A century ago, when Italian immigrants were sharply limited from entry into the United States under the draconian immigrant restriction law of 1924, they were commonly considered to be of another race, meaning not white. Whatever differences now exist among the current stream of refugees and migrants, there is one crucial trait they share. In the eyes of DeSantis — and the Republican Party's nativist Know-Nothings — all those people are the wrong color.