Rubio Has Built A Nationwide Money Machine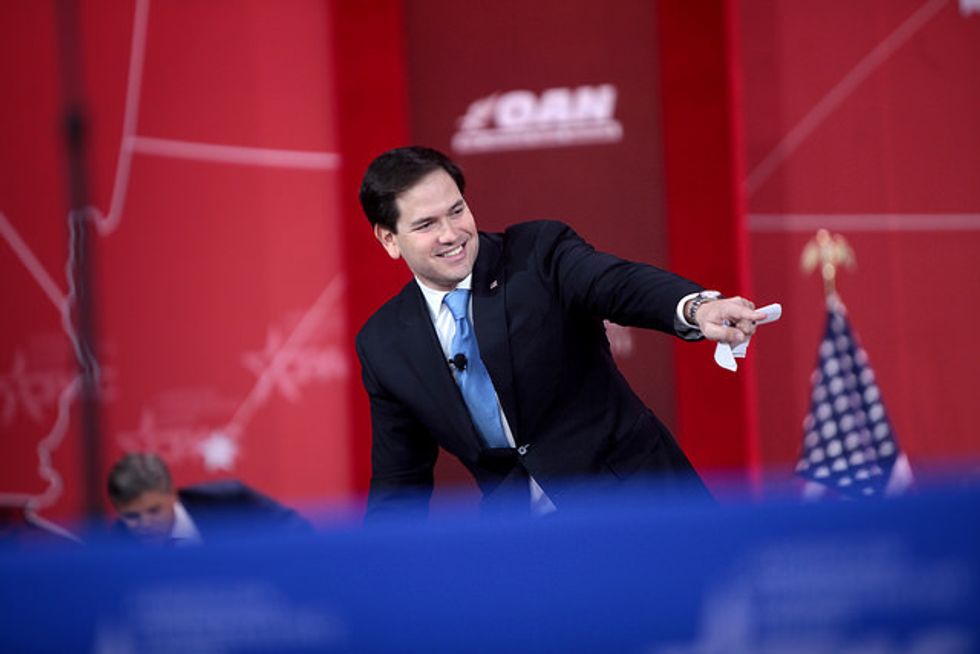 By Chris Adams, McClatchy Washington Bureau (TNS)
WASHINGTON — Senator Marco Rubio (R-FL), who is likely to announce his candidacy for president this month, already has built an operation that brought in cash from all corners of the nation and banked more money than similar congressional fundraising operations.
It's a good start for the Florida Republican if he expects to compete in a crowded GOP field whose first contests will come ten months from now in Iowa and New Hampshire.
So far, most of the attention on fundraising has centered on former Florida Governor Jeb Bush, who has ambitious goals to collect big establishment money and is presumed to be in position to lap the field in the money race.
Rubio is playing a different game, experts say: He won't have to match Bush but will need to bring in enough big money to show that he's a credible candidate.
The first-term senator's fundraising committees took in $14 million in 2013 and 2014, during which time Rubio had no election himself.
While much of that money already has gone out in support for other candidates and for more fundraising, consulting, and other expenses, the breadth and scope of his two-year haul demonstrates an ability to raise substantial money — something that will help as his presidential campaign begins.
Rubio has three separate fundraising vehicles: his regular Senate campaign committee; what's known as a leadership political action committee, which raises and spends money often to help other candidates; and a joint committee that takes in contributions and funnels them either to the Senate fund or the leadership PAC.
Bush and those working on his behalf, according to various media reports, had an audacious goal to raise $100 million in the first quarter of 2015. That's a figure that could scare off potential competitors and lock up key Republican donors.
Asked about the $100 million figure, Bush spokeswoman Allie Brandenburger wrote in an email: "Some passionate GOP finance leaders who are supporting Governor Bush's political efforts offered up that number, and we are very flattered but our actual, more pragmatic fundraising goals are far more modest."
Whatever Bush's totals, Rubio wouldn't be expected to match them — only to show that he's capable of connecting with donors and raising money, said Sheila Krumholz, executive director of the Center for Responsive Politics, a Washington-based nonprofit that tracks political money.
"Between now and Iowa, I don't think the expectations for a Marco Rubio are the same as for the presumed front-runner, Bush," Krumholz said. "Rubio needs to prove he has the fundraising prowess to be competitive, and to say, 'I'm serious, I'm capable of energizing and broadening my base.' He needs to create buzz and excitement — and it would be a big boost if it's accompanied by a major sum of money."
Rubio has more than held his own against two Senate colleagues who are also running or expected to: Rand Paul of Kentucky and Ted Cruz of Texas.
Rubio and Paul were elected in 2010, Cruz in 2012 — so none of the three had active re-election races during the most recent two-year cycle, ending December 31, 2014.
But looking at the combined contributions into the senators' three fundraising operations — all have Senate, leadership, and joint committees — Rubio pulled in the most: $14 million. Paul had $10 million, and Cruz $8.5 million, according to Federal Election Commission data for 2013-14.
While that money can be used to help the three prepare for presidential campaigns, it is also used for many other purposes — including contributions to fellow politicians in 2014. But campaign finance experts say it demonstrates the senators' ability to raise substantial money.
Rubio has one of the top joint fundraising committees and one of the top leadership PACs in Congress.
Further, he's shown the ability to raise money from throughout the country.
"The broad geographic diversity means he's been laying the groundwork, conducting strategic fundraising, and outreach to build his name recognition," Krumholz said.
Of itemized individual contributions to Rubio's three committees, the biggest source is Florida — at 42 percent — but every state is represented. He took in 16 percent of those contributions from California; eight percent from Texas; four percent each from New York and Illinois; and three percent each from Virginia and Massachusetts.
The contributions range from more than three million dollars from Florida to less than two thousand dollars rom Alaska.
Photo: Gage Skidmore via Flickr