Rubio Joins GOP Hopefuls Sniping At DeSantis Over Disney Dispute
@next2godwin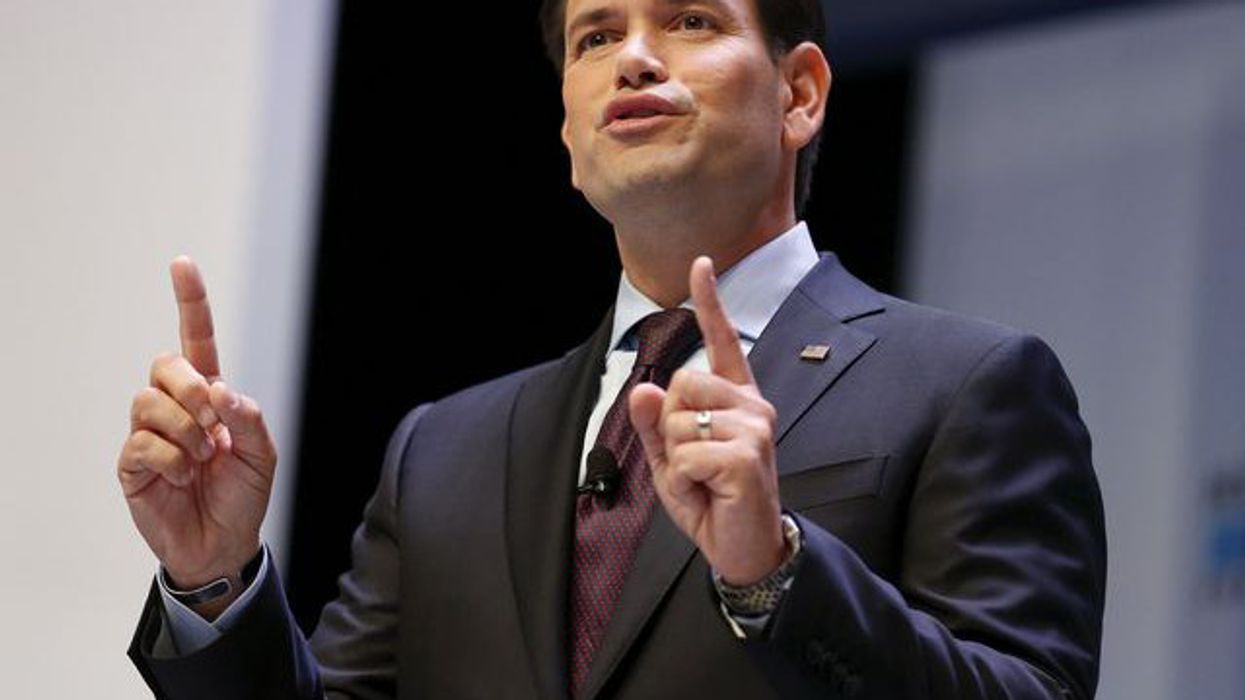 Senator Marco Rubio (R-FL) has warned Florida Gov. Ron DeSantis that his ongoing dispute with Disney could send a "problematic" message to companies considering doing business in the state and, consequently, negatively impact Florida's business environment.
In an interview with Fox News on Thursday, Rubio said it was "perfectly legitimate" for Florida to exercise its prerogative to review Disney's "governmental-type powers." But he said the review process created the perception that the state legislature could target a company simply for political disagreements.
"I think where it gets problematic in the eyes of some people is when you start creating the idea — and I'm not saying we're there yet as a state — but the idea that somehow, like if you run crossways with us politically, whoever is in charge, then, you know, you may wind up in the crosshairs of the legislature for political purposes to make a statement," Rubio told Fox's Brian Kilmeade.
The remarks came a day after Disney sued DeSantis for his "relentless campaign to weaponize government power" against the company, violating its free speech rights.
The feud started last March when Disney issued a 77-word statement denouncing a bill — the Parental Rights in Education Act (HB 1557), commonly referred to as the "Don't Say Gay" bill — DeSantis had just signed.
The governor retaliated by increasing the state's control of the Reedy Creek Improvement District, a 25,000-acre area that the entertainment giant had self-governed for over half a century.
Rubio said he would "worry" if DeSantis' so-far-unsuccessful pressure campaign on Disney scared other companies from setting up shop in the Sunshine State.
"I do worry that, if this happens too many times, businesses that are thinking about coming to Florida are saying, 'Maybe we don't want to go there because if we get into a firestorm with them politically, they're going to come after our businesses,'" he said.
Rubio is the latest in a long line of conservatives who have lampooned DeSantis for the escalating conflict.
Former President Donald Trump weighed in on the feud earlier this month, writing on his embattled social media platform, Truth Social, that DeSantis, who is reportedly on the cusp of announcing a 2024 presidential run, "is being absolutely destroyed by Disney."
"Disney's next move will be the announcement that no more money will be invested in Florida because of the Governor — In fact, they could even announce a slow withdrawal or sale of certain properties, or the whole thing. Watch! That could be a killer," Trump "truthed" on his platform.
Nikki Haley, who announced her 2024 presidential bid in February, invited Disney to move to ditch Florida for her state, South Carolina, and took a dig at DeSantis while she was at it.
"Hey Disney, my home state will happily accept your 70,000+ jobs if you want to leave Florida. We've got great weather, great people, and it's always a great day in South Carolina! SC's not woke, but we're not sanctimonious about it either," Haley
tweeted
on Wednesday.
\u201cHey @Disney, my home state will happily accept your 70,000+ jobs if you want to leave Florida. \n\nWe\u2019ve got great weather, great people, and it\u2019s always a great day in South Carolina! \n\nSC\u2019s not woke, but we\u2019re not sanctimonious about it either.\u201d

— Nikki Haley (@Nikki Haley) 1682534943
"If Disney would like to move their hundreds of thousands of jobs to South Carolina and bring the billions of dollars with them, I'll let them know I'll be happy to meet them in South Carolina and introduce them to the governor and legislature that would welcome it," Haley said in the video of a Fox News interview appended to her tweet.
Chris Christie, the former governor of New Jersey and another Republican reportedly considering a 2024 White House run, said the feud called into question DeSantis' ability to lead the U.S., according to Politico.
"[DeSantis] is not the guy I want sitting across from President Xi [Jinping] ... or sitting across from [President Vladimir] Putin and trying to resolve what's happening in Ukraine, if you can't see around a corner [Disney CEO] Bob Iger created for you," Christie said during a virtual interview with Semafor. "I don't think Ron DeSantis is a conservative, based on his actions towards Disney."
New Hampshire Gov. Chris Sununu told CNN this month that the issue with Disney has devolved into chaos, which was bad news for DeSantis.
"Look, this has gone from kind of going after a headline to something that has devolved into an issue, and it convolutes the entire Republican message. I just don't think — it's not good for Governor DeSantis. I don't think it's good for the Republican party," Sununu said.