Rumsfeld: George H.W. Bush's Slam Of Me Isn't 'Complimentary Of His Son'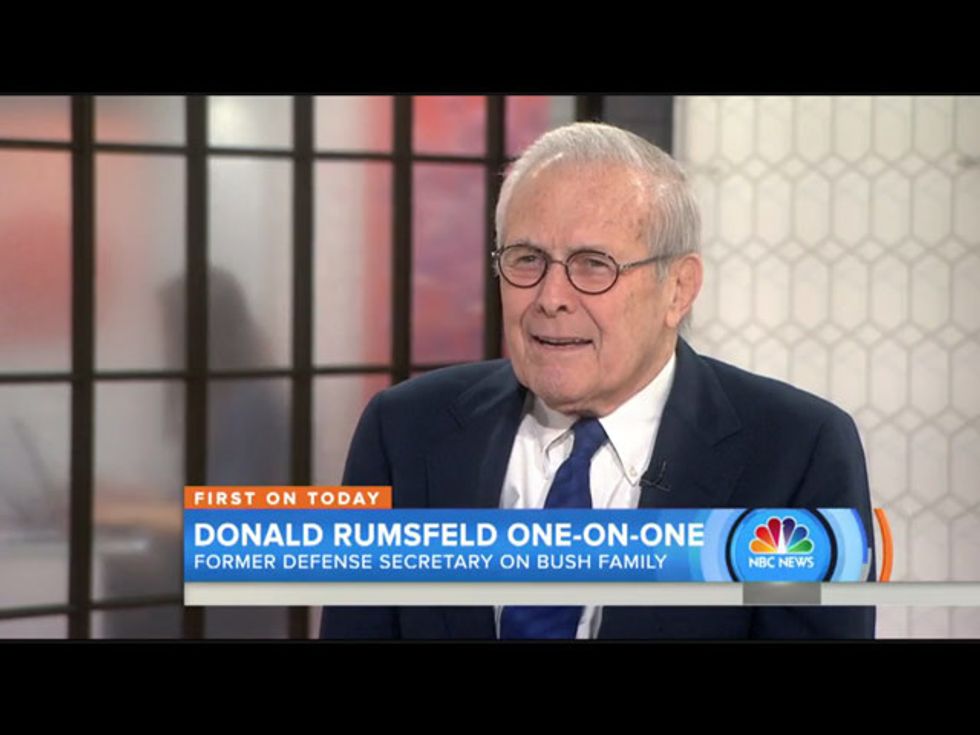 Former Secretary of Defense Don Rumsfeld has responded to the harsh criticisms levied against him by former President George H.W. Bush. Because if Rumsfeld was so bad, what does that say about the president he served, George W. Bush?
Rumsfeld appeared Monday morning on the Today show, where Matt Lauer read back the quotes that the elder Bush made about him in the recent authorized biography, Destiny and Power: The American Odyssey of George Herbert Walker Bush, by Jon Meacham. The key exchange comes at the 3:20 mark below:
"I think he served the President (George W. Bush) badly," Bush 41 had told Meacham. "I don't like what he did, and I think it hurt the President having his iron-ass view of everything. I've never been that close to him anyway. There's a lack of humility, a lack of seeing what the other guy thinks. He's more kick ass and take names, take numbers. I think he paid a price for that."
"Were you surprised by those comments?" Matt Lauer asked.
Rumsfeld brushed off the criticism: "No, we were never close. He was kind of 'to the manner born,' and I wasn't. He — as I say, we were never close, so I guess it didn't surprise me."
And then the former secretary of defense went even further — by pointing out the ramifications that the father Bush's comments had for both of his sons.
"I was amazed that he said what he said, when he said it — because I didn't think it was very complimentary of his son, George W. Bush. And I didn't think it was very helpful to his other son, who was running for president. So I thought it was kind of a strange thing for him to be doing."