Putin Escalates Terror Kidnapping Of Thousands Of Ukrainian Children
@LucianKTruscott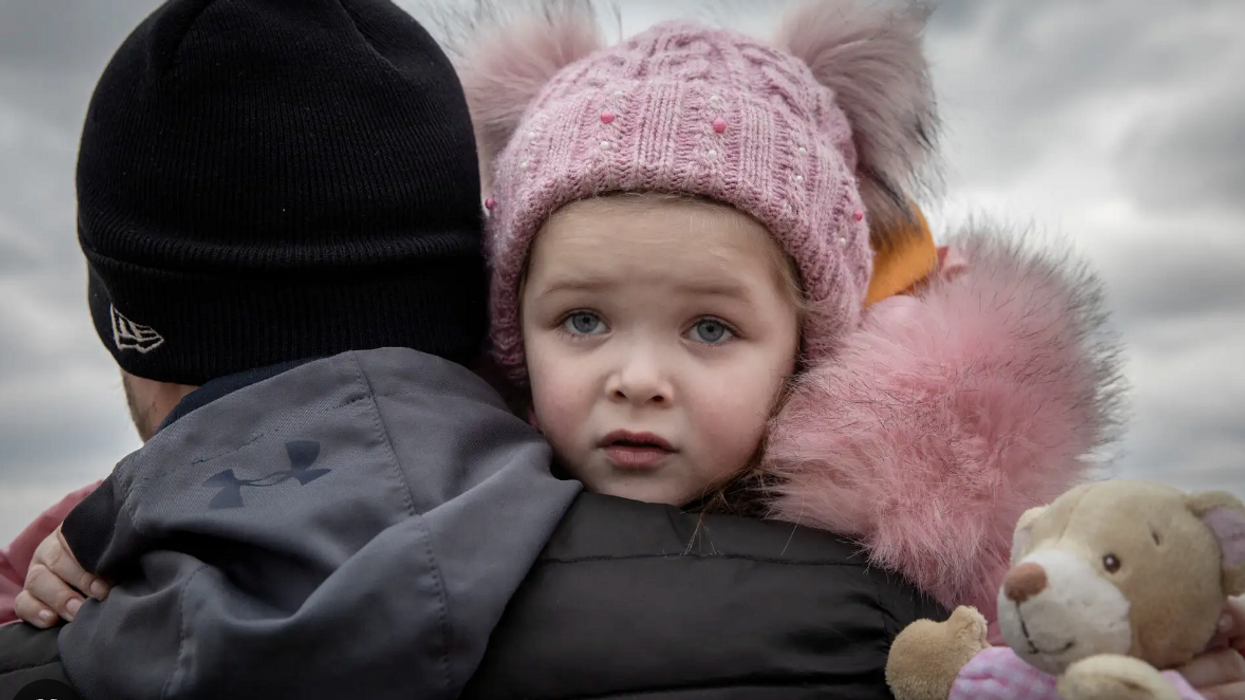 Photo by CARE/Adrienne Surprenant
I'm going to stay on the story of this terrible war. Please consider helping out by becoming a paid subscriber.
If you want to know how desperate Putin is, have a look at this: As many as 14,000 Ukrainian children have been taken by the Russian army from their families and homes to so-called "filtration" centers in Russia and put up for adoption since the war began.
Nikolay Kuleba, the commissioner for children's rights in the Ukrainian president's office, told a hearing by the U.S. Helsinki Commission, "The occupiers are kidnapping Ukrainian children to the Russian Federation," and accused Russian President Vladimir Putin of changing Russian laws to make it easier to adopt Ukrainian children. "To encourage ordinary Russians to adopt forcibly removed children they offer a one-time payment of maternity capital and state aide." Kuleba said the Russian government is paying adoptive parents $300 a year for each Ukrainian child, and $2,000 a year for children with disabilities.
The campaign of terror-kidnapping began early in the war in the battle for the port city of Mariupol when 1,000 children were taken from the city by Russian forces. Russia claimed the children were "voluntary evacuations" at the time. Local Russian media reported that evacuated children were "waiting to meet their new families" in the Russian cities of Tyumen, Irkutsk, Kemerovo and Altay Krai, according to a story in Newsweek.
Azeem Ibrahim, a columnist at Foreign Policy magazine, has called the Russian abductions of children "a war of genocide mounted with genocidal intent, pursued with determined genocidal effort." Volodymyr Pylypenko, in the blog Cambridge Core, wrote that the forcible abductions of children by Russia "is not a chaotic or one-time action, it is a well-organized process. This can be evidenced by the following: Removal of children from Ukraine is controlled by Russia at the highest state level. The Presidential Commissioner for Children's Rights in Russia personally came to the occupied territories to monitor the process."
As the war has continued, so has Russia's terror campaign of kidnapping. Along with rocketing civilian targets all over Ukraine and sending hordes of armed drones against civilians, Putin is using terror against Ukraine's children as a weapon of war. Can you imagine losing a child to an enemy in the midst of a war? Putin appears to think if he can terrorize enough families, Ukrainians will begin to call for the war's end.
That hasn't happened. Instead, Ukraine is fighting back and fighting hard. It is unknown if at the war's end there will be a negotiation over the fate of the kidnapped children, but it is certain that those in charge of prosecuting the war, including Putin, will be charged with war crimes and prosecuted at The Hague.
This is how desperate Putin is: he has ordered the taking Ukrainian children and facilitated their adoption into Russian families residing in towns deep inside Russia. He is a war criminal for this alone.
Lucian K. Truscott IV, a graduate of West Point, has had a 50-year career as a journalist, novelist, and screenwriter. He has covered Watergate, the Stonewall riots, and wars in Lebanon, Iraq, and Afghanistan. He is also the author of five bestselling novels. You can subscribe to his daily columns at luciantruscott.substack.com and follow him on Twitter @LucianKTruscott and on Facebook at Lucian K. Truscott IV.
Please consider subscribing to Lucian Truscott Newsletter, from which this is reprinted with permission.