On Carlson Show, Hawley Joins Republican Party's Pro-Putin Faction
@DevilsTower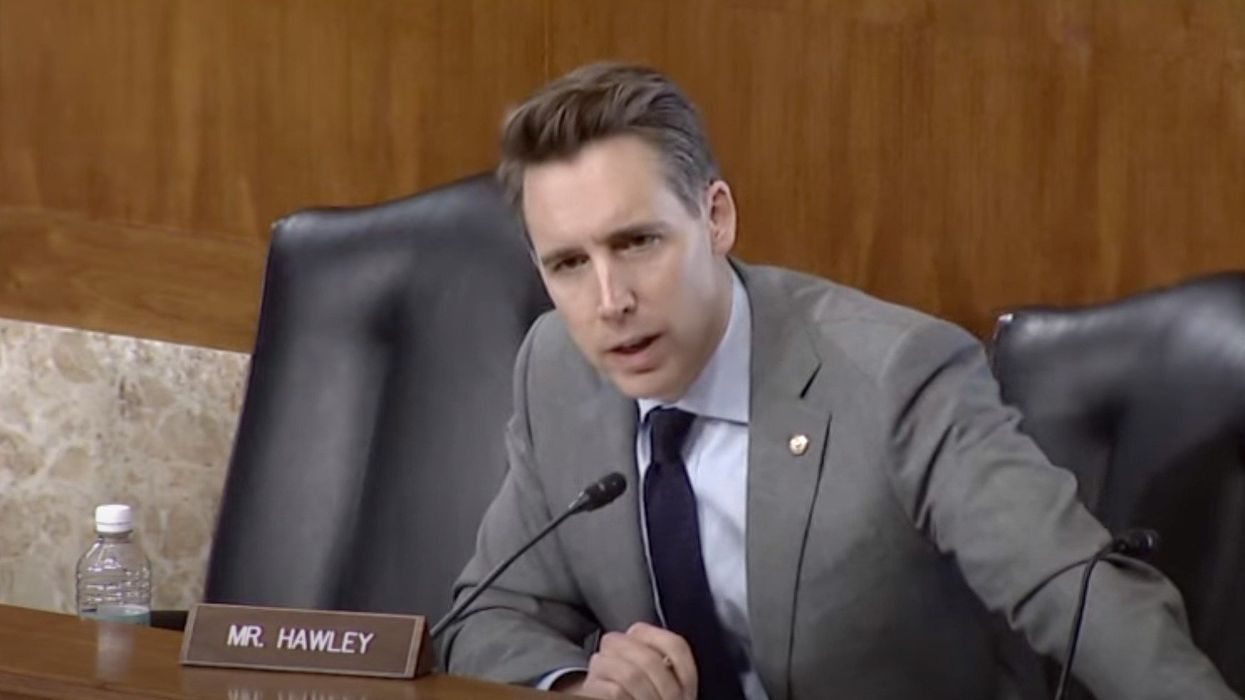 For the first few weeks after Russian forces rolled into Ukraine last year, it was only the most extreme of reality-opposing members of the Republican Party who raised their hands in support of dictator Vladimir Putin. In fact, that pool was barely larger than Marjorie Taylor Greene, Fox host Tucker Carlson, and perennial occupant of Putin's pocket, Ron Johnson.
However, as time has gone on, things have changed. Carlson, completely unembarrassed by how his show has become one of the most popular features on Russian state media, continued to cheer on the massacre of civilians and destruction of cities. Greene, Johnson, and others have shown that opposing the side of justice and common sense continues to be a winning strategy with GOP voters.
Republicans like Josh Hawley have gone from saying Russia's invasion was a "brutal assault" that "must be met with strong American resolve" a year ago to saying, "You can either be the party of Ukraine and the globalists, or you can be the party of East Palestine and the working people of America" precisely one year later. You might say that Hawley is running away from his previous positions.
Unsurprisingly, Hawley made his statement of Russian appeasement on an appearance on Carlson's show. Now Carlson is turning support for Putin into a touchstone for any Republican seeking the 2024 nomination. On Monday night's program, Carlson rolled out the results of a questionnaire he had handed to a series of potential Republican candidates. As might be expected, Carlson jumped straight to the question about cutting off support for Ukraine.
Just as predictably, almost no one who stands a chance of actually being nominated answered the question, though some of the levels of word salad included more cheese than the storeroom at a Domino's.
Donald Trump, for example, spent his time bloviating about how Putin would never have dared to attack Ukraine on his watch, declared that Russia needs to pay back the U.S. for all the money we've spent on NATO, and finished with this nonsensical statement:
"Next, tell Ukraine that there will be little more money coming from us, unless Russia continues to prosecute the war. The president must meet with each side, then both sides together, and quickly work out a deal."
So no more Ukraine assistance … unless Russia doesn't stop fighting, in this case … what? More assistance? It's hard to parse anything out of this beyond the massive wall of ego.
Like Trump, Florida Gov. Ron DeSantis gives an answer that is not an answer at all. He uses the opportunity to talk about the border, the Chinese Communist Party, and a supposed "readiness crisis" in the U.S. military before coming down in a position that says "I support Putin" without making it quite as explicit as Carlson does every evening.
"Without question, peace should be the objective. The U.S. should not provide assistance that could require the deployment of American troops or enable Ukraine to engage in offensive operations beyond its borders. F-16s and long-range missiles should therefore be off the table."
That boils down to a position of reassuring Russia that he'd never think of giving Ukraine what it needs to actually bring the war to a conclusion on its own terms. It's Chamberlain-lite.
DeSantis finishes by accusing President Joe Biden of "driving Russia into an alliance with China" (history and sequence of events are never challenges to Republicans trying to set a narrative) and saying that Biden has empowered "Putin's war machine" by … helping Ukraine to destroy more than half of Russia's armor and military supplies. DeSantis won't empower Putin by helping Ukraine! Something like that.
As might be expected, former Vice President Mike Pence has the most grounded-in-reality take on Ukraine, or at least the one that most clearly fails to call for outright capitulation to Putin: "There is no room for Putin apologists in the Republican Party," says Pence. Except there appears to be plenty of room. Nothing but room.
"This is not America's war, but if Putin is not stopped and the sovereign nation of Ukraine is not restored quickly, he will continue to move toward our NATO allies, and America would then be called upon to send our own. Vladimir Putin has revealed his true nature, a dictator-consumed [by] conquest and willing to spend thousands of lives for his commitment to reestablish the Greater Russian Empire. Anyone who thinks Putin will stop at Ukraine's border is not owning up to the reality of who Putin is." … "Ukraine's victory should be an unmistakable, undeniable defeat for Russia and its allies."
Pence, in fact, goes on to take such an opposite view from the other candidates that he ends up complaining that Biden has moved too slowly in giving new military systems to Ukraine and has not done enough to sanction Russia. But at least he found a reason to complain about Biden.
Pence goes on at enough length that it appears he may think he's applying for college rather than filling in a square for a guy who clearly wants the opposite answer. But really, there's little here that isn't admirable, even if Pence does name-drop Reagan and repeat the future possibilities of Russian expansion to the point where it sounds like he's firmly grounded in Domino Theory.
From there, the answers go pretty much off a cliff into candidates too cowardly to have a position other than that they don't like Joe Biden.
Texas Gov. Greg Abbott repeats what every candidate claims about "President Biden's blank check foreign policy … throwing money at Ukraine with no accountability," and then, of course, talks about "the border."
South Carolina's Sen. Tim Scott wanders around the horn to produce a lot of nothing with statements like, "China is a risk that continues to rise, an adversarial position they have taken against the American people. We should hear what they're telling us. Believe them and act accordingly." Which has absolutely no meaning and, of course, no consequences if Scott decides to take a more in-or-out position later.
Former New Jersey Gov. Chris Christie gives what seems to be a pro-Ukraine answer, but it's one that's been dulled down to the point where it's hard to tell: "Our objective is to assist Ukraine sufficiently to enable them to defeat Russian forces and restore their sovereignty. This effort is not about regime change in Russia; it is about respecting the sovereignty of free nations." Uh-huh. Does that mean we give Ukraine more? Less? Just enough that they can't possibly win. Christie isn't content with leaving it there–he finishes with this doozy:
"Also, this is a proxy war being waged by Russia's ally China against the United States."
The only thing China has done for Russia in this war is take oil off their hands at fire sale prices, but China comes up in every Republican response because all of them are much more comfortable slamming the current Republican boogeyman—the Chinese Communist Party—than they are saying something about Putin that they may end up walking back if they want that Republican nomination.
It all depends on where Tucker pushes the party by then. By the time debates roll around, every Republican candidate could be sporting a "Z" pin.
It might be interesting to ask all of these candidates how it's possible that Biden can both be on the side of the Chinese communists and, at the same time, fight a proxy war against them. Don't expect a logical answer.
Reprinted with permission from Daily Kos.