Russian Media: 'Please Don't Remove Our Donald Ivanovych'
@alexvhenderson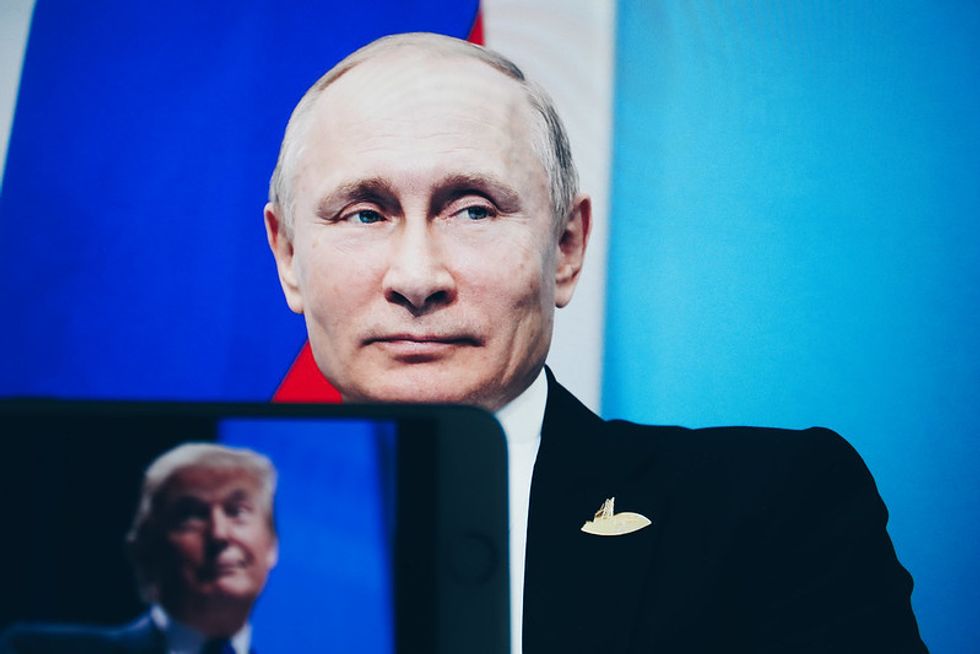 Reprinted with permission from Alternet
The foreign press has been giving extensive coverage to the impeachment inquiry against President Donald Trump that is being conducted by Democratic leaders in the U.S. House of Representatives, and much of that non-U.S. coverage has been favorable to the inquiry. But many Russian media have a very different perspective. In Russia, journalist Julia Davis reports in the Daily Beast, some "Kremlin-controlled state media" think the inquiry is a terrible idea and are hoping Trump won't be removed from office.
In Russian media, Davis notes, Trump is often mocked and ridiculed. But that doesn't mean they want to see him impeached or removed from the White House. In fact, they like seeing him in the White House because they believe that what is bad for the United States is terrific for Russia.
"Russian experts, government officials and prominent talking heads often deride the American president for his Twitter clangor, haphazard approach to foreign policy, clownish lack of decorum, and unfiltered stream of verbalized consciousness," Davis explains. "But all the reasons they believe Trump 'isn't a very good president' for America are precisely their reasons for thinking he is so great for Russia." 
Davis quotes Vladimir Soloviev, host of the Russian talk show Evening with Vladimir Soloviev, as saying — with biting sarcasm — "Have you lost your minds that you want to remove our Donald Ivanovych?"
Not unlike MSNBC's Joe Scarborough mocking Senate Majority Leader Mitch McConnell as "Moscow Mitch," the name "Donald Ivanovych" is Soloviev's way of describing Trump as a useful idiot of the Kremlin — although unlike Scarborough, Soloviev doesn't think that's a bad thing.
Davis quotes another prominent Russian media figure, Karen Shakhnazarov, as saying, "They say Trump is making Russia great. That's basically accurate. The chaos brought by Trump into the American system of government is weakening the United States. America is getting weaker, and now, Russia is taking its place in the Middle East…. So when they say that Trump is weakening the United States — yes, he is. And that's why we love him…. The more problems they have, the better it is for us."
In the U.S., Sen. Rand Paul has been widely criticized by U.S.-based journalists for suggesting that they find out who the Ukraine whistleblower is and reveal that person's identity — a suggestion Paul made on Monday when he appeared with Trump at a MAGA rally in Kentucky. But in Russia, according to Davis, some Kremlin-controlled media really liked Paul's suggestion a lot and "promptly jumped on" it.
"Shortly after Sen. Paul tweeted out an article that speculated in considerable detail about the identity of the whistleblower — with a photograph, a name, and details about the purported political history of a CIA professional — Russian state media followed suit," Davis reports. "As if on cue, the Kremlin-controlled heavy hitters — TASS, RT, Rossiya-1 — disseminated the same information."
Davis adds, however, that "unlike Rand Paul, one of the Russian state media outlets didn't seem to find the source — Real Clear Investigations — to be particularly impressive, and claimed falsely that the material was published originally by The Washington Post."
One of the American journalists who has been vehemently critical of Paul for wanting to out the whistleblower is conservative Washington Post columnist Jennifer Rubin, who wrote that if Trump is indicted on articles of impeachment in the House, Paul should recuse himself from a Senate trial.
"Paul should be called out by his peers, refrain from further such outbursts and step aside in a Senate trial with respect to articles involving the president's attempts to out and intimidate a whistleblower," Rubin writes. "His conduct is not protected by the speech and debate clause of the Constitution; he is subject to the same laws that prevent Trump or any other American from intimidating witnesses."
The whistleblower complained that on July 25, Trump tried to pressure Ukrainian President Volodymyr Zelensky into investigating former Vice President Joe Biden and his son Hunter Biden. In Russia, television host Dmitry Kiselyov recently voiced his support for Trump, describing Biden as the U.S. president's "most dangerous rival" and urging him to "keep digging in Ukraine for the sweetest kompromat of all: proving that Ukraine — not Russia — interfered in the U.S. elections."