Sam Could Fill Role For Rams But Faces Tough Competition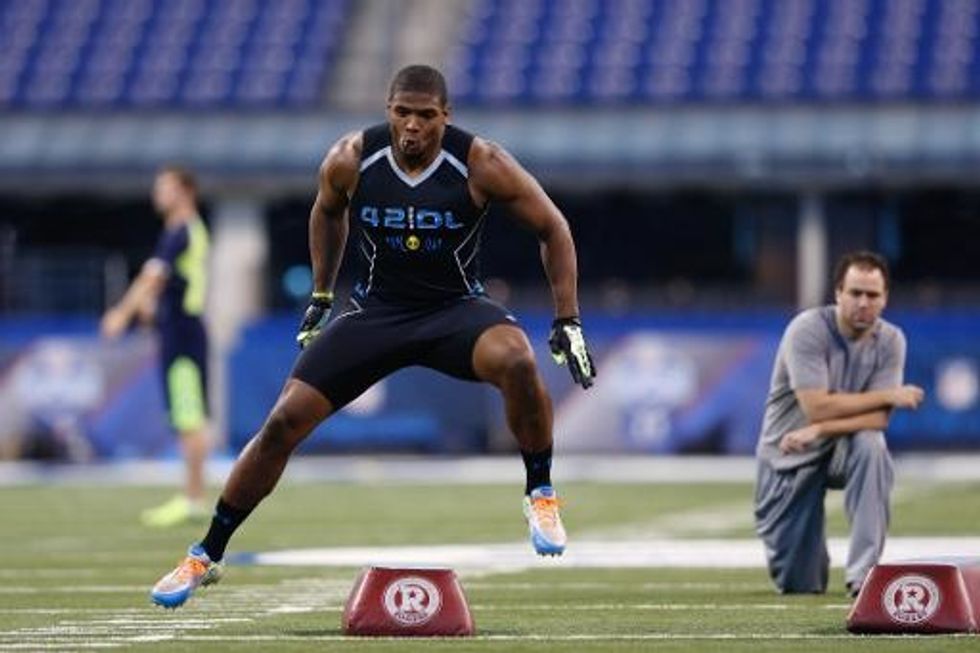 By Jim Thomas, St. Louis Post-Dispatch
ST. LOUIS — There's no doubt coach Jeff Fisher and general manager Les Snead had a sense of history when making the pick. But in the end, selecting University of Missouri defensive end Michael Sam was a football decision Saturday.
As they enter a round, or approach a group of picks, the Rams usually rearrange their board and put the names of players who fit into that range at the top of their board.
They had just a dozen or so picks to go in the 2014 draft, and not much of a board remaining when Sam's name came up. Or more accurately, when Sam's name went up.
"We kind of (put) some guys high that are in the mix for the next pick," Snead said. "We often don't ask the room, 'Are you fine with this pick there?' We just put them there."
So as the Rams approached their back-to-back compensatory picks in Round 7 — Nos. 249 and 250 overall — the placard for "Michael Sam" was placed at the top of the board along with two or three other names.
The Rams ended up picking two of those names, one of them being Sam, the first openly gay player to get drafted in the National Football League.
"We picked him within the process," Fisher said. "And we're going to reduce this roster within the process."
Which raises another point. Sam is joining what many observers regard as the one of the best defensive fronts in the NFL — if not the best.
When defensive tackle Aaron Donald of Pittsburgh was selected No. 13 overall, it meant the Rams had four first-round draft picks on their front four. The others: ends Chris Long and Robert Quinn, and defensive tackle Michael Brockers.
The other starting tackle, Kendall Langford, is entering the third year of a four-year, $22 million contract. In March, the team signed backup tackle Alex Carrington to a modest one-year, $1.5 million contract (which could double in value if incentives are met). And the Rams have good backup ends in William Hayes and Eugene Sims.
That's already eight bodies on the defensive line, not including Sam or tackles Jermelle Cudjo and Matt Conrath. The Rams will only keep eight or nine, so it will be a tight squeeze for Sam.
"Well, it's going to be very competitive for him because of the depth and the talent level at the position," Fisher said. "He's going to have to come in, and like the rest of his new teammates — these rookies — they're not in shape. Not in the condition our veterans are in. He's going to have to work to get in great shape and we'll blend him in the offseason program and we'll go."
Snead added: "Tough group to make, but I think he brings an element that he'll give some other guys a run for their money."
And what is the "element" Sam will bring to the roster?
"He's very versatile," Fisher said. "He's got good get-off. He's got good hand use. He's a relentless player. He's a chase guy. How many tackles for loss? I think it was 19 tackles for loss, a big part of their success (at Mizzou)."
Snead had more stats at his fingertips. "Eleven-and-a-half sacks. Probably nine pressures. Screams off the edge," Snead said.
Sam is a relentless worker. He plays with heart and passion. He's quick off the edge but doesn't have that Leonard Little or Robert Quinn burst. He's got "tweener" size at 6-2, 261 — somewhere between outside linebacker and defensive end.
And when NFL scouts tried him at linebacker at the Senior Bowl, things didn't go well, to put it mildly. But the Rams have a role in mind.
"As you go through draft meetings, I mean when you talk about Michael Sam, you put him in our category of 'DPR', which is designated pass rusher," Snead said. "That's what he fits in our scheme, and obviously we like to rush the passer. So, we didn't discuss him any different than any other player."
At the end of the day, the Rams had a higher grade on him than a Round 7 talent. All of that college production in 2013 was hard to pass up.
And it didn't take a scout or general manager or head coach to figure that out.
"When you watch the highlights that he had from college, and just being in St. Louis and seeing a couple Missouri games, the kid's a football player," linebacker James Laurinaitis said. "Michael is co-defensive player of the year in the SEC, in what people consider the greatest conference in college football. You put him in a D-line group that is already extremely talented and productive … I think he'll fit in great.
"I was talking to T.J. Moe (once with Mizzou and now with the Rams) about him, and just the kid is going to come in and work hard. I think that's just kind of the DNA of those guys in the room right now. They just go to work. They work hard in the weight room. Out on the field. They're a bunch of good guys."
Michael Sam is trying to join the club.