Sanders And Clinton Supporters Are Split On Foreign Policy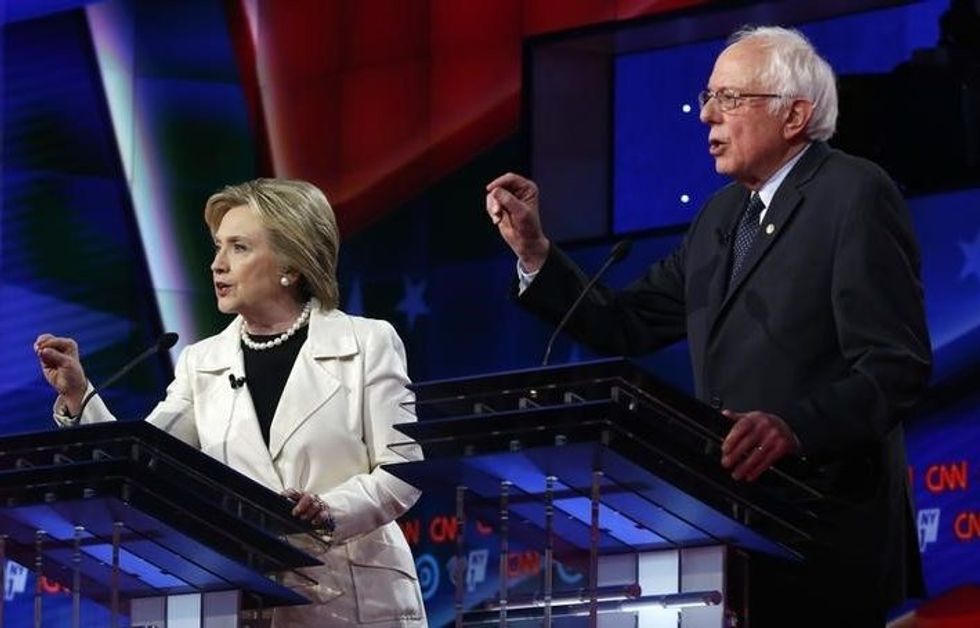 Foreign policy drives a deep wedge between the Sanders and Clinton supporters.
According to a new report from Pew Research Center, voters on both sides of the new Democratic divide disagree on a plethora of prominent issues in the international arena.
With six primaries and three caucuses remaining in the Democratic nomination process, and both candidates running as populist champions economic and electoral reforms, perhaps foreign policy is the most telling reflection of the different paths the country would take under the historically hawkish Hillary Clinton or the non-interventionist Sanders.
Among Democrat and Democratic-leaning registered voters supporting Clinton, 66 percent say the world's problems would be worse without U.S. involvement, whereas only around half of Sanders supporters feel similarly. Sanders' supporters are less inclined than Clinton's to say that the U.S. should "help other countries deal with their problems," with 45 percent saying U.S. efforts abroad do more harm than good.
These sentiments run in line with statements made by both candidates.
Sanders has expressed America would be better off minding its own business, and using force only when threatened — though never independently — stressing concern for avoiding blowback and citing his opposition to the Iraq war, which he blames in turn for the creation of ISIS and the destabilization of the Middle East.
At the first Democratic presidential debate in October 2015, Sanders said, "When our country is threatened, or when our allies are threatened, I believe that we need coalitions to come together to address the major crises of this country. I do not support the United States getting involved in unilateral action."
Clinton, on the other hand, has attributed the rise of ISIS to the war crimes of Syrian President Bashar al-Assad, and says the United States should be the leading combative force to assure successful transition of government.
In a 2014 interview with Jeffrey Goldberg of The Atlantic, Clinton said, "Jihadist groups are governing territory. They will never stay there, though. They are driven to expand. Their raison d'etre is to be against the West. … I'm thinking a lot about containment, deterrence, and defeat."
Clinton referenced U.S. success in defeating the Soviet Union, noting that "we made a lot of mistakes, we supported really nasty guys, we did some things that we are not particularly proud of, from Latin America to Southeast Asia, be we did have a kind of overarching framework about what we were trying to do that did lead to the defeat of the Soviet Union and the collapse of Communism. That was our objective. We achieved it."
A majority of Democrats approve of the U.S. military campaign against the Islamic State, though support is stronger among the Clinton camp, who are also more inclined to say the action is going well.
Almost 60 percent of Democrats are more concerned that U.S. involvement in Iraq and Syria will go too far; significantly more supporting Sanders feel this way.
At home, 51 percent of Sanders supporters said they believe anti-terrorism policies have gone to far in restricting civil liberties, while only 35 of Clinton supporters believe the same.
The two camps are also split on America's role in the Israel/Palestine conflict. Clinton supporters are twice as sympathetic to Israel than they are to Palestine. Sanders supporters are divided.
Clinton's steadfast dedication to America's alliance with Israel was demonstrated during a speech she delivered to the American Israel Public Affairs Committee in March. As journalist Zaid Jilani of The Intercept pointed out, Clinton's address was distinctly uncritical of Israeli Prime Minister Benjamin Netanyahu's right-wing government.
The former Secretary of State said it would be "a serious mistake for the United States to abandon our responsibilities, or cede the mantle of leadership for global peace and security to anyone else."
She described "three evolving threats" that have made the U.S.-Israel alliance more "indispensable" now than ever before: "Iran's continued aggression, a rising tide of extremism across a wide arc of instability, and the growing effort to de-legitimize Israel on the world stage."
Clinton also condemned violence incited by Palestinian leaders, who she said need to stop "celebrating terrorists as martyrs and stop paying rewards to their families."
Discussing the Gaza war in the previously-mentioned interview with The Atlantic, Clinton said she thinks "Israel did what it had to do to respond to the rockets," adding that "Israel has a right to defend itself. The steps Hamas has taken to embed rockets and command-and-control facilities and tunnel entrances in civilian areas, this makes a response by Israel difficult."
Sen. Sanders has held a more dovish view of American interventionism in the conflict, defending Israel's right to statehood while calling for a cessation of settlement expansion and criticizing the nation's 2014 military response to Palestinian attacks as "disproportionate."
Last week, the Washington Post reported Sanders has made changing U.S.-Israel policy a top priority.
During April's Democratic debate in Brooklyn, Sanders lambasted Clinton's AIPAC address: "I heard virtually no discussion at all about the needs of the Palestinian people," he said. "Of course Israel has a right to defend itself, but long-term, there will never be peace in that region unless the United States plays an even-handed role, trying to bring people together and recognizing the serious problems that exist among Palestinian people."
"There comes a time," he added, "when, if we pursue justice and peace, we are going to have to say that Netanyahu is not right all of the time."
Last Summer, during an interview with The Vox, when asked if he was a Zionist, Sanders responded with disdain for the term before saying he thinks Israel has the right to exist, but America should be impartial in "its dealings with the Palestinian community in Israel."
Sanders said, "The United States has got to work with other countries around the world to fight for Israel's security and existence at the same time as we fight for a Palestinian state where the people in that country can enjoy a decent standard of living, which is certainly not the case right now."
Sanders added that his "long-term hope" is to increase economic aid aimed at improving the standard of living for the people in that region, instead of "pouring so much military aid" into Israel and Egypt.
In regard to the United States keeping its status as the only military superpower in the world, 53 percent of Clinton supporters prefer policies to maintain that dominance whereas about half of those backing Sanders say they would be comfortable sharing that leading role with another country. Neither group wants to increase military spending, though cutting spending is more popular among Sanders supporters.
Photo: Democratic U.S. presidential candidates Hillary Clinton (L) and Senator Bernie Sanders speak simultaneously during a Democratic debate hosted by CNN and New York One at the Brooklyn Navy Yard in New York April 14, 2016. REUTERS/Lucas Jackson