Sanders Could Help Democrats And Progressives In Down-Ballot California Races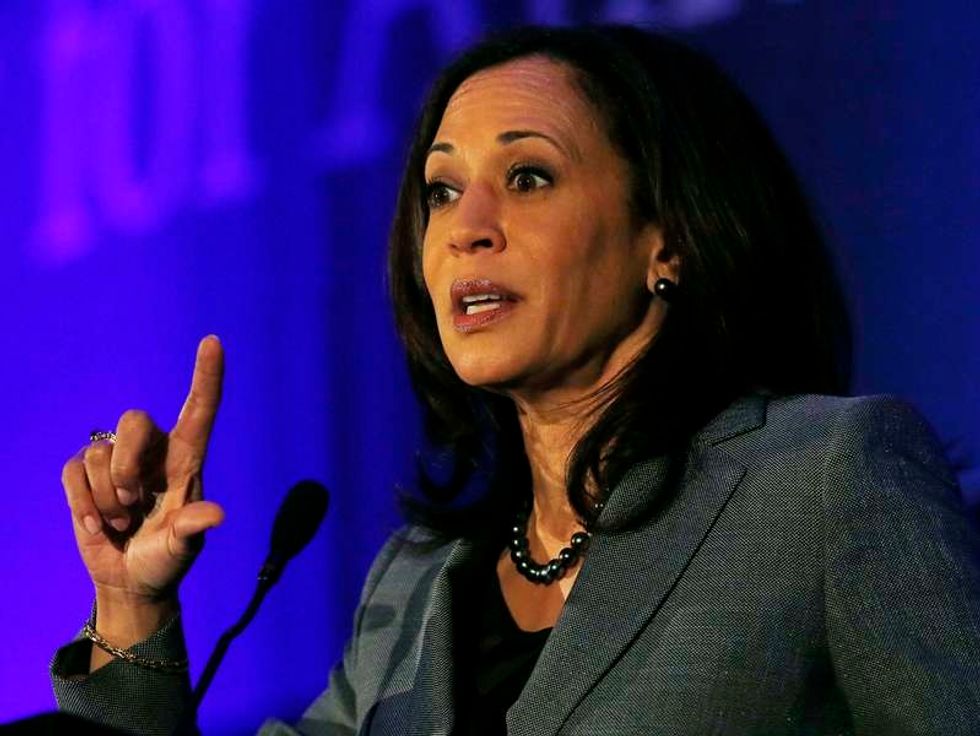 Bernie Sanders' decision to stay in the Democratic primary race — and the competitive nature of that race in the state of California — could very well pay dividends for the Democratic Party in the less glamorous, but impactful down-ballot races.
California has a public primary system in which all candidates are on the same ballot regardless of party affiliation — the two top vote-getters face off in a general election.
Granted, Republicans aren't a consistent threat to Democrats in The Golden State. California is a well-known strong blue state and Democratic presidential nominees have won the state in each of the last six election cycles. California's 2014 election for governor was described by the Cook Political Report as "Solid Democratic," meaning there was little chance that Jerry Brown would face much competition from his Republican counterpart, Neel Kashkari. Brown ultimately scored 4.3 million votes en route to a 60 to 40 percent victory over Kashkari, who earned just 2.9 million votes.
Yet even amid a heavily Democratic state, Republicans may have a chance to make some noise in down-ballot races. There are nine candidates vying for Rep. Lois Capps' seat in the 24th District as she prepares to retire, and they are all broken down evenly: three Democrats, three Republicans, and three Independents.
But with low voter turnout expected in a Republican presidential primary race that has already been settled and a tight Democratic Presidential primary race in the state, Sanders' and Clinton's left-leaning independent and Democratic supporters could help propel the more progressive candidates to victory.
Meanwhile, a USC Dornsife/Los Angeles Times poll suggests Sanders is a key ensuring a one-party general election showdown. Loretta Sanchez, who is polling in second place behind front-runner Kamala Harris in the Senate race, is relying heavily on Latinos, young voters, and Sanders' supporters to maintain her second-place status in Tuesday's primary race.
Polls indicate that among likely voters for Sanders, Harris only has a three-point advantage over Sanchez. And although Republicans lag behind, they are not behind enough to seal the deal for the two leading Democrats: Ben Winston, a researcher for the LA Times poll, said "[Sanchez's] support is still somewhat weak and is likely dependent on turnout."
Had Sanders dropped out prior to the California primary, down-ballot races likely would not look as favorable for Democrats. Races might not have been as competitive had Sanders not closed the gap in the state as quickly as he did, and that would have decreased the incentive for voters of both Democratic presidential candidates to do their part in turning out to vote.
Sanders has also influenced the race for Sam Farr's congressional seat. Three out of five of the contenders in that race are neither Republicans nor Democrats, signaling a boost of confidence among those who believe they can compete amid a system that has historically proven to be limited to two parties.
One candidate, Joe Williams, a union stewart in the Peace and Freedom Party, said that he aligns with Sanders' platform and that the Vermont Senator has given him "staying power" in the race.
Most of the down-ballot races hinge on whether Democratic voter turnout in the state ends up being as high as expected. The Associated Press controversially called the presidential primary for Hillary Clinton on Monday night based on unofficial responses from superdelegates in a survey, raising the question of whether or not voters will feel it is even necessary to show up at the polls.
Polls opened in California at 7 a.m. PT and will close at 8 p.m.
Photo: California Attorney General Kamala Harris speaks at the Center for American Progress' 2014 Making Progress Policy Conference in Washington, District of Columbia, U.S. November 19, 2014.  REUTERS/Gary Cameron