Sanders Poised To Win West Virginia, Despite Opposition To Coal-Powered Energy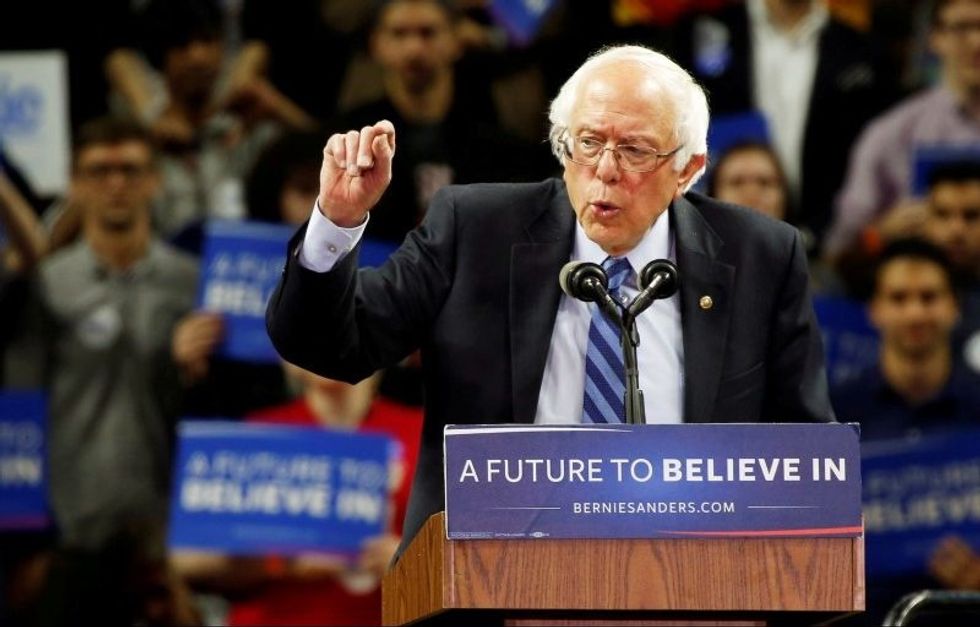 In the 2008, New York Sen. Hillary Clinton beat Barack Obama in the West Virginia primary, taking 67 percent of the vote and 20 of the 28 delegates up for grabs in the state. Eight years later, she looks set to lose the state's primary to another challenger, Vermont Sen. Bernie Sanders. But how is an avowed opponent of coal mining and fossil fuels set to win the vote in a state defined by its coal mining industry?
Part of the answer could be that Sanders has appealed to white, working-class voters who could be convinced to support a Democratic platform more in line with their values than that of the Republican Party. "We have millions of working-class people who are voting for Republican candidates whose views are diametrically opposite to what voters want," said Sanders to The Washington Post last fall. "How many think it's a great idea that we have trade policies that lead to plants in West Virginia being shut down? How many think there should be massive cuts in Pell grants or in Social Security? In my opinion, not too many people."
During an interview with The Charleston Gazette-Mail, one of the state's biggest papers, Sanders further outlined how he would bring economic vitality to regions facing deindustrialization and economic malaise. "We are going to create an economy that works for all people by providing affordable loans for small and medium-sized businesses, by investing in the most hard-pressed communities throughout this country," he said.
And in an interview with NPR, Sanders made it clear that the Democratic Party needed to be an ally of working class Americans who were losing their jobs in a rapidly changing economy. "I think one of the challenges we face, what my campaign is about, is making it clear that the Democratic Party must be on the side of working people and low-income people," he said. "And the stand we gotta make is the stand with the people in McDowell County, W.Va., and poor people and working people all over this country."
The contrast between Sanders and Clinton grew starker after Clinton was forced to apologize for the sound bite "We're going to put a lot of coal miners and coal companies out of business," made in reference to her plans to bring renewable energy jobs to the state. Her full remarks, made in a CNN town hall in March, were:
So for example, I'm the only candidate which has a policy about how to bring economic opportunity using clean renewable energy as the key into coal country. Because we're going to put a lot of coal miners and coal companies out of business, right?

And we're going to make it clear that we don't want to forget those people. Those people labored in those mines for generations, losing their health, often losing their lives to turn on our lights and power our factories.
Despite agreeing with Sanders on the need to pursue green energy, Clinton's phrasing of that sentence has made her unpopular among the state's Democrats, to the point that she wasn't welcomed into the town of Logan, West Virginia. "Bill and Hillary Clinton are simply not welcome in our town," wrote local officials in a letter to Senator Joe Manchin, who has endorsed Clinton and is a Democratic super delegate. Clinton has proposed a $30 billion stimulus package to aid Appalachian mining communities reeling from mine closures as part of her platform.
The state's residents are already aware of the numerous challenges facing West Virginia's coal mining industry. The decline has eaten away at the industry's workforce, its production levels, and its financial contributions to the state. More power plants are switching over to natural gas, which has seen its prices drop as fracking has taken off around the country. Coal mining output has dropped by 15 percent in the state since 2008 and coal-fired power plants account for just 33 percent of the country's total energy output today, compared with 50 percent half a century ago. Global demand has gone down too. China's sudden economic slowdown created a surplus of raw materials, from iron ore to coal, leading to a collapse in commodities prices.
"Forget the clean power plan. You cannot build a coal plant that meets existing regulation today that can compete with $5 gas," said Charles Patton, president of Appalachian Power, at a state energy conference recently. "It just cannot happen."
"In the past we always knew that the demand for coal would rebound and the jobs would come back," said Cecil E. Roberts Jr., the United Mine Workers of America president, in a speech reported by The New York Times in June 2015. "This time, there is no such certainty. Fundamental changes are underway in America and across the world that will have a lasting impact on the coal industry and our jobs."
Along with his focus on taxing the wealthy and denouncing Wall Street's reckless behavior, Sanders has dedicated part of his fiery speeches to the threat of global warming, one that must be countered by a green tech revolution. The same message isn't as closely associated with Clinton's candidacy, leading to confrontations like the one between her and coal miner Bo Copley last week.