Sanders Users Infowars Fakery To Slur CNN's Jim Acosta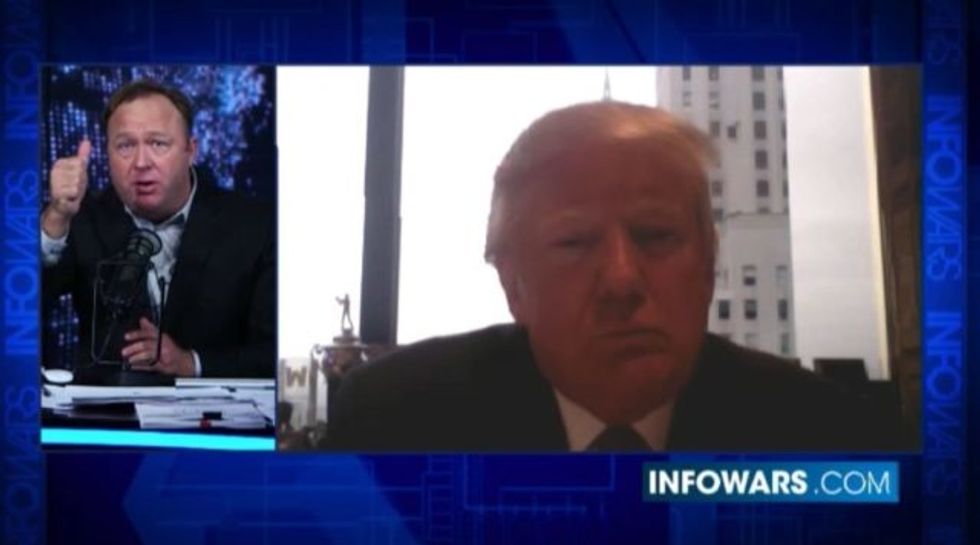 Reprinted with permission from MediaMatters.
White House press secretary Sarah Huckabee Sanders shared a deceptively edited video from Paul Joseph Watson, the editor-at-large at Infowars, as evidence for the administration's false claim that CNN's Jim Acosta assaulted a White House intern during a press conference.
Infowars head Alex Jones has repeatedly claimed that his operation passes material to President Donald Trump and White House staff.
Acosta and Trump had a contentious exchange during a November 7 press conference where a White House intern attempted to take a microphone from Acosta's hand. During the exchange, "Acosta's hand appeared to briefly brush her arm." But Sanders subsequently accused Acosta of "placing his hands on a young woman" and announced that his White House press pass was suspended.
In an attempt to bolster her false claim, Sanders posted a video that purported to back her version of events:
We stand by our decision to revoke this individual's hard pass. We will not tolerate the inappropriate behavior clearly documented in this video. pic.twitter.com/T8X1Ng912y

— Sarah Sanders (@PressSec) November 8, 2018
Observers on Twitter quickly pointed out that the clip in question originated from a tweet by Watson and that the video was altered. According to HuffPost, "The footage Sanders shared was missing the audio, zoomed in and repeated. Critics on social media said the speed of the footage was altered as well."
Sarah Sanders claims Jim Acosta 'placed his hands on a woman'.

Jim Acosta says this is a "lie".

Here's the video.

You be the judge. pic.twitter.com/rhkyDD9H8t

— Paul Joseph Watson (@PrisonPlanet) November 8, 2018
In recent months, several social media platforms have either outright banned Jones and his outlet or placed restrictions on his activities. But Jones and his Infowars colleagues still appear influential enough that their content can quickly reach the White House.
Ever since Trump appeared on Jones' show in 2015 and praised his "amazing" reputation, Jones has often claimed to have close access to Trump and administration personnel. One high-profile example of the Infowars-White House pipeline is when Trump pardoned disgraced former Maricopa County Sheriff Joe Arpaio. As the pardon announcement neared, Arpaio appeared on The Alex Jones Show and thanked Jones and Infowars for getting his story to the president. As recently as September, Jones claimed on his show, "I have specifically had the White House and the president thank me recently for the fact that I'm covering the hard topics no one else will to hit the barbed wire."