Sanford Summoned To Court After Allegedly Trespassing At Ex-Wife's House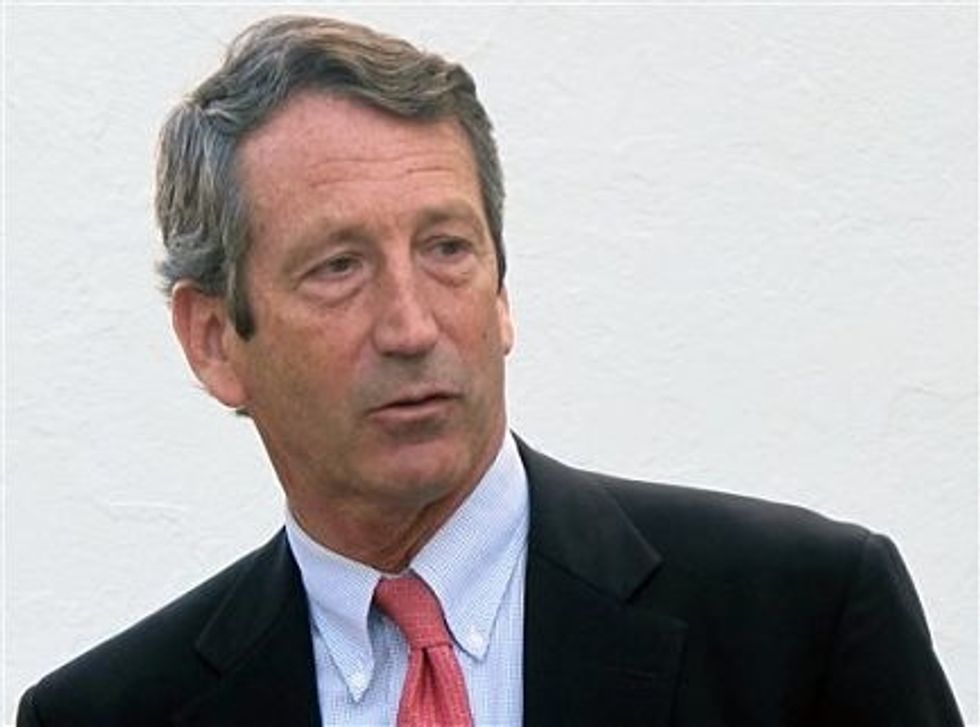 Mark Sanford hit a potentially disastrous speed bump on his comeback trail Tuesday night, when The Associated Pressreported that the congressional candidate trespassed at his ex-wife Jenny Sanford's home.
According to court documents obtained by the AP, Jenny Sanford caught her ex-husband — attempting to use his cellphone as a flashlight — at a rear door of her Sullivan's Island home on the night of February 3rd.  This violates the couple's divorce settlement, which states that neither party can enter the other's home without permission. The Sanfords' marriage infamously imploded in 2009 after Mark Sanford, then the governor of South Carolina, disappeared from public view for five days before reappearing and admitting to an extramarital affair.
The complaint alleges that this was not the first time that Sanford has trespassed on his ex-wife's property, stating that Mark Sanford "entered into a pattern of entering onto plaintiff's property. Plaintiff has informed defendant on a number of occasions that this behavior is in violation of the court's order and has demanded that it not occur again."
On Wednesday, Mark Sanford issued a statement claiming that he merely wanted to keep his son company on Super Bowl Sunday.
"I did indeed watch the second half of the Super Bowl at the beach house with our 14-year-old son because as a father I didn't think he should watch it alone," Sanford said. "Given she was out of town, I tried to reach her beforehand to tell her of the situation that had arisen, and met her at the back steps under the light of my cellphone when she returned and told her what had happened."
As a result of the incident, a judge has ordered Sanford to appear for a court hearing in May — just three days after the special U.S. House election for South Carolina's 1st district, in which Sanford will face Democrat Elizabeth Colbert Busch.
Jenny Sanford, who reportedly declined an offer to run her ex-husband's campaign, claims that she did not leak the court documents to the press.
"I am doing my best not to get in the way of his race," she told the AP. "I want him to sink or swim on his own. For the sake of my children I'm trying my best not to get in the way, but he makes things difficult for me when he does things like trespassing."
It's hard to overstate how disastrous the trespass could be for Sanford, who has built his entire campaign around a theme of Christian redemption. If voters determine that Sanford is harassing his ex-wife — who has long been significantly more popular among South Carolinians than the former governor — then that narrative would instantly go up in smoke.
As Esquire's Charlie Pierce put it, "Apparently, the former governor believes that 'forgive us our trespasses' is an appeal for a kind of general amnesty."
Even without the trespassing, there was reason to believe that Sanford was in trouble; early polling found Colbert Bush with a narrow lead, despite the district's strong Republican leanings. Now that Sanford's marital troubles have reappeared in the headlines, his campaign may not be able to recover.
UPDATE: It appears that the Republican Party has run out of patience with Sanford. A National Republican Campaign Committee spokesman has told Politico that the party will not spend any additional money on Sanford's campaign, saying "Mark Sanford has proven he knows what it takes to win elections. At this time, the NRCC will not be engaged in this special election."
AP Photo/Bruce Smith, File