How Sarah Sanders Is Trying To Bring Back The Bad Old Days In Arkansas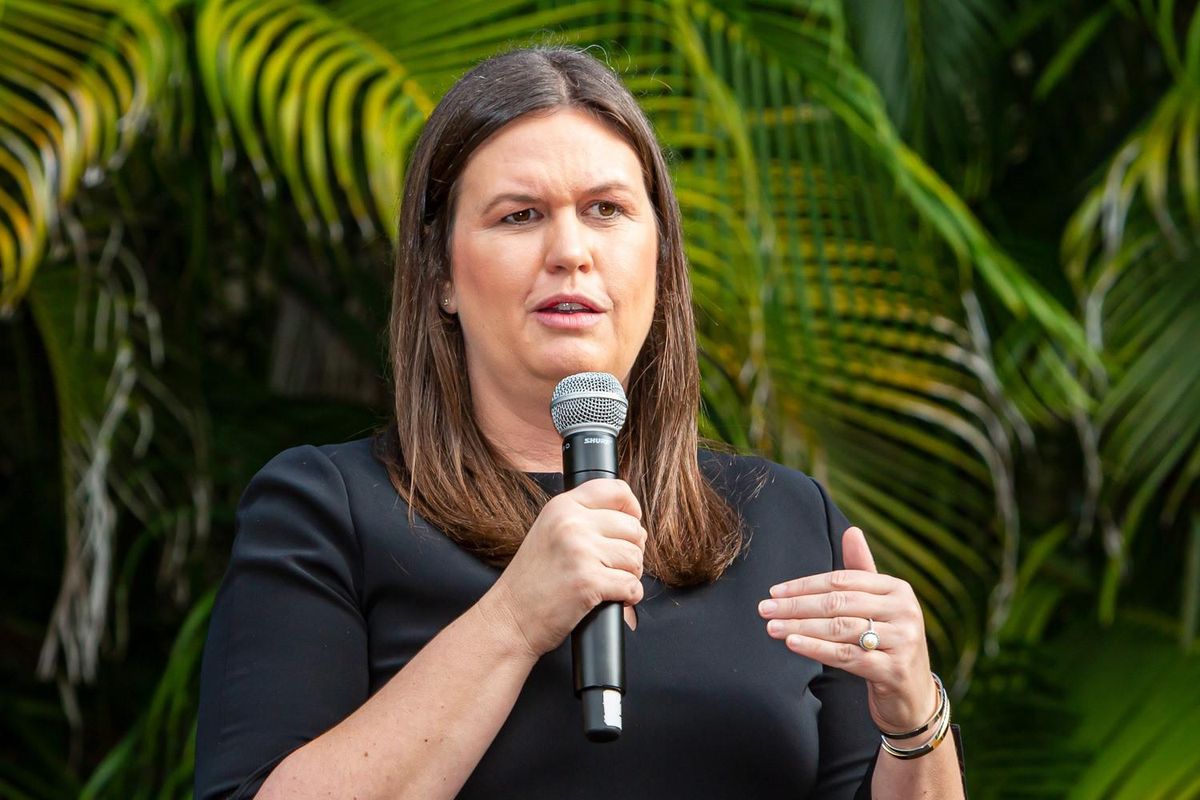 Sometimes pictures do tell the story. When Arkansas Gov. Sarah Huckabee Sanders staged a photo op for the signing of her vaunted LEARNS Act, an education "reform" shoved through a rubber stamp legislature with virtually no debate, she chose a private school in North Little Rock. Not a single Black face was in evidence. Most prominent were a half-dozen handsomely dressed little white boys wearing neckties.
The staging was clearly no accident, and the message was obvious.
The main purpose of the bill is to boost Arkansas private schools at the expense of public education by awarding tax-paid "vouchers" of up to $7000 a year to help parents pay tuition at what it's considered rude to call "seg academies." Most will go to well-heeled suburban families.
Indeed, the bill's long-term impact is clear: It would re-segregate Arkansas schools by, race, by class and by religion.
As former Little Rock school superintendent Baker Kurrus put it in the Arkansas Times, for most kids in under-funded rural and inner-city schools, "a school voucher might as well be a coupon for half off at Tiffany's."
Exceptions for talented athletes would surely be made. Otherwise, it's back to 1956, which appears to be when America was last great in the minds of Huckabee/Trump Republicans determined to restore a lost Golden Age.
That's the year before President Dwight Eisenhower dispatched the 101st Airborne to escort nine brave Black students into Little Rock Central High School in the face of a howling mob summoned by Gov. Orval Faubus, to the state's eternal shame.
Today, there's a statue of the Little Rock Nine on the state capitol grounds, clearly visible from the governor's office. There's also a fine museum on the Central High campus run by the National Park Service, commemorating the traumatic event, which fixed the state's image as a bigot's paradise for a generation. I have seen native Arkansans burst into tears upon viewing the exhibits.
Herself a Central High graduate, Sanders has expressed pride about a fine speech her father, Arkansas Gov. Mike Huckabee, gave there during a 40th anniversary celebration. He outshone President Bill Clinton.
Sarah Sanders wouldn't give that speech. Like her patron Donald Trump, she's most comfortable on the attack. Back in 2017, you may recall, she told reporters inquiring about the firing of FBI Director James Comey that the White House had gotten messages from "countless" FBI agents who'd lost faith in his leadership. (Trump himself celebrated in the Oval Office with Russian diplomats.}
Asked under oath by Special Counsel Robert Mueller's investigators, Sanders admitted there were no such messages. She blamed "a slip of the tongue."
Because that's exactly who she is.
Everybody who disagrees with her educational reforms, Sanders goes on Fox News to say, is a member of "the radical woke left mob" she's protecting Arkansas schoolchildren from. "I think the best thing that conservatives can do, that are living in blue states," she added, "is move to Arkansas. It's really simple…[W]e're going to make sure that the kids are protected and that they're in good learning environments."
Protected from stuff like transgender bathrooms, which if you think were ever a significant problem in the state…
Well, as Mark Twain put it, "you don't know Arkansaw."
Something else Sanders thinks students need protecting from is Black history. On the day before schools opened across the state, her Education Department abruptly ruled that it would not award course credits and wouldn't fund an Advanced Placement course in African-American history administered by the College Board—a course offered in more than 700 schools in 40 states.
Sanders explained: "We've got to get back to the basics of teaching math, of teaching reading, writing, and American history. And we cannot perpetuate a lie to our students and push this propaganda leftist agenda, teaching our kids to hate America and hate one another. It's one of the reasons that we put into law banning things like indoctrination and CRT [critical race theory]"
Got that? Black history is, by definition, a subversive lie that it's forbidden to tell.
Then came a surprise. Little Rock Central High School announced that it would offer the course and find private funding. It was quickly followed by North Little Rock and public high schools in the state's academic communities: Fayetteville, Jonesboro, and the Air Force base city of Jacksonville. The University of Arkansas announced that it will award course credit for students scoring well on the exam.
In response, Sanders' Secretary of Education—a Ron DeSantis acolyte—has demanded that the schools submit their lesson plans to prove they are not breaking state laws against "indoctrination." Black History being inherently subversive, you see. At this writing, it's not clear whether the schools will comply.
Either way, this one appears headed to federal court, where the Sanders administration will lose on First Amendment grounds.
It's an Arkansas tradition.
Gene Lyons is a National Magazine Award winner and co-author of The Hunting of the President.
From Your Site Articles
Related Articles Around the Web