Sarah Palin Mulls Trading In Social Media Punditry For 2014 Senate Run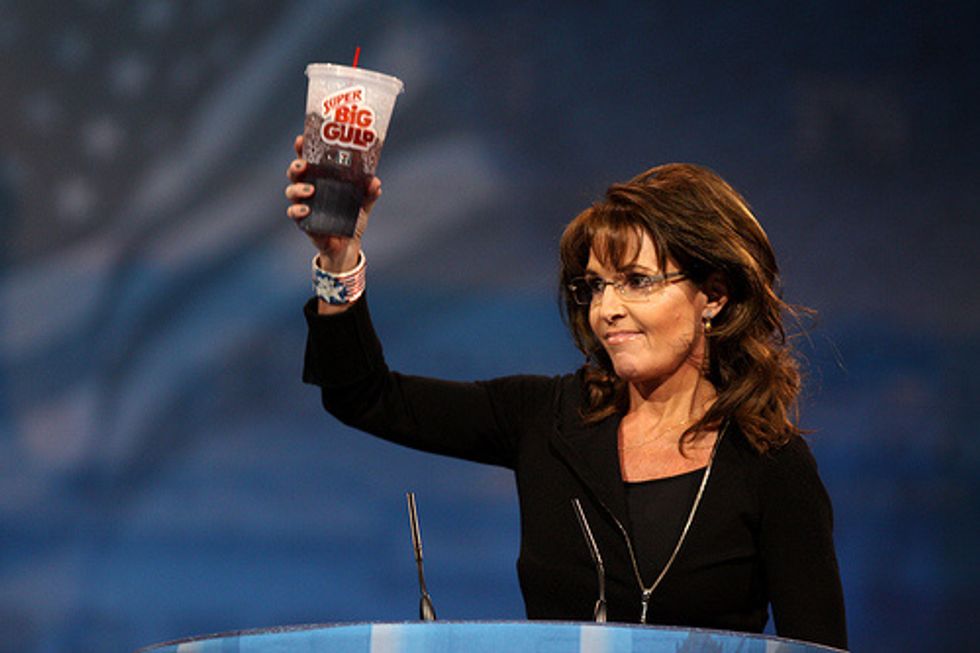 Apparently unaware that being a senator is an actual job that lasts at least six years, confirmed lady of leisure Sarah Palin is hinting at a Senate run in 2014.
"Any American with a heart for service has to always have in the back of their mind that they would do anything [and] everything that they could to help the cause  — even if perhaps it's something that doesn't look necessarily appealing or necessarily fitting in with a conventional plan that they would try to orchestrate for themselves and their family," she incoherently rambled in her patented word-salad fashion on Sean Hannity's radio show. "I, along with anybody, would have to say that I would do whatever I could to help. And you know if that was part of that help, then it would have to be considered."
Palin, whose previous legislative experience is limited to a stint as mayor of Wasilla, Alaska (a largely ceremonial role) and a truncated half-term as governor of the state, thinks she has a good shot at unseating Sen. Mark Begich (D-AK), even though a recent Public Policy Polling survey found that 49 percent of Alaskans view the senator favorably… as opposed to 34 percent who have a positive opinion of the Tea Party princess. The only Alaska politician less popular? Palin's personal pick in the 2010 Senate race, Joe Miller, who trails Begich by 58-30, and lost to a write-in candidate.
The Fox "News" maven, party girl and cultural commentator has been encouraged to run by the Tea Party Leadership Fund, which declared, "We know that, with Sarah in the Senate, conservatives across America can rest a little easier at night knowing that she's at the watch."
And at the watch she is, threatening a challenge to the GOP establishment by forming her own party — the "Freedom Party" — in response to the possibility of an immigration bill that includes what she calls "amnesty." Which in her view doesn't respect "the rule of law" like her hero Ronald Reagan did when he, er… granted amnesty.
Still, it might take a bit of convincing to make The Happy Housewife give up her glamorous, devil-may-care life of appearing on reality shows, whining on Facebook and Twitter and showing up at conferences with silly props to childishly snipe at President Obama and NYC mayor Michael Bloomberg. Because as bossy, attention-seeking and power-hungry as she is, the one thing she's not is someone who has any desire to do an honest day's work. Even if it is at a position that provides more time off the job than on.
 Photo: Gage Skidmore via Flickr.com