Sarah Palin: My Veteran Son Has PTSD Because He's Not Respected By Obama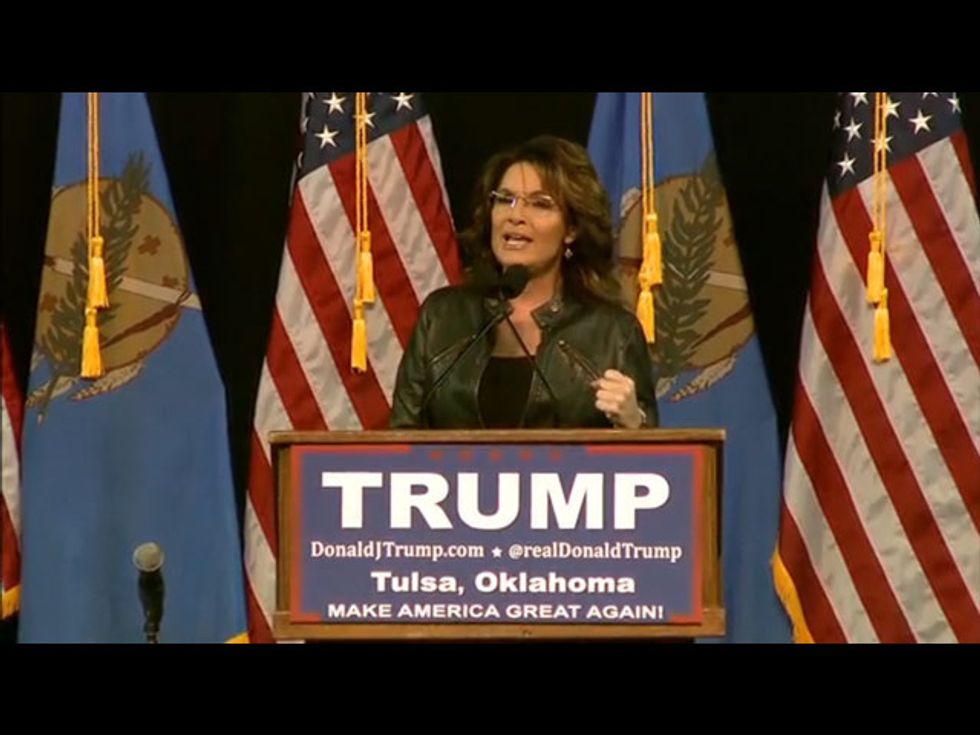 At a Trump campaign rally Wednesday in Tulsa, Oklahoma, Sarah Palin spoke publicly for the first time about the news that her son Track Palin was arrested this week on domestic violence charges, saying that his struggles were a result of post-traumatic stress disorder as a military veteran — and this this was President Obama's fault for purportedly not showing respect to the troops.
"But my son, like so many others, they come back a bit different. They come back hardened. They come back wondering if there is that respect for what it is that their fellow soldiers and airmen, and every other member of the military, so sacrificially have given to this country. And that starts from the top.
"It's a shame that our military personnel even have to wonder, if they have to question if they're respected anymore. It starts from the top. The question, though, that comes from our own president — where they have to look at him and wonder: 'Do you know what we go through? Do you know what we're trying to do, to secure America, and to secure the freedoms that have been bequeathed us?'"
Track Palin was arrested Monday night in an alleged domestic violence incident against a woman the police refer to as his girlfriend, as reported by Gawker, on misdemeanor charges of assault, interfering with the report of a domestic violence crime, and possession of a firearm while intoxicated.
Sarah Palin apparently flew from Alaska to Iowa on the night of Monday, Jan.18, and remained in Iowa to endorse Trump at his campaign rally the next evening. She has stayed with the campaign as it took her to this stop in Oklahoma on Jan. 20.
As also reported from the police affidavit: The New York Times, on the circumstances of Track Palin's arrest:
[Redacted] told Palin that she had called the cops even though she had not, in attempt to calm him down and to scare him away from "touching her". Palin approached [Redacted] and struck her on the left side of her head near her eye with a closed fist. [Redacted] got on the ground in a fetal position because she didn't know what else he would do. Palin then kicked [redacted] on the right knee. [Redacted]'s phone was sitting on the ground in front of her. Palin took her phone and threw it across the driveway. She retrieved the phone and went inside the house. Palin was already inside and holding onto a gun, yelling "do you think I'm a pussy?" and "do you think I won't do it?" [Redacted] stated Palin "cocked the gun" and was holding the rifle out next to him with the his right hand near the trigger and his left hand near the barrel, with the barrel just away from his face pointed to the side. [Redacted] was concerned that he would shoot himself and ran outside and around the house.
In a statement to The Associated Press on Tuesday, Palin family attorney John Tiemessen asked the public to respect the family's privacy "as Track receives the help that he and many of our returning veterans need."
The following is a rough transcription of Palin's remarks:
Let me get a little personal on this. I'm talking about not leaving our wounded warriors behind also. our wounded warriors who come home from the battlefield, bringing new battles with them; our wounded warriors, sometimes in body and in mind, coming back different than when they left for the war zone. I can talk personally about this — I guess it's kind of an elephant in the room — because my own family going through what we're going through today with my son — a combat vet, having served in the Striker Brigade, fighting for you all America in the war zone. (applause)

But my son, like so many others, they come back a bit different. They come back hardened. They come back wondering if there is that respect for what it is that their fellow soldiers and airmen, and every other member of the military, so sacrificially have given to this country. And that starts from the top — it's a shame that our military personnel even have to wonder, if they have to question if they're respected anymore. It starts from the top. The question, though, that comes from our own president — where they have to look at him and wonder: "Do you know what we go through? Do you know what we're trying to do, to secure America, and to secure the freedoms that have been bequeathed us?"

So when my own son is going through what he goes through, coming back, I can certainly relate with other families who kinda feel these ramifications of some PTSD, and some of the woundedness that our soldiers do return with. And it makes me realize more than ever: It is now or never, for the sake of America's finest, that we have that Commander-in-Chief who will respect them, and honor them! (Applause)