Sarah Palin Threatens To Blow Up The GOP Over Amnesty In The Name Of Ronald Reagan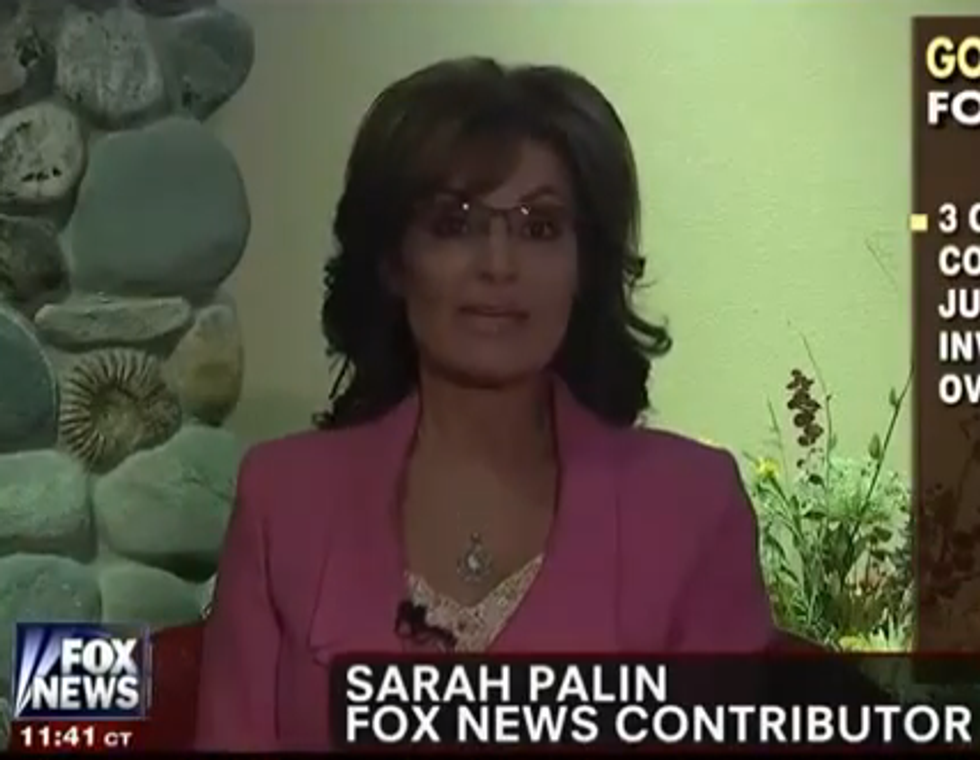 If you've ever watched A&E's Intervention, you know exactly what's going on with the Republican Party.
Near the end of each episode, the addict is finally cornered by friends and family. They each take a turn laying out how the addiction has hurt both the addict and them. They explain that they have an amazing opportunity for their beloved addict, a way out. Treatment and forgiveness is available if the addict can say just one word: "Yes."
Then — if it's a good episode — the addict blasts each loved one for betrayal, tears off the microphone and bolts off toward some strip mall to call a dealer.
In the aftermath of comprehensive immigration reform passing the Senate, House Republicans are bolting. In fact, that retreat into their addiction began before the Senate passed their bill with 68 votes.
"The House has no capacity to move that bill," said Rep. Peter Roskam (R-IL), the GOP's deputy whip, Thursday morning. "It just won't happen. It's a pipe dream to think that bill will go to the floor."
And it only got worse from there.
Sarah Palin — appearing on Fox News Thursday from some location where they didn't have lighting — scored one of the LOLs of the year after bashing Republicans for going along with a bill that she said was "Pelosi'd" through.
Asked if she and talk show host Mark Levin were willing to start a third party, the Freedom Party, to show their displeasure with the GOP, the half-term governor said:
I love the name of that party — the 'Freedom Party.' And if the GOP continues to back away from the planks in our platform, from the principles that built this party of Lincoln and Reagan, then yeah, more and more of us are going to start saying, 'You know, what's wrong with being independent,' kind of with that libertarian streak that much of us have.
Palin added on her Facebook page that amnesty doesn't respect "the rule of law."
LOL.
Of course, the one president who ever granted what the GOP calls "amnesty" was Ronald Reagan.
Conservatives say that the Gipper was tricked! He was promised border security, which he, and later President George H.W. Bush, never bothered to enact. And when House Republicans were shutting down the government in the 90s, they never mentioned border security.
Securing the border didn't become a Republican obsession until the 2007 immigration fight, as news of America becoming a minority-majority country had seeped into the water table.

Of course, "securing the border" is nativist code for keeping "them" out.
This trite trope ignores the fact that this president has reduced illegal border crossings to the lowest level in 40 years. And passing any immigration reform that includes a guest worker program — as the Senate bill does — is the best measure to secure the border, since it gives law-abiding workers — the vast majority of border crossers — a chance to enter the country legally.
But House Republicans are using a payphone trying to score, before Karl Rove shows up in a minivan to explainagain their only path to victory in 2016 is to raise white turnout to 2008 levels, raise their share of the white vote slightly and get 35 percent of the Latino vote.
Mitt Romney got 27 percent of the the Latino vote, less than John McCain, who got less than George W. Bush. Rove wants to increase Republicans' take by 8 percent when history suggests the GOP would be lucky to just not continue their slide. That's why he, the Koch brothers and Sheldon Adelson — some of the GOP's biggest funders — have put everything they've got behind Senator Marco Rubio (R-FL).
In every way that matters, Rubio is as extreme as Mitt Romney and nearly as extreme as Senator Rand Paul (R-KY), the GOP populist leader who along with another likely 2016 candidate, Senator Ted Cruz (R-TX), voted against the Senate. But the junior senator from Florida has been savaged by the right wing for shepherding this compromise, which includes an atrocious "border surge," through the upper House of Congress.
Rep. Steve King (R-IA) held an anti-reform rally outside the Capitol that turned into the Comedy Central Roast of Marco Rubio.
King has since apologized to Rubio. And The Washington Examiner's Conn Carroll, who spent weeks blasting Rubio's "leftist" talking points, wants you to know he still "loves" Rubio.
Because when it comes down to it, they all want the same things: lower taxes for the rich, no regulations, and a Supreme Court that will overturn Roe v. Wade and continue ruling for corporations every time it matters.
Rove and Rubio just know they're going to need a little over a third of the growing Latino vote to make that happen.
Sarah Palin, however, typifies the GOP's problem, the addict on the run. She's an unelectable mix of politician and pundit with nothing to lose except people's attention. She, Paul and Cruz speak for the soul of the GOP base that hates government spending because it goes to "them."
And she'll say anything to hurt those who are trying to help her. In fact, Palin had a special message for Rubio.
"Obama Calls Rubio to Congratulate Him on Immigration Reform" http://t.co/K8FUXBsFhG …Hope it was worth 30 pieces of silver.

— Sarah Palin (@SarahPalinUSA) June 28, 2013
Yep, Sarah Palin called Marco Rubio "Judas." But if the GOP dies, it will be for her sins.