Senate Leader Eyes Sunday Scrap Over Government Shutdown
@AFP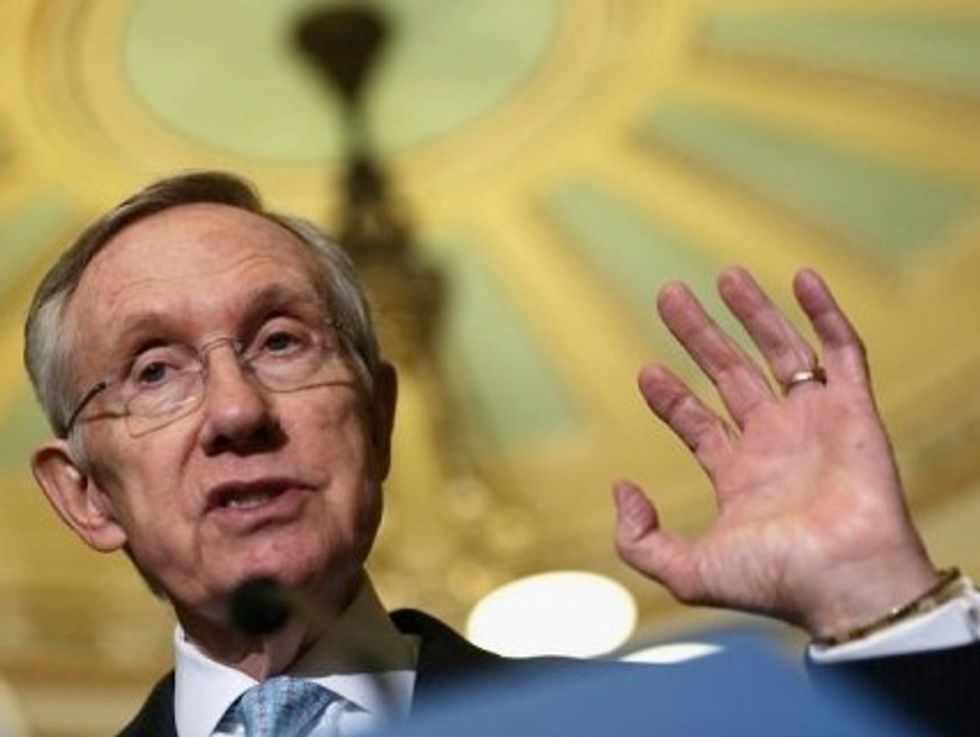 Washington (AFP) – The U.S. Senate faces a Sunday showdown over whether to keep government running, but bickering over President Barack Obama's signature health care law is bringing federal agencies dangerously close to a shutdown.
A fractured Congress is struggling to approve a stopgap spending bill that keeps government doors open after the current fiscal year ends next Monday.
The Republican-led House of Representatives last week passed a contentious measure that funds government operations at current levels through December 15, but which also strips the three-year-old health care law, known as "Obamacare," of all its funding.
Senator Harry Reid, the Democratic majority leader, vowed to thwart ongoing Republican efforts to do the same in his chamber, telling reporters on Tuesday that "the Senate will not pass any bill that defunds or delays Obamacare."
He has set up an initial procedural vote on the matter for midday Wednesday, and both parties acknowledged that the measure will reach the 60 votes necessary in the 100-member body.
Reid said he will then strip out the Obamacare language, and amend the budget bill to fund government only until November 15 instead of mid-December.
That would push Congress to quickly work out a long-term budget deal instead of extending the fiscal crisis right up to the end-of-year holiday period.
Should Reid's Senate schedule prevail, "we'd finish sometime on Sunday," he said.
That would leave the House under 48 hours to either pass the amended bill or send a re-worked counteroffer back to the Senate.
'In a pretty tough spot'
Government agencies would begin shutting their doors early Tuesday if no spending agreement is reached, and hundreds of thousands of federal workers would likely be ordered to stay home with no pay.
The top Senate Republican, Mitch McConnell, said he hoped to compress the process, leaving the House more time to work its will.
That lawmaker on Tuesday was freshman Senator Ted Cruz, whose effort to block Reid's strategy appeared.
"If the House doesn't get what we send over there until Monday, they're in a pretty tough spot," he said.
McConnell also stressed that "any one senator can object to any effort to shorten the process."
Doomed to failure as McConnell and other Republicans peeled away.
Cruz nevertheless took to the Senate floor to announce he would speak in opposition to funding Obamacare "until I am no longer able to stand."
"We don't need fake fights, we don't need fake votes. We need real change," the conservative Cruz said, blasting Washington's "rigged process" that keeps Obamacare funded.
Cruz held the floor all night long, ceding the podium only long enough for questions, mainly from fellow Republican Mike Lee.
As of 1015 GMT Wednesday, Cruz had been speaking for more than 15 hours with no sign of stopping, interspersing his calls for Republican unity in opposing Obamacare with personal anecdotes and quotes from author Ayn Rand, a Tea Party favorite.
The speech had all the feel of a Senate filibuster, a blocking tactic aimed at preventing legislation from moving forward.
But Reid insisted procedures were in place that would require Cruz to stop his speech by mid-day Wednesday, before the vote.
"There's no filibuster going on now," Reid said. "People can come and talk. But they can't do anything to change when we vote."
Cruz accused Reid of using "brute political force" to ram through his procedures.
With Cruz leading his conservative charge, a fellow Republican warned that threatening a government shutdown over Obamacare may come back to haunt the party next year.
"Defunding Obamacare is a goal all Republicans share, but the tactics we employ in achieving that goal can have a backlash," Senator Lindsey Graham said.
U.S. mid-term elections will be held November 2014, and the fight over Obamacare is set to figure prominently in Republican efforts to win back the Senate and extend its control of the House.
Should Congress pass a budget bill with no Obamacare provision, Republicans including Graham have suggested they will seek to use the next fiscal hurdle — the need to raise the debt ceiling — to negotiate a delay to the health law's implementation.
The U.S. Treasury may hit its legal borrowing limit of $16.7 trillion by mid-October, and failure to raise the debt limit could send the U.S. into its first-ever credit default.
Photo Credit: AFP/Alex Wong