Senate Odd Couple Seek Common Ground On Climate Change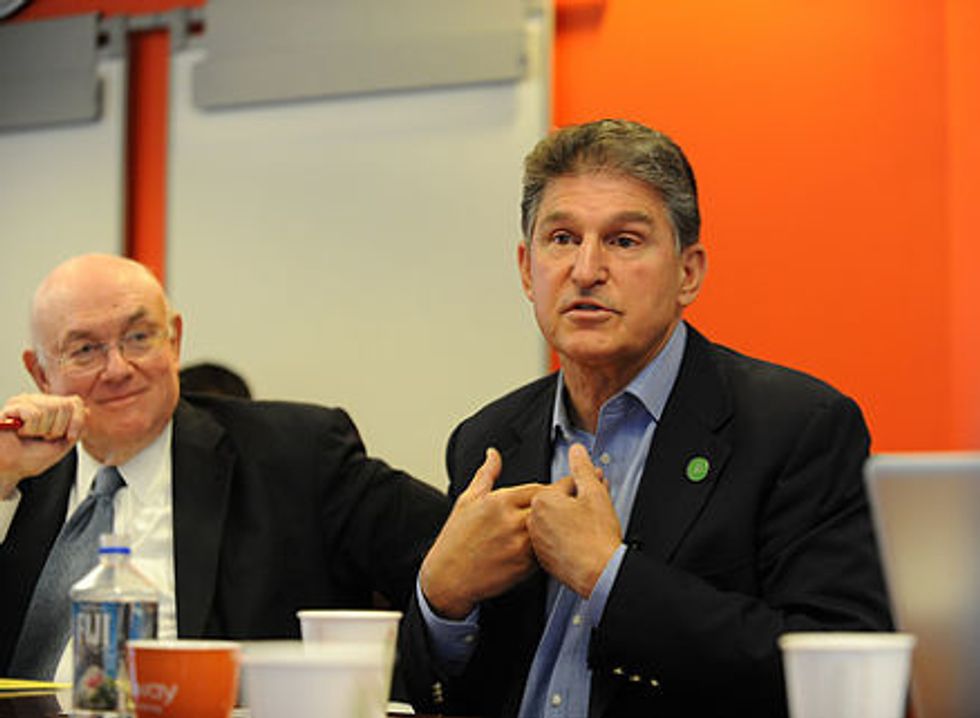 By Niels Lesniewski, CQ Roll Call
POINT JUDITH, R.I. — A visit to the Ocean State's eroding shoreline didn't prompt West Virginia Sen. Joe Manchin III to change his mind about EPA regulation of carbon emissions, but his host wasn't expecting that sort of evolution.
"I didn't invite Sen. Manchin here thinking that he was suddenly going to have an epiphany and turn into a 'greenie' and come to the next climate march with me," Sen. Sheldon Whitehouse told reporters after the two Democrats took a daylong tour of coastal Rhode Island on Oct. 10.
"What I do think though is that he is a smart and reasonable voice from the prototype coal state who has very, very good relations with a lot of our most conservative members of the Senate, some of whom believe that the whole climate change problem is a conspiracy designed as a foil to allow people to expand the role of government and take away freedom," the Rhode Islander continued.
You would be hard-pressed to find two Democratic senators who more clearly demonstrate the party's divide on energy and environmental issues, so it was notable when they announced plans to visit each others' states to discuss energy and climate policy.
Manchin followed through on the first half of the bargain last week, joining with Whitehouse in meeting with oceanography experts, fishermen, environmental officials and residents and business owners at risk of seeing their properties washed away by rising tides.
Asked about the clear disagreement with Whitehouse on the use of executive action by the Environmental Protection Agency in regulating coal emissions, Manchin pointed to one of the reasons why he's willing to work toward a legislative solution with someone like his Rhode Island counterpart.
"I'm relying on Sheldon to bring the EPA to a commonsense position, to work with us and not against us, and if you have people that are so respected in the environmental community such as Sheldon say, 'Listen gang, we've got to start working together and quit fighting each other,'" Manchin said. "Maybe he can help me and I rely on that, and I know they listen to Sheldon. That he can say the EPA should be working, coming to West Virginia, looking for solutions and not keep beating our heads with a ball bat every time they come."
"We need good people like Sheldon that understand, and maybe brings a federal agency like the EPA in line," Manchin said.
A trip aboard a Rhode Island Department of Environmental Management trawler named for former Republican Gov. and Sen. John Chafee, highlighted the activities here.
After leaving from Point Judith, commercial and sport-based fishermen told the senators how the fish population has evolved and how federal regulations have not kept up. The senators participated in the sorting and counting of fish, part of the department's efforts to better understand the population.
"We need to invest some time and money into really understanding the long-term effects of these climate shifts," said Rick Bellavance, a recreational charter operator. "I definitely think that there are differences. When I first started coming here to Point Judith 25 years ago, maybe once or twice a year my dock would be underwater because the tides were too high. Now, it seems like every month, two or three days my dock is underwater."
At Roy Carpenter's Beach, a collection of summer cottages along the waterfront in nearby Matunuck, Whitehouse and Manchin met with residents, including Kevin McCloskey. His cottage, which has enjoyed a front-row view of the ocean, needs to be moved to the rear of the lot by the time the property opens for the 2015 season in hopes of avoiding rising tides.
"This is my heaven. I'm giving this up to go in the back row because the community's worth it down here," McCloskey said. He noted some of his neighbors have already lost homes.
"I don't want … my house falling in the ocean, because when I go diving down there, I see remnants of refrigerators and stuff in the ocean, and that bothers me," he said.
The day ended at two oceanfront bars where the owners outlined threats to their businesses. In between the watering holes, the senators paused for an interview with MSNBC's Ed Schultz. The liberal talk host's show dispatched a satellite truck for a shot with an ocean backdrop most often seen on cable news during hurricanes. Perhaps that was appropriate given that Superstorm Sandy less than two years earlier had washed into the Atlantic three of the summer cottages at the working-class beach community the senators had just visited.
Manchin told reporters he hoped more of his colleagues would make similar trips in an effort to bridge divides.
"If you don't build that relationship, you don't have any type of a colleague type of relationship and then build a friendship off that … you're not going to find the middle," Manchin said. "I'm not seeing a perfect piece of legislation. I'm not seeing a perfect solution. I've found that if we talk and work through it, we might try to move forward and make our country a better country."
Whitehouse has given nearly 80 weekly Senate floor speeches on energy and climate issues, and Manchin joined him June 25 for an exchange about finding common ground. The two senators reiterated much of the same message last week.
"We did a colloquy. We keep talking, our staffs are talking all the time," Manchin said. "We're sincerely looking to find — I said Sheldon help me get the money freed up from the Department of Energy so we can find the technology that you want so that we can take the CO2 completely out of the system whether it be existing or … new plants, new coal-fired plants, and we can reduce what we have right now."
There's no sign of a broad agreement on how to balance environmental and economic consequences, but the two Democrats at least listened to each other as they took in Rhode Island's idyllic coastline.
The listening could always lead to progress, given the senators are surely to see a similar dire situation, though for entirely different reasons, when Whitehouse comes to Manchin's coal country in the coming weeks.
Photo: Third Way via Flickr