Why Senate Press Gallery Should WIthhold Credentials From Bannon's Breitbart News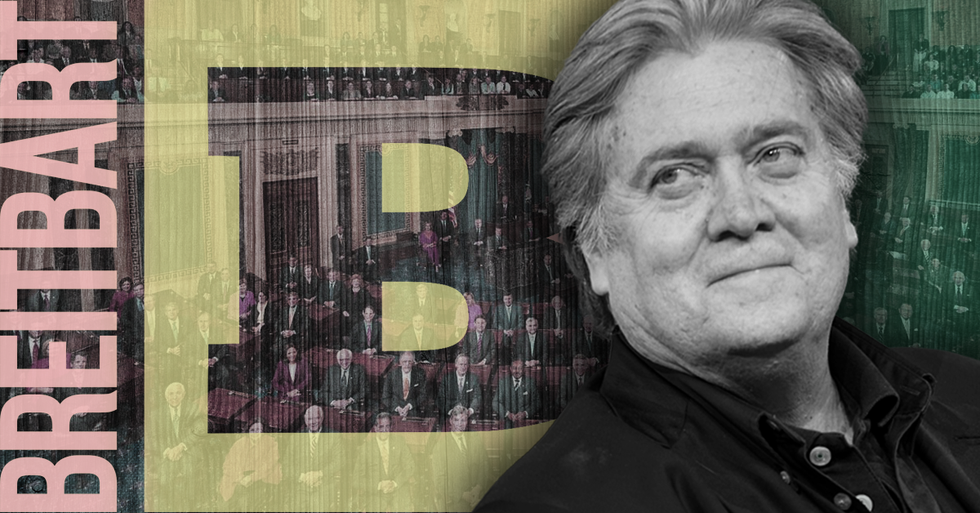 Reprinted with permission from MediaMatters.
Introducing former White House chief strategist and Breitbart.com executive chairman Stephen Bannon on Sunday night, CBS News' Charlie Rose told the 60 Minutes audience that Breitbart is "the website where the alt-right and conspiracy theories meet conventional conservatives." Rose is right that Breitbart has a long and unsavory history of providing bigotry and paranoia with a bigger audience. But Bannon himself would say that Breitbart is more than that. It's one of his "weapons," he told The Weekly Standard when he rejoined the website in mid-August, a "f***ing machine" that he planned to use to "crush the opposition" to President Donald Trump.
Bannon's return to Breitbart has completely vindicated the Standing Committee of Correspondents of the Senate Press Gallery, which took some fire in April for rejecting Breitbart's application for the permanent credentials that would allow its reporters to move freely about the halls of Congress. While Bannon was working in the White House, Breitbart CEO Larry Solov sought to minimize the committee's concerns; gaining Capitol Hill credentials was part of a broader attempt to professionalize, if not necessarily moderate, the website. But since leaving the White House and resuming his role as Breitbart chief, Bannon has completely destroyed those efforts.
The committee, composed of five members of the congressional press galleries elected by their peers, was concerned that Bannon could still be exercising control over Breitbart from his West Wing office. Solov tried to convince its members that their fears were misplaced, claiming that Bannon had resigned from the company (albeit without being able to provide a date on which this had happened) and no longer played an editorial role. But Bannon's speedy return — within hours of leaving the White House, he called in to a Breitbart editorial meeting — suggests that he always had a guaranteed job at Breitbart waiting for him whenever he left, and thus that the site was not truly independent of him while he was serving in government.
The committee's members also had concerns about the role that major Republican donors Robert Mercer and his daughter Rebekah played in the website, based on reports that they were part owners and at times suggested "areas of coverage." Solov acknowledged that they had an ownership stake in  the site but denied that they played an editorial role. But right before Bannon came back to Breitbart, he plotted strategy for his post-White House role with Robert Mercer, his longtime political patron, suggesting that Mercer could have played a role in his return.
Additionally, the committee pointed out that Breitbart's employment of editorial staff who were also employed by Mercer-funded political entities was irregular and opened the outlet up to conflicts of interest. Solov sought to minimize these questions as well. But on Sunday, Politico reported that Bannon is leading an effort involving millions of dollars in Mercer funding aimed at defeating GOP incumbents who are considered insufficiently loyal to Trump's agenda. That means Bannon will likely be simultaneously helping to direct Mercer spending against GOP senators and representatives, while at the same time maintaining editorial control over Breitbart's reporting on those figures. During his prior turn at the website, Bannon simultaneously played key roles with several other Mercer ventures; it's unclear if he will return to those posts.
The shady circumstances surrounding Breitbart's Washington, D.C., headquarters also raised the committee's hackles. The property is a town house that is not zoned for commercial activity and is owned by an Egyptian businessman whom Breitbart has repeatedly promoted as an expert. Breitbart told the committee it was in the process of moving. But nearly five months later, not only is the website still working out of the town house, but Bannon also thumbed his nose at the idea of any impropriety by bringing the 60 Minutes film crew in to observe a Breitbart editorial meeting. As millions of Americans tuned in on Sunday, Rose described the property as Bannon's "home in Washington, which doubles as the headquarters of Breitbart News."
"I don't need the affirmation of the mainstream media," Bannon said in the interview. "I don't care what they say." That's an odd claim to make on the nation's leading newsmagazine show, though it makes sense as a way to publicly leverage the right's contempt for the press in order to build up his own profile. But whether Bannon wants the media's affirmation or not, his website certainly sought and failed to receive the acceptance of its mainstream colleagues. The committee's rejection was the right call then, and everything that's happened in the past month only confirms its decision.
Header image by Sarah Wasko / Media Matters