New Texts Expose Sen. Lee And Rep. Roy Scheming To Overturn 2020 Election
@Brandi_Buchman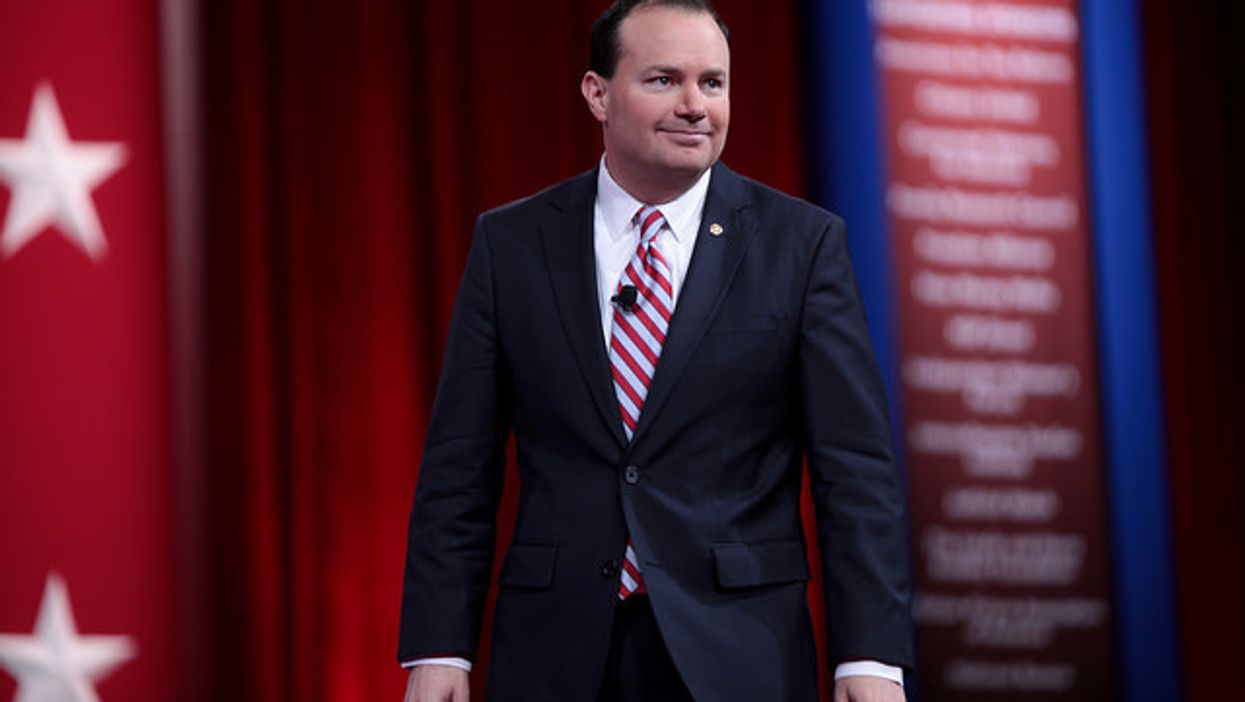 When Donald Trump lost the presidency in 2020, Sen. Mike Lee of Utah and Rep. Chip Roy of Texas spent weeks frantically prodding then-White House Chief of Staff Mark Meadows to find ways to overturn the 2020 election results, according to text messages newly obtained by CNN on Friday.
But when evidence of so-called fraud did not materialize and Trump's ever-expanding team of ethically challenged attorneys failed to deliver in court, instead holding spectacle-riddled press conferences rife with dubious constitutional theory, Lee and Roy became cynical.
In the end, after blood had been shed inside of the Capitol courtesy of the insurrection incited by Trump, Lee and Roy voted to certify Joe Biden as president.
Now, as the nation prepares for public hearings about January 6, the texts offer a keen glimpse into some of the private thoughts and conduct of legislators who were willing to override the will of over 80 million voters.
The text messages from Lee and Roy to Meadows range from November 7, 2020 to January 6, 2021, and they are already in the Jan. 6 committee's possession. There are roughly 100 texts in the batch CNN made public Friday.
A spokesperson for the probe declined to comment or confirm any of the details reported. Representatives for Lee, Roy, and Meadows did not immediately respond to request for comment by Daily Kos.
Roy's spokesman, however, told CNN the texts "spoke for themselves," and a communications director for Lee called Lee "fully transparent" since he previously and publicly aired his concerns about fraud in the aftermath of the 2020 election.
It was Nov. 7, 2020, when Lee planted his flag with Meadows and pledged to find "every legal and constitutional remedy" to "restore Americans faith in our election."
Trump didn't have to concede, Lee told the White House chief of staff.
Trump also didn't have to destroy the "credibility of the election process," he added.
Lee believed there was a "third way" that could work.
Lee pushed to have right-wing attorney Sidney Powell guide those efforts and sent Meadows her cell phone number and email. She had a "strategy that would keep several states in play" for Trump, the senator vowed.
He urged Meadows again just a couple of days later, saying Powell was a "straight shooter."
Powell had already established a reputation for herself in Washington long before Lee made the recommendation that she take on Trump's latest scheme. She represented Trump's ex-national security adviser Michael Flynn after he pleaded guilty to lying to Vice President Mike Pence.
She would eventually launch a legal bid against the Department of Justice on Flynn's behalf, accusing them of prosecutorial misconduct. A judge swatted her down, finding no such proof. She was also vehemently opposed to Robert Mueller's probe of Russian interference in the 2016 election and regularly carried on about "deep state" conspiracy theory.
For a while, Powell's knack for right-wing red-meat spectacle only increased her cache in Trump's White House. Trump even praised her on Twitter as a "great" attorney after she took up for Flynn.
Around the same time that Lee was pushing for Powell to get more involved, Roy sent a flurry of texts to Meadows. The Texas congressman was concerned that the president's allies in Congress were ill-equipped to make the case of widespread fraud to the public.
"We have no tools/data/information to go out and fight RE: election/fraud. If you need it/want it, we all need to know what's going on. Fwiw ..." Roy wrote on November 5.
Meadows told Roy he was "working on it."
Two days later, Roy again texted Meadows.

Meadows tried to soothe him.
"We are working on exactly that," he replied.
By November 9, Lee had told Meadows he held a meeting with Powell and fellow Republican senators so she could familiarize them with Trump's "legal remedies."
"You have us in a group of ready and loyal advocates who will go to bat for him, but I fear this could prove short-lived unless you hire the right legal team and set them loose immediately," Lee said.
With the electoral college safe harbor certification deadline only weeks away at that point, Powell was well into Lee's ear. Lee said she told him that Trump's campaign attorneys were "obstructing progress" that could be made on the president's supposed path to victory.
But within a few weeks, things changed. Powell's performance at a 90-minute press conference with Trump attorneys Rudy Giuliani and Jenna Ellis just before Thanksgiving caused a major rift.
Powell made wild claims at the press conference. She said Dominion Voting Systems used rigged software on its machines at the behest of former Venezuelan President Hugo Chavez because that helped him rig his own election. She also said the company had ties to George Soros and the foundation run by former President and First Lady Bill and Hillary Clinton known as the Clinton Foundation.
She also claimed that the software used and set an algorithm that switched votes from Trump to Biden.
None of what Powell said during the November 19 press conference was true.
Lee was watching and shot Meadows a text.
"I'm worried about the Powell press conference," Lee wrote.
In another message, he warned Meadows: "The potential defamation liability for the president is significant here. For the campaign and for the president personally."

Lee urged that Powell be cut off from the campaign unless her wild claims of fraud could be substantiated. "He's got deep pockets, and the accusations Powell made are very, very serious," Lee wrote. It is unclear if Lee meant Trump had deep pockets or was referring to the owner of Dominion Voting Systems. The company did eventually sue Powell for defamation for her comments and when she responded in court in March 2021, the conservative attorney defended her conduct by saying she was only sharing her opinion and that "reasonable people" would not accept her commentary as fact. She was ordered to pay damages and was later sanctioned in court for filing lawsuits in bad faith.
The text messages demonstrate how Lee pulled away from Powell after the press conference and began advocating for longtime conservative attorney John Eastman to get involved. Roy was chatting with Eastman around this time, too."Get Eastman to file in front of PA board of elections," Roy wrote to Meadows after asking him if the president had engaged with Eastman yet. "Get data in front of public domain," Roy wrote on November 22."Frigging Rudy needs to hush," Roy added. The GOP needed a "controlled message ASAP," because, according to Roy, without "logic and reason" presented, only the most "hardcore Trump guys" would lodge an objection at certification.
Over in the Senate, Lee was still spitballing and told Meadows he had "ideas" about how to audit battleground states. Eastman had a proposal that could help things move along, but the White House would have to act fast.
Eastman was responsible for writing a memo proposing an unconstitutional strategy that pressured the vice president to stop the certification despite lacking the authority to do so. It is unclear what date the memo was written.

By mid-December, neither Roy nor Lee seemed confident that they had the "evidentiary support" they needed to anchor the fraud claims and bolster support from fellow lawmakers to object.
"The president should call everyone off. It's the only path," Roy wrote on December 31. "if we substitute the will of states through electors with a vote by congress every 4 years, we have destroyed the electoral college … respectfully."
Lee told Meadows a few days later he had "grave concerns" about the plan Sen. Ted Cruz of Texas had in place to object to battleground state electors. It wouldn't help Trump, he warned on January 3.
That same day, Lee wrote:

Lee believed things could change if battleground states certified Trump's electors "pursuant to state law" but absent that, he conceded, the effort to stop or delay the certification was "destined not only to fail but to hurt DJT in the process."
Trump took a swipe at Lee during a rally on January 4, saying he was a "little angry at him" for suggesting he was against objecting on January 6.
"MIke Lee is here, too. But I'm a little angry at him today."pic.twitter.com/n6QQcmgzTj

— Aaron Rupar (@Aaron Rupar) 1609815167
Lee had spent hours that day, he whined to Meadows over multiple texts, trying to "figure out a path that I can persuasively defend."
Meadows apologized, saying Trump had "bad intel."
"And this won't make it any easier, especially if others now think I'm doing this because he went after me. This just makes it a lot more complicated," Lee seethed to Meadows. "And it was complicated already. We need something from state legislatures to make this legitimate and to have any hope of winning."
That same day, Roy messaged Meadows and apologized for having to break with the president when lawmakers would convene at the Capitol on January 6.
"I am truly sorry I am in a different spot then you and our brothers re: Wednesday. But I will defend all," Roy wrote. [Spelling original]
Within 48 hours, Trump would take to the stage at the Ellipse, flanked by his attorneys, like John Eastman and Rudy Giuliani. He would spend more than an hour delivering remarks about a stolen, fraudulent election, whipping the crowd into a frenzy.
Before he even finished his speech, rioters had already made their way down to the Capitol and began pouring over police barricades.
Roy sent a message to Meadows during the attack: "This is a complete shitshow."
He urged: "Fix this now."