#EndorseThis: Seth Meyers Looks Hard At Trump, Pence, And Corker Too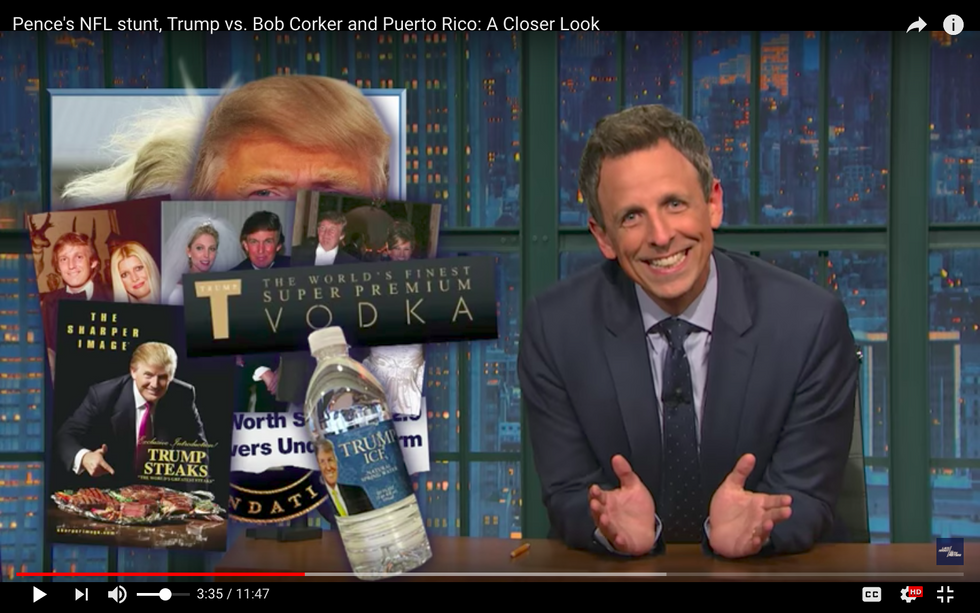 Of all the unintentionally hilarious moments in Mike Huckabee's groveling interview with Donald Trump (his daughter Sarah's boss) Seth Meyers picks up what may be the funniest. Stumbling in his diction as always, the president claims he never heard anyone use the word "fake" before he did — an assertion Seth finds impossible to believe for reasons that are, as you will surely agree, quite obvious.
Speaking of fake, nothing merits that scornful description more than Mike Pence's feigned indignation about the football players who kneeling led to his supposedly spontaneous walkout from a weekend Colts game. The ineffably stupid Veep (and his boss) clumsily revealed that this was actually a planned political stunt, conducted at taxpayer expense. Anyone who insists America would fare better with Pence as president just saw that argument vanish into the Twitter haze.
And then there's Senator Bob Corker, suddenly a national hero for uttering what everyone has known for months and years about Trump's dangerous unfitness for his office. For some reason Seth can't help remembering how Corker sucked up to Trump last year, just like every other Republican official who knew better.