Seven Cult Workouts That Changed Fitness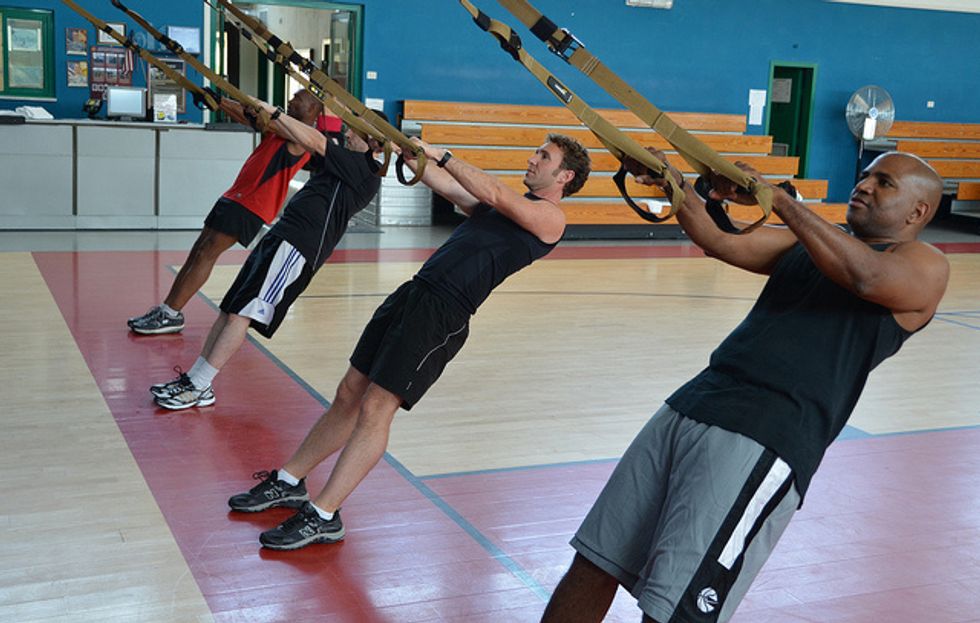 By Alina Gonzalez, Byrdie (TNS)
With summer fast approaching, we're looking at some of the biggest movements to ever hit the exercise industry. From Spinning that's dedicated to self-love to the do-it-anywhere resistance workout that began in the Navy SEALs, these workouts took the fitness world by storm, changing people's lives along the way. Sometimes, the elliptical and stationary bike becomes a bit too boring to incite inspiration, and that's where these cult classes come in. If you've hit a rut or are looking to bust out of a plateau in time for that bikini body, you're in the right place.
Body by Simone
Body by Simone, or as the in-crowd knows it, "BBS," is a dance-based regimen that's the brainchild of its namesake, Simone de la Rue. Each class is a full-body, high-intensity dance cardio workout that involves mini-trampolines, jump ropes, and dedicated Pilates-based ab and arm work. Celebrity devotees include Sandra Bullock, Anne Hathaway, and Naomi Watts, and though that A-list roster speaks for itself, it's difficult to doubt the effectiveness of the workout once you see de la Rue's toned, lean body. Physical inspiration aside, her boundless energy, bouncy personality, and approachable demeanor will motivate you like no other. Though Body by Simone studios currently only exist in New York City and Los Angeles, you can participate in online workouts via Simone TV, and de la Rue's first book (Body by Simone: The 8-Week Total Body Makeover Plan) just came out last month.
Try this if: You want a dancer's body.
Summary: All the benefits of Pilates but with the fast pace of a high-energy cardio class. Expect to sweat and have fun.
Barry's Bootcamp
Like jumping off a cliff into the ocean and seeing the Eiffel Tower in person, Barry's Bootcamp is simply something you have to try at least once in your life. It's truly an experience like no other. The one-hour workout takes the format of an amped-up boot camp, split between cardio and strength training (30 minutes of each) and with music to make you feel like you're in a club. Once the lights turn down, you'll run on a treadmill at speeds you didn't know you could reach, propelled forward by pumping tunes, sheer adrenaline, mutual support from your fellow boot campers, and incredibly uplifting instructors. You'll squat, press, lift, and crunch; and as soon as it's over, you'll want to do it again. The cult workout is particularly popular because it's gender neutral, so it's not uncommon to find couples attending together on a Sunday morning or whenever the urge to sweat strikes. Hard-core fitness dudes love it just as much as lean-body-seeking gals. Fridays through Sundays are "full body" days, while the other days of the week focus on specific areas. Barry's has locations across the country.
Try this if: You want to get slim and strong — fast — and enjoy high-intensity workouts.
Summary: The most hard-core boot camp you will ever try, with bumpin' jams blasting to make it fly by. Its claim to fame is that you can burn approximately 1,000 calories per class.
The Bar Method
Barre-based workouts that fuse ballet, Pilates, and strength-training moves have surged in popularity over the last few years, and you can basically thank The Bar Method for starting the trend. As the original barre workout, it began as one studio founded by Burr Leonard and her husband in 2001 and has since expanded to 75-plus locations nationwide with a seriously devoted fan base. Anyone who knows someone who has taken a Bar Method class knows that once you start, you don't stop. The one-hour classes involve ever-changing series of exercises (so you never get bored, no matter how often you go) that target the arms, thighs, seat, back, and abs and help improve posture and alignment for more of a dancer's body.
Try this if: You want to strengthen and tone while sculpting lean muscle.
Summary: A non-impact, ballet-based strength-training workout that will make your muscles shake and burn from repetitive, isolated movements.
SoulCycle
Personal fitness has highly emotional influence in its strengthening, healing, empowering ways, and SoulCycle taps into that soul-affirming aspect of working out. In addition to being a fitness party where everyone claps and cheers and encourages one another to the soundtrack of super-motivating music and instructor support, the Spinning class has come to be known as a place of catharsis. Many people have taken up SoulCycle after suffering a loss, experiencing divorce, or recovering from cancer and found it to be their therapy. It's a communal, uplifting space to push your limits and get all the resulting feel-good endorphins.
Try this if: Spinning is your preferred exercise of choice and you want to work hard with fun music and people.
Summary: A high-intensity Spinning class that will make you feel the love.
Zumba
Zumba has been around as a dance form for decades, but the Zumba in question? It's the particular brand of dance cardio that got its own trademark. The high-energy Latin fitness program combines elements of salsa, samba, mambo, and merengue with traditional bodyweight resistance exercises like squats, leg lifts, and lunges — and people are crazy about it. It's impossible not to smile, laugh, and enjoy the heck out of yourself while partaking in a Zumba class, which partly explains why it's become such a cult favorite (the other part is its calorie-burning, core-sculpting potential). You can try hard-core Zumba (wearing the gear and everything) or you can dabble in Zumba, but either way, you have a really good time.
Try this if: You like dancing and want to feel like you're not working out.
Summary: A Latin dance-fitness fusion class that is fun as hell.
Tracy Anderson Method
There's a lot to say about the Tracy Anderson Method, but perhaps this one phrase says it all: Gwyneth Paltrow's body. Yes, Gwyneth's indestructible abs and long, lean frame that has only gotten better and more enviable with age are the result of dedication to trainer and fitness guru Tracy Anderson's Method workout. It focuses on strengthening the small "accessory muscles" that support the larger muscle groups in your body. The Method program is famed to be "transformative" no matter your body type and above all promises to deliver one clear thing: long, lean muscles. Though there are only four locations nationwide (two in L.A. and two in New York), her website offers video streaming subscriptions for various programs so you can work toward GP's bod in your own living room.
Try this if: You want a long, lean dancer's body.
Summary: Celeb-approved danced-based and strength-training moves that make you strong and lean.
TRX
TRX training is such a simple concept, yet the possibilities of what you can do are boundless. Using a suspension band attached to a stable structure (for example, hung over a door), you wrap both your hands (or one, depending on the exercise at hand) and use gravity and your body weight to perform strengthening exercises. Developed in the Navy SEALs, it improves balance, flexibility, and core stability and can be done anywhere. Beloved by male and female celebs alike, from professional athletes to supermodels, the program exercises the full body in every plane of motion, all using your own body weight. The workout has become so popular and respected in the fitness world that TRX-based classes are now offered at gyms across the country.
Try this if: You want to learn a versatile workout to do anytime, anywhere.
Summary: Strength training and muscle sculpting done using the weight of your own body.
—
(c)2015, Clique Media Inc. All rights reserved. Distributed by Tribune Content Agency. Distributed by Tribune Content Agency, LLC.

Photo: USAG Livorno PAO via Flickr