Sexist Harassment Continues At Fox
@pamela_vogel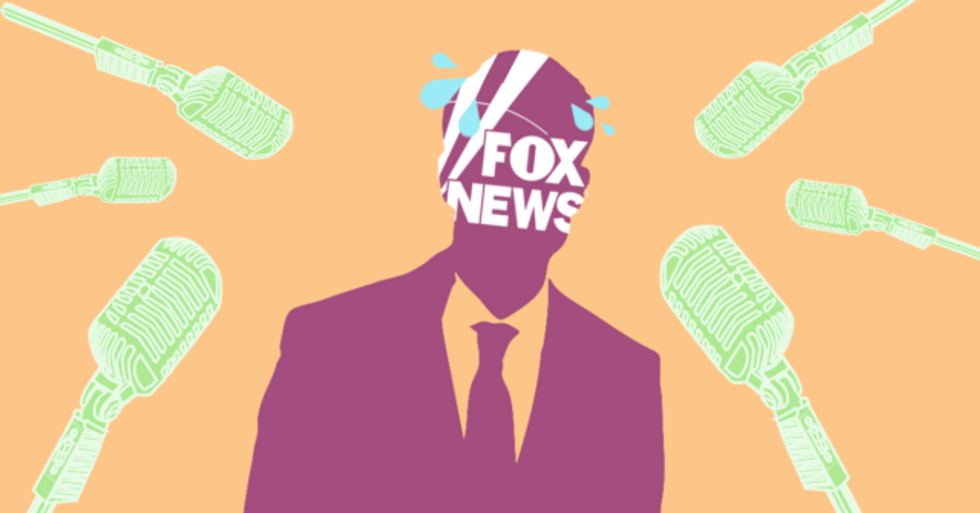 Reprinted with permission from MediaMatters.
Another day, another report of workplace sexual harassment perpetrated by a 21st Century Fox employee. Horrifyingly, this will probably keep happening — because Fox has proven time and again that it only takes measures to protect women when others are watching.
Fox Business host Charles Payne has been suspended from the network after a frequent Fox guest reported that Payne had coerced her into a years-long relationship "under threat of reprisals." The Los Angeles Times reported on July 6 that the Fox guest (whom the Times did not identify) reported sexual misconduct to Fox's law firm in June, stating that "she believed she was eventually blackballed from the network after she ended the affair in 2015 and tried to report Payne to top executives at Fox News." HuffPost reported that the woman who came forward is political analyst Scottie Nell Hughes, and that Hughes believes that not only did Payne retaliate against her for ending the relationship, but that then-Fox News and Fox Business co-President Bill Shine and the network itself were involved. (Payne is denying the report.)
Payne's suspension was announced one year to the day after former Fox News personality Gretchen Carlson filed a lawsuit against former Fox chief Roger Ailes, who died in May, for serial sexual harassment. At least 25 women came forward to report similar harassment by Ailes in the aftermath of the Carlson lawsuit, citing incidents that spanned decades. Carlson's lawsuit helped to expose a hostile work culture of silence and harassment at 21st Century Fox that has undoubtedly persisted since Ailes was forced out.
In the year since Ailes resigned, Fox fired former host Bill O'Reilly (and paid him tens of millions on the way out) after news broke that five women had reported him for sexual harassment. On the same day that O'Reilly's firing was announced, Fox News co-host Greg Gutfeld sexually harassed his fellow co-host Kimberly Guilfoyle on-air. Soon after, Ailes' "right-hand man" Bill Shine was fired from his top executive spot at Fox amid reports that he had attempted to silence and retaliate against women who came forward to report harassment at the network.
In March, former Fox News contributor Tamara Holder reached a legal settlement with 21st Century Fox after she reported sexual assault by Fox News Latino executive Francisco Cortes at company headquarters in 2015. The company subsequently fired Cortes. Just days ago, Fox Sports fired Jamie Horowitz, its head of sports programming, amid an investigation into sexual harassment reports.
The common thread in this series of high-profile firings is that they were exactly that — high-profile. Fox's response to a systematic, decades-long workplace culture problem that transcends time, a single perpetrator, a single survivor, or any sort of isolating detail, has been to do the absolute bare minimum to make immediate criticism go away.
21st Century Fox has proven that it only cares about its women employees when the public — or its bottom line — forces the issue. It will continue to treat each report of workplace harassment as a singular incident, offering a response that categorically hinges on the number of bad headlines, threats of advertiser boycotts, dollar amounts of lawsuits, or persistence of public outcry a story has garnered.
O'Reilly was fired amid an activist-driven advertiser boycott, as hundreds of sexual harassment survivors publicly asked Fox to do better. The network has fired Cortes and Horowitz and suspended Payne as it faces intense scrutiny from British regulators who are weighing whether to approve its bid to acquire the Sky PLC television company (and thus allow Fox to expand its toxic workplace culture).
Shine was replaced by two longtime Fox executives from the Ailes era, one of whom, Suzanne Scott, was reportedly also involved in silencing, ignoring, and retaliating against women who reported harassment at the network. And it took Fox nearly a year to fire Shine, even after former Fox News personality Andrea Tantaros named him in a sexual harassment lawsuit last August; it took more pressure from advertisers and the public before Fox would start to hold Shine accountable.
To add insult to injury, Fox's shallow attempt to address systemic culture issues in its office appears to have been a sham. After Carlson filed her lawsuit, Fox retained the law firm Paul, Weiss, Rifkind, Wharton & Garrison to lead an internal investigation into the claims. The agreement between Fox and the law firm allowed for both an investigation and for the firm to give "legal advice" to the company, leading some to doubt its true independence. And after the Carlson lawsuit was settled in September, Vanity Fair reported that the so-called investigation "never officially expanded to examine the broader culture of Fox News" but instead "simply got a revenue machine back on track."
Paul, Weiss was also the law firm Fox retained in April to investigate at least one report of sexual harassment against O'Reilly. And Paul, Weiss is where Hughes went last month with her account of Payne's misconduct — around the same time Fox renewed Payne's contract for multiple years. HuffPost reported the firm will lead another internal investigation into Hughes' report.
If past behavior is any indication, this investigation, too, will end with some public lip service until the news cycle passes, maybe a high-profile firing, and little concrete action to actually protect the women who work at Fox. Have executives and on-air personalities begun to treat women and people of color with more respect yet? The results are inconclusive.
Here's what is clear: Fox seems hellbent on only doing what is asked of them and nothing more. So don't stop asking.
Header image by Sarah Wasko / Media Matters