Sheriff Joe To Send Armed Posse To Guard Maricopa County Schools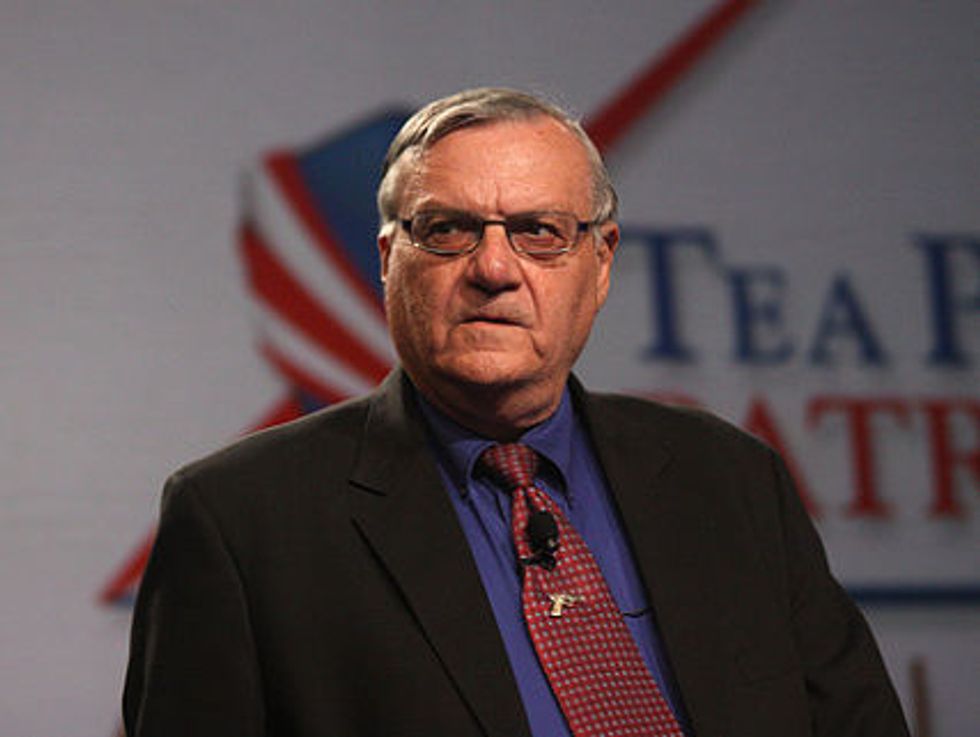 Maricopa County, AZ's notorious Sheriff Joe Arpaio announced Thursday that he will deploy an armed "posse" to guard about 50 local grade schools, middle schools, and high schools, following the NRA's controversial playbook for limiting gun violence.
"I have the authority to mobilize private citizens and fight crime in this county," Arpaio said.
"We're not talking about placing the posse in the schools right now but in the outlying — the perimeters of the school — to detect any criminal activity," he added.
Arpaio has long used his 3,000 member volunteer posse — which includes actors Steven Seagal, Lou Ferrigno, and Peter Lupus — to supplement his legally questionable law enforcement efforts.
By eschewing common-sense gun control efforts in favor of arming Steven Seagal and posting him outside of an elementary school, Sheriff Joe is bringing the NRA's philosophy that "the only thing that stops a bad guy with a gun is a good guy with a gun" to its ridiculous logical conclusion.
"I support arming cops in the schools," Arpaio said. "If you have a cop that's armed you don't need a teacher that's armed."
Of course, there's little reason for students and teachers to feel safer with Sheriff Joe and his posse around; after all, Arpaio and his deputies have been repeatedly criticized for committing serious misconduct during the sheriff's 20-year tenure. Among other controversies, Arpaio has been accused of human rights violations — a federal judge has twice ruled that Maricopa County jails violate inmates' Constitutional rights in medical care issues, and Arpaio has referred to one particularly harsh jail as a "concentration camp" — for failing to investigate more than 400 sex crimes between 2004 and 2007, and for creating a "reign of terror" by abusing his authority to investigate political opponents.
Additionally, the U.S. Department of Justice is currently suing Arpaio for displaying "a pattern of unlawful discrimination" against Latinos, and it was recently revealed that last year he proudly accepted a "law and order" award from white supremacist group The Sons of Confederate Veterans.
Photo by Gage Skidmore via Flickr.com