Shootings Sharpen Debate On U.S. Electronic Surveillance Powers
@reuters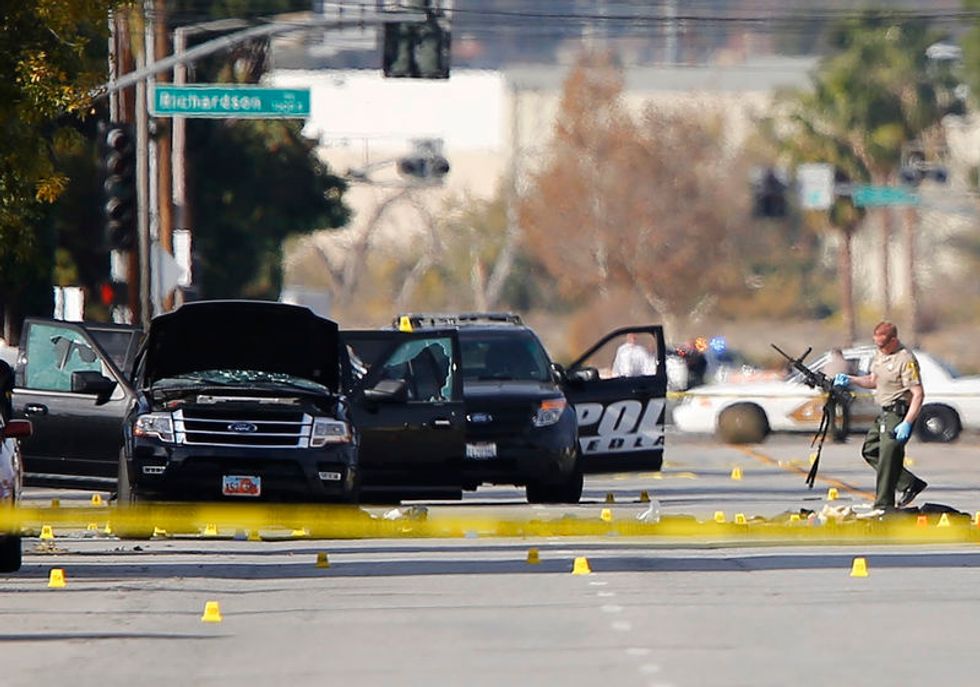 By Dustin Volz
NEW YORK (Reuters) – The San Bernardino shootings are reviving a debate about Washington's digital surveillance effort to find and capture violent extremists, with the recent shutdown of a U.S. cellphone spying program coming under renewed criticism.
The debate is long-running and pits a huge and powerful national security apparatus against privacy and civil rights activists, who prevailed recently on the National Security Agency's (NSA) bulk collection of cellphone metadata.
Just days before the shooting deaths of 14 people at an office party in California by a husband and wife with radical Islamist views but no extensive online profile, NSA bulk metadata collection was halted, replaced by a narrower program.
With Democratic President Barack Obama set to address the nation about counterterrorism on Sunday evening, some Republicans were saying the bulk metadata program's shutdown diminished national security.
Obama has "weakened our ability to gather intelligence against potential adversaries," Republican presidential candidate Senator Marco Rubio said on Sunday on CNN.
On Web content more generally, Republican Representative Michael McCaul, chairman of the House of Representatives Homeland Security Committee, said on Fox News Sunday that the volume of material to be monitored is massive.
"You just can't stop it all when you have 200,000 ISIS tweets per day on the Internet coming into the United States to kill. … The volume is so high and the chatter is so high that it's almost impossible to stop it all."
Some lawmakers were expected to revive controversial legislation that would require social media sites such as Facebook and Twitter to inform the government about posts that are deemed to promote "terrorist activity." (http://reut.rs/1IJM8kV).
There have also been calls to weaken phone encryption to make it easier for the government to listen in. This idea has met fierce opposition from technology companies and privacy advocates, who warn weaker encryption would expose data to malicious hackers and undermine the Internet's integrity.
Rubio said in his CNN remarks that the government now cannot access cellphone records more than two years old.
Supporters of the USA Freedom Act, which was approved six months ago and forced the NSA to adopt a more targeted phone spying program, dispute Rubio's interpretation of it.
The new law, a result mainly of the Edward Snowden disclosures, was backed by senior members of the intelligence community, and replaced a system that two independent review boards appointed by Obama concluded was ineffective.
(Additional reporting by Richard Cowan in Washington; Editing by Kevin Drawbaugh and Jonathan Oatis)
A police officer picks up a weapon from the scene of the investigation around the area of the SUV vehicle where two suspects were shot by police following a mass shooting in San Bernardino, California December 3, 2015. REUTERS/Mike Blake