Will Sidney 'The Kraken' Powell Cop A Federal Plea Too? Stay Tuned
@LucianKTruscott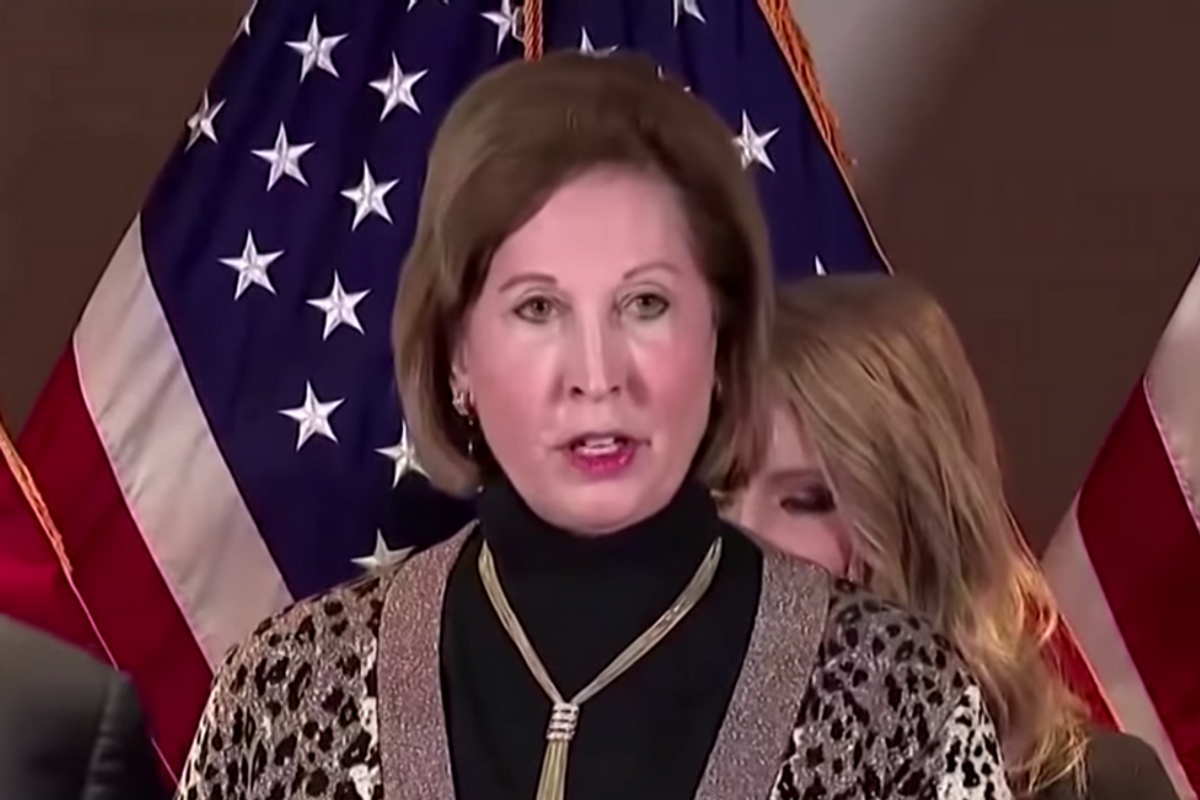 Sidney Powell
Sidney Powell has entered into a plea deal in Georgia to save her ass from the trial that scheduled to begin on Friday. One place where that deal is not being celebrated is Bedminster, Mar a Lago, Trump Tower, or whatever overdecorated dump Donald Trump will lay his toilet-paper enshrouded coif tonight. (See footnote below.)
Here is just a taste of one of Sidney Powell's headaches from the Special Counsel's indictment of Trump that was filed just two and a half months ago in federal court in Washington D.C. This section is headlined simply, "Georgia."
"On November 16, 2020, on the Defendant's behalf, his executive assistant sent Co-Conspirator 3 and others a document containing bullet points critical of a certain voting machine company [Dominion Voting Systems], writing, 'See attached — Please include as is, or almost as is, in lawsuit.' Co-Conspirator 3 responded nine minutes later, writing, 'IT MUST GO IN ALL SUITS IN GA AND PA IMMEDIATELY WITH A FRAUD CLAIM THAT REQUIRES THE ENTIRE ELECTION TO BE SET ASIDE [All CAPS from Sidney Powell] in those states and machines impounded for non-partisan professional inspection.' On November 25, Co-Conspirator 3 filed a lawsuit against the Governor of Georgia falsely alleging 'massive election fraud' accomplished through the voting machine company's election software and hardware.
"Before the lawsuit was even filed, the Defendant retweeted a post promoting it. The Defendant did this despite the fact that when he had discussed Co-Conspirator 3's far-fetched public claims regarding the voting machine company in private with advisors, the Defendant had conceded that they were unsupported and that Co-Conspirator 3 sounded 'crazy.' Co-Conspirator 3's Georgia lawsuit was dismissed on December 7."
"Crazy" Co-Conspirator 3 is, of course, Sidney Powell. The Defendant is, of course, Donald Trump.
Powell was also there for the unhinged December 18, 2020, meeting in the Oval Office with Donald Trump, Rudy Giuliani, Michael Flynn, and Patrick M. Byrne, former CEO of Overstock.com, who was involved in raising money for Powell and Flynn's insane campaign to overturn the results of the 2020 election. During the meeting, Powell and Flynn pitched a plan to use the United States Army to seize voting machines and voting data around the country, similar to the way Powell did in Coffee County, Georgia, and use the information from the machines to somehow force a new election that would be run by the military.
It is known that Special Counsel Smith has taken a special interest in the December 18 Oval Office meeting. Multiple people present at the meeting, including Giuliani, White House Counsel Pat Cippolone, and Deputy Counsel Eric Herschmann, were questioned by the D.C. grand jury at length about what proposals were made at the December 18 meeting, including those made by Sidney Powell.
The overheated meeting that went on past midnight and ended up in the White House private quarters also shows up in the Fulton County indictment of Trump, Giuliani, and Powell as Act 90 in the conspiracy: "On or about the 18th day of December 2020, DONALD JOHN TRUMP met with RUDOLPH WILLIAM LOUIS GIULIANI, SIDNEY KATHERINE POWELL, unindicted co-conspirator Individual 20, whose identity is known to the Grand Jury, and others at the White House. The individuals present at the meeting discussed certain strategies and theories intended to influence the outcome of the November 3, 2020, presidential election, including seizing voting equipment and appointing SIDNEY KATHERINE POWELL as special counsel with broad authority to investigate allegations of voter fraud in Georgia and elsewhere. This was an overt act in furtherance of the conspiracy."
The Kraken has a lot of testifying to do. She will be called to testify against the other co-defendants involved in stealing election data and equipment in Coffee County, Georgia. She will be called to testify about the December 18 Oval Office meeting cited as an act in the RICO Georgia indictment of Trump, Giuliani, and others.
Additionally, given her guilty plea in Georgia, Special Counsel Smith could now decide to indict her as Co-Conspirator 3 along with Donald Trump, who the Special Counsel already indicted in Washington on charges of conspiring to obstruct an official proceeding, conspiring to defraud the United States, and conspiring against the right to vote and have the vote counted as spelled out in the Constitution. These are all crimes that carry sentences in federal prison of five to ten years. Powell could be indicted for conspiring to violate the same federal laws as Trump is charged with violating. An indictment might entice her to cop a plea and agree to testify against Trump in federal court, as she has already agreed to testify against him in state court in Georgia.
Like so many others indicted for committing crimes in furtherance of changing the election results for Trump, Sidney Powell found that she had stepped off a cliff. In Georgia, prosecutors for Fani Willis were waiting at the cliff bottom to catch her with the plea deal she just signed. Prosecutors for the special counsel could provide the same set of arms to catch her falling off a federal cliff in Washington, D.C.
Powell is said to be impoverished from the legal fees she has already paid to her lawyers to defend her against the Georgia indictment, as well as what she still has to pay to defend herself in the defamation cases that have been brought against her by Dominion Voting Systems and Smartmatic.
Stay tuned for The Further Adventures of The Kraken as she makes her way through the state court system in Georgia and the federal courts in Washington D.C. Her testimony against her fellow co-conspirators promises to be quite a spectacle.
Footnote: For those unfamiliar with the practice of preserving hairdo's, there was once a time in America when girls and women wrapped their Aqua Net -sprayed coifs with toilet paper before they went to bed. The next morning, the unwrapped do's needed only a touch-up and a light coat of Aqua Net to look brand new.
Lucian K. Truscott IV, a graduate of West Point, has had a 50-year career as a journalist, novelist, and screenwriter. He has covered Watergate, the Stonewall riots, and wars in Lebanon, Iraq, and Afghanistan. He is also the author of five bestselling novels. You can subscribe to his daily columns at luciantruscott.substack.com and follow him on Twitter @LucianKTruscott and on Facebook at Lucian K. Truscott IV.
Please consider subscribing to Lucian Truscott Newsletter, from which this is reprinted with permission.