Six Baltimore Police Officers Face Criminal Charges In Freddie Gray's Death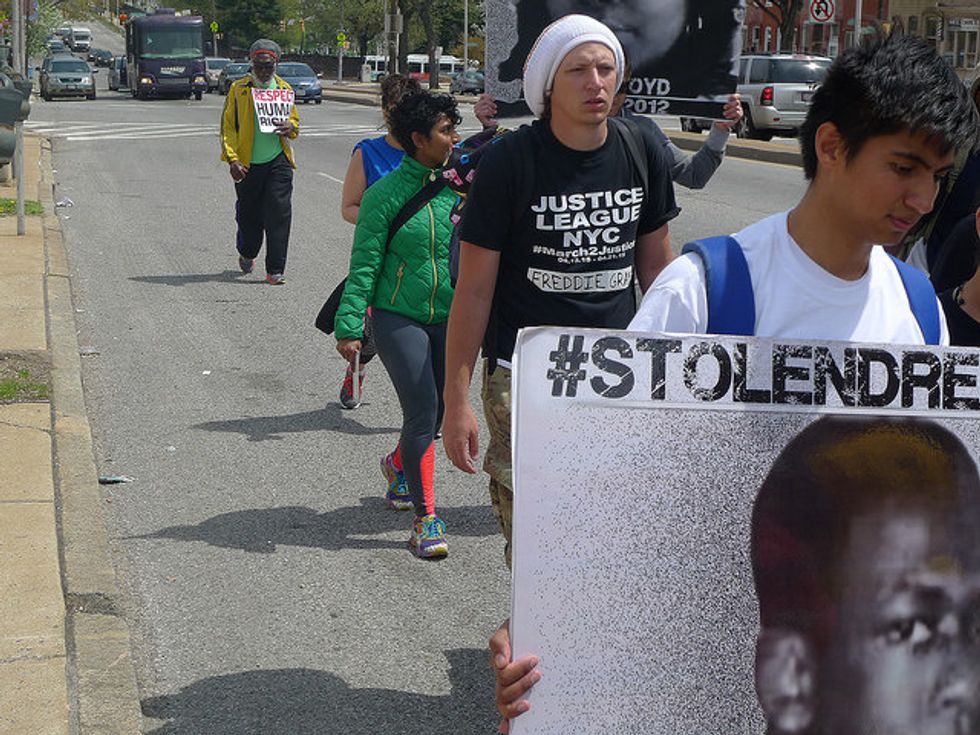 By Timothy M. Phelps and Michael Muskal, Los Angeles Times (TNS)
BALTIMORE — All six Baltimore police officers involved in the arrest and transport of Freddie Gray, who was fatally injured while in police custody, will face serious criminal charges ranging from second-degree murder to assault, Baltimore State's Attorney Marilyn J. Mosby said on Friday.
At a news conference, Mosby announced that Gray's death was officially ruled a homicide and that the investigation by city police and her office had found probable cause to charge all six officers.
Arrest warrants have been issued for the officers, she said.
Mosby also spoke directly to the protesters who have marched in riot-scarred Baltimore and around the nation.
"I heard your call for no justice, no peace," Mosby said, "but your peace is sincerely needed as I work to bring justice for Freddie Gray."
Gray died on April 19, a week after he was arrested by Baltimore police. Gray, hands cuffed behind him, was placed in a police van to be taken to the precinct where he was expected to be charged with illegally possessing a knife, according to charging papers released by police weeks ago.
On Friday Mosby said the initial arrest lacked probable cause. The knife was not a switchblade and was legal under Maryland law.
Mosby also detailed how Gray was transported in a police van that stopped four times.
Gray was not secured in a seat belt during the trip and was repeatedly refused medical care, she said.
Mosby's announcement came more than two weeks after Gray's death, which roiled the city and touched off demonstrations that escalated in violence. Rioting, fires and looting erupted in west Baltimore Monday night after Gray's funeral and hundreds were arrested.
Officials regained control by imposing a 10 p.m. to 5 a.m. curfew and sending in thousands of National Guard troops and police officers from municipalities throughout the region.
Protesters and community leaders have demanded to know what happened to Gray during the 45 minutes from when he was taken into custody on April 12 to when he arrived at the police precinct and how his spine was severed.
"Mr. Gray's death was a homicide," Mosby declared, after formally receiving a police investigation on Thursday that supplemented her office's work throughout the crisis. The final autopsy report on Gray's death was delivered to the prosecutor Friday morning.
Gray's arrest was illegal and the way he was treated by officers led to the charges of murder and manslaughter, Mosby said.
The most serious charge was second-degree "depraved heart" murder lodged against the driver of the van.
Three other officers face charges of involuntary manslaughter and two were charged with assault.
The top charge carries a penalty of 30 years in prison if convicted. Conviction on the manslaughter charges carries a penalty of up to 10 years in prison.
"No one is above the law," Mosby said at a news conference.
(c)2015 Los Angeles Times, Distributed by Tribune Content Agency, LLC.
Photo via