All Six Victims In Isla Vista Slayings Were UC Santa Barbara Students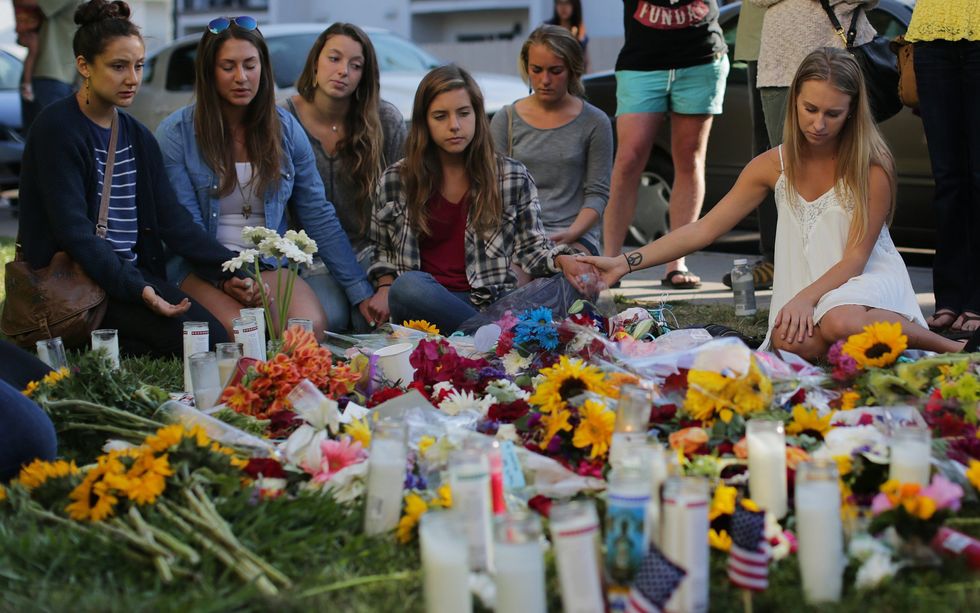 By Laura J. Nelson, Scott Gold, Adolfo Flores and Kate Mather, Los Angeles Times
ISLA VISTA, Calif. — Santa Barbara County Sheriff's Department officials Sunday identified the first three victims of the Isla Vista rampage, each found fatally stabbed Friday night inside an apartment not far from the University of California, Santa Barbara, campus.
Now, all the attacker's victims have been identified, and they were all UCSB students.
The latest names to be released — Cheng Yuan Hong, 20, of San Jose; George Chen, 19, of San Jose; and Weihan Wang, 20, of Fremont — were stabbed multiple times in unit No. 7 of a two-story, charcoal gray building on Seville Road. Authorities say 22-year-old Elliot Rodger attacked them before going on a rampage through Isla Vista, killing three more people before taking his own life.
Hong and Chen were Rodger's roommates. It's unclear whether Wang also was a roommate or was just visiting, officials said in a release. Finding their bodies inside the apartment was "a horrific crime scene," Sheriff Bill Brown said.
Hidden in Rodger's bedroom were three guns purchased legally from licensed dealers in Goleta, Oxnard and Burbank, authorities said. They said Rodger used the guns and his black BMW to wreak havoc across a square mile of the quiet college town — running down cyclists and skateboarders, shooting through shop windows and exchanging fire with officers.
At 9:30 p.m. Friday, Rodger got in his car and drove to UCSB's Alpha Phi sorority house, where he banged aggressively on the door for more than a minute, officials said.
The events of the evening were unfolding just as Rodger had described in a 137-page diatribe and in multiple online videos, vowing to kill people quietly at his home, then go to a sorority house to "slaughter" women.
"Fortunately, no one opened the door" at the sorority house, Brown said. But before leaving, Rodger shot three women on the front lawn. UCSB students Katherine Cooper and Veronika Weiss died. A third survived multiple gunshot wounds.
According to authorities, Rodger then steered his BMW through the streets of Isla Vista, an unincorporated community on the coast of Santa Barbara County, driving by a nearby deli and fatally shooting 20-year-old student Christopher Martinez.
Rodger eventually ran into the back of a Jeep and came to a halt, the right wheel well of his BMW on fire, the driver's door thrown open. Authorities found him dead inside the car.
At least one of Rodger's roommates had encountered issues with him before: In January, Rodger accused Hong of stealing three candles, valued at $22, said Joyce Dudley, Santa Barbara County district attorney.
When Hong said he didn't know where the candles were, Rodger performed a citizen's arrest and called 911. Sheriff's deputies found the candles on Hong's bed. He was arrested and charged with a petty theft infraction.
Hong was a computer science student who grew up in Taipei, according to his Facebook page. He graduated in 2012 from Lynbrook High School in San Jose.
Photo: Gina Ferazzi/Los Angeles Times/MCT