Slayings Of 3 In North Carolina Arouse Muslim Fears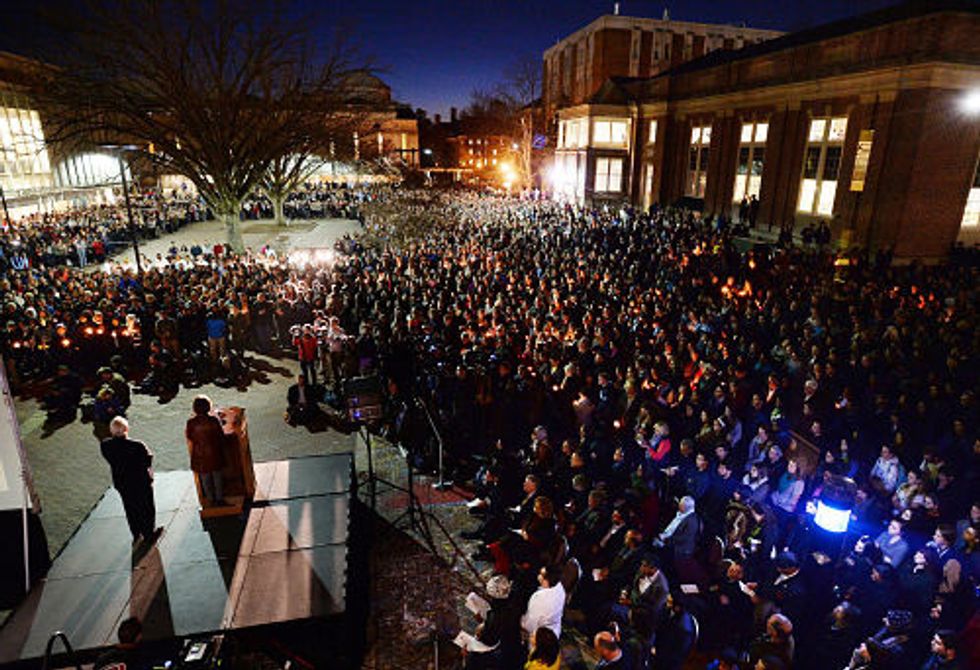 By David Zucchino, Los Angeles Times (TNS)
CHAPEL HILL, N.C. — They were young newlyweds — Deah Shaddy Barakat, 23, a dental student at the University of North Carolina, and his wife, Yusor Mohammad, 21, soon to enter the same dental program.
He sent dental kits to Syrian refugees and helped the homeless. She was an honor student. He was Syrian-American and she was Palestinian-American. Both were U.S.-born.
And they had complained to their families about an angry, aggressive upstairs neighbor well-known to residents for confronting neighbors about parking spots and noise.
Late Tuesday afternoon, the couple and Mohammad's 19-year-old sister, Razan Mohammad Abu-Salha, were shot and killed inside their apartment in a leafy neighborhood two miles from campus. Authorities charged their upstairs neighbor, Craig Stephen Hicks, 46, with three counts of first-degree murder in what they said was an ongoing dispute over a parking space. The shooting will also be investigated to determine whether religious hatred played a role because of the victims' Muslim faith.
Barakat's sister, Suzanne Barakat, spoke Wednesday of "execution-style murders" and demanded that authorities "investigate these senseless and heinous murders as a hate crime." National Muslim activist groups also called for a hate-crime investigation as photos of the three victims — with the two women wearing head scarves — went viral worldwide on social media under the hashtag #muslimlivesmatter.
News of the shooting caused revulsion across Europe and the Middle East, where it energized long-standing fears among Muslims that the violent loss of Muslim lives would not get the same attention by the mainstream media as killings of white or Christian people. "U won't see this on the news because it's about a Muslim," one user tweeted overnight, in a sentiment that was retweeted more than 1,400 times and widely shared across other social media.
Chapel Hill Police Chief Chris Blue pledged in a statement that investigators would "exhaust every lead to determine" whether the killings were motivated by hatred.
"It is a question of what we find — motive, facts — things that need to be confirmed and will be part of the decision-making process," said Durham County District Attorney Roger Echols, who will consider the possibility of hate-crime charges.
Lt. Joshua Mecimore said a preliminary investigation indicated "that the crime was motivated by an ongoing neighbor dispute over parking."
When Namee Barakat, father of Deah Shaddy Barakat, was asked whether his son and the two women were killed because they were Muslim, he said, "Very possibly."
"This is more than just about parking," Barakat said. "Three people get shot in the head. The death penalty would not be enough."
Hicks made his first court appearance Wednesday morning and was ordered held without bail after a five-minute hearing. A probable-cause hearing was set for March 4.
Hicks nodded when asked whether he understood the charges. Echols said no decision had been made on whether to seek the death penalty.
Hicks was described by neighbors as an angry, hulking figure who exploded in rage over parking spaces and noise in a neighborhood where parking is at a premium in the evenings.
"He was very disgruntled, very aggressive. He would scream at people," said Samantha Maness, 25, a technical college student who lives across a small parking lot from the building where Hicks and two of the three slain students lived.
"He made everyone feel uncomfortable and unsafe," Maness said Wednesday.
Maness said she never heard Hicks refer to anyone's religion or race. "He had equal-opportunity anger toward all the residents," she said.
Karen Hicks, the suspect's wife of seven years, denied that he had acted out of hatred.
"I can say that it is my absolute belief that this incident had nothing to do with religion or the victims' faith, but in fact was related to long-standing parking disputes my husband had with various neighbors regardless of their race, religion or creed," she said.
A Facebook profile bearing Craig Hicks' name and photo paints a portrait of a vehement atheist who shared anti-Muslim and anti-Christian posts and links.
"I have every right to insult a religion that goes out of its way to insult, to judge, and to condemn me as an inadequate human being — which your religion does with self-righteous gusto," it says under the "religious views" portion of the profile, not indicating whether it's talking about a particular faith.
A banner photo on the Facebook page promotes "anti-theism" and says, "I don't deny you your right to believe whatever you'd like; but I have the right to point out it's ignorant and dangerous for as long as your baseless superstitions keep killing people."
Suzanne Barakat said her family "wept tears of joy" when her brother and sister-in-law, an honors architecture student at North Carolina State University, were married Dec. 27.
"Today," she said, "we are crying tears of unimaginable pain. … We are in a state of shock and will never be able to make sense of this horrendous tragedy."
___
(Times staff writers Michael Muskal and Matt Pearce contributed to this report from Los Angeles.)
Photo: UNC-Chapel Hill Chancellor Carol Folt speaks to hundreds of mourners gathered in on the UNC campus in Chapel Hill, N.C., Wednesday, Feb. 11, 2015. A vigil service for Deah Barakat; his wife, Yusor Mohammad Abu-Salha; and her sister Razan Abu-Shala was held after the three were killed in a triple homicide on Tuesday. (Chuck Liddy/The News & Observer/TNS)