Smaller Than Ever: Trump Bans Democrats From First State Dinner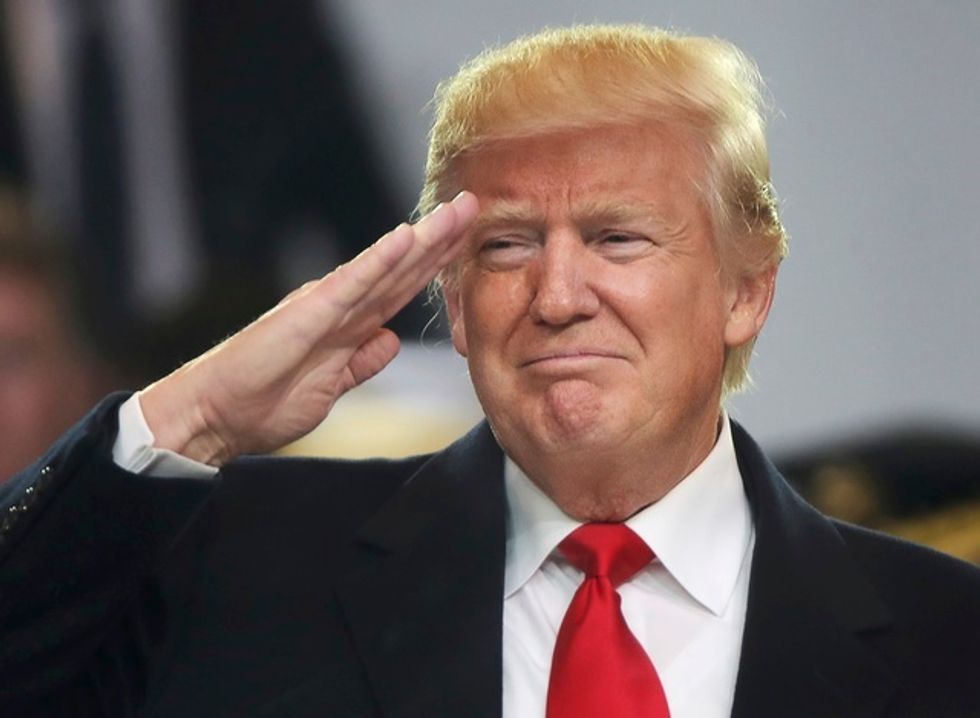 Reprinted with permission from Shareblue.com
In a troublingly familiar move, Trump has banned congressional Democrats from attending his first state dinner. It's a petulant rebuke of American tradition.
On Tuesday, Trump will host French President Emmanuel Macron at the White House. But unlike his two immediate predecessors, he hasn't invited any congressional members of the Democratic Party to attend, including leaders like Rep. Nancy Pelosi or Sen. Chuck Schumer. He has also excluded members of the media.
Lea Berman, social secretary under George W. Bush, told Politico, "It is a break with tradition." Jeremy Bernard, President Barack Obama's social secretary added, "It certainly doesn't add any feeling of harmony" to completely exclude an entire party.
When President Obama hosted France's Francois Hollande in 2014, he invited several Republican members of Congress, including then-House Majority Leader Eric Cantor.
Trump's state dinner will also be considerably smaller than those of his predecessors. The guest list has only about 150 people on it. President Obama entertained over 350 people at his events.
This is just the latest in a long line of embarrassments highlighting Trump's historic unpopularity and his pariah-like status.
He has never had the support of a majority of people in opinion polling. And of course, his inauguration had far lower attendance than President Obama's.
Trump skipped throwing out the first pitch for the Washington Nationals. He also ducked out of hosting the Kennedy Center Honors, fearing boos from the public at both events.
Even when he visited territory that should be friendly ground, he has felt a backlash. When he attended the NCAA's college football national championship game in Atlanta, fans booed him.
Normal presidents don't have to avoid the Kennedy Center Honors or throwing out the first pitch. They certainly don't have trouble attracting state dinner guests — reality TV stars crashed Obama's first, it was such a hot ticket — nor do they exclude the opposing party from attending.
Most normal presidents aren't consistently and widely disliked, nor do they openly embrace racismand sexism. And they aren't under federal investigation for potential collusion with a hostile foreign power to attack our democracy.
But Trump is not normal. And he seems to care less and less about even trying to appear otherwise.