The Smart Brother? Why Jeb Bush Can't Escape Dubya's Dubious Legacy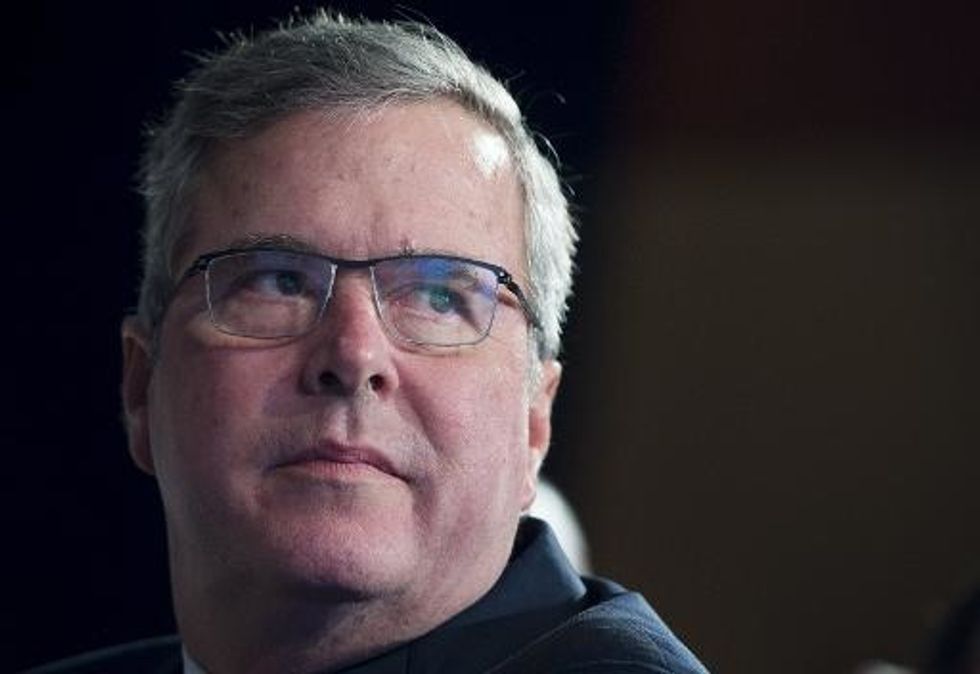 Being singled out as "the smart brother" in an American political and financial dynasty like the Bush family must be a heavy load. But Jeb Bush went far to dispel that burdensome description with his debut address on foreign policy. With its mélange of mispronunciations, mistakes, and casually ignorant utterances, Bush's speech before the Chicago Council on Global Affairs instantly reminded listeners of the not-so-smart brother — the one who already became the second Bush president.
Such moments of recognition and remembrance are not auspicious for brother Jeb, whose burgeoning presidential ambition depends on persuading voters that he is emphatically not his brother George W. – or as he put it in an ad-libbed line: "I am my own man." But his Chicago outing offered little to reassure Americans wary of the ruinous foreign policy record of the Bush-Cheney administration (an electoral subset that includes almost everyone).
Let's start with the funny parts: Hoping presumably to move briskly past a certain disastrous trillion-dollar war, Jeb allowed that "mistakes were made in Iraq, for sure," a remark so vague that even his brother, who once used a similar dodge in discussing torture at Abu Ghraib, would have to agree. Striving to demonstrate his familiarity with the new terror threats encircling the globe, he mentioned the Nigerian Islamist militants who call themselves "Boko Haram," except he called them something that sounded a lot like "Beaucoup Haram." Speaking of ISIS, the Syrian terrorist movement, he referred to Abu Bakr al-Baghdadi as "the guy that's the supreme leader or whatever his new title is — head of the caliphate." Overstating the military manpower of ISIS by a factor of 10, he said the group has 200,000 men under arms, when U.S. intelligence estimates no more than 20,000. (Before his spokesperson corrected that gaffe, it sounded as if he meant to instill fear with a mythical intelligence estimate – yet another déjà vu moment.)
At another point, he confused Iraq with Iran, a mistake anybody can make – and in this instance, a metaphor for his brother's failed war, which vastly increased Iranian political, economic and military influence over Iraq.
What Bush failed to provide were specific policy ideas, sticking instead with platitudes about "strength" and "leadership." Explaining how he would deal with ISIS, the former Florida governor kept it very simple: "We have to develop a strategy, that's global, that takes them out. First, the strategy, you know, needs to be restrain them, tighten the noose, and then taking them out is the strategy." Not much there for the Pentagon or the State Department, but at least he didn't call it "strategery."
The problem facing Jeb Bush is that to prove he is his own man in full, he must somehow erase many of his own previous positions and remarks.
Appearing on CNN in 2010, Jeb said of Dubya, "I have never disagreed with him…till death do us part." Speaking about Iraq three years later, he claimed, "The war has wound down now and it's still way too early to judge what successes it had in providing some degree of stability in the region" (a statement that can only provoke bitter laughter today). "During incredibly challenging times, he kept us safe," he said in praise of Dubya at the 2012 Republican convention, as if 9/11 and that fateful Presidential Daily Briefing had never happened.
There are other clues to his policy predilections. For his entire career, Jeb has blindly advocated the Cuba sanctions policy that we have finally abandoned after 50 years of failure. That advocacy included a disgraceful episode in which he sought clemency from his presidential father for a bloody anti-Castro terrorist pursued by the U.S. Justice Department.
In keeping with that same foolishness was his early backing of the Project for the New American Century, or PNAC, pulled together in 1997 by William Kristol, the Washington pundit best known for being wrong about everything – in particular the costs, difficulties, and results of invading Iraq. As the chief publicist for that war, Kristol told us it would be easy, cheap, and hugely successful. Dubya believed him and evidently so did Jeb.
That is an old story — but the putative Republican frontrunner recently released a list of his foreign policy advisors, which bizarrely features Paul Wolfowitz, Dubya's deputy defense secretary and another PNAC enthusiast. Jeb's campaign is proudly displaying the same old gang of advisors who turned the last Republican administration into wreckage.
Maybe Jeb really is the smart brother. So far, however, he shows no sign of being smart enough to avoid that other brother's devastating mistakes.
Photo: Former Florida Governor Jeb Bush looks on prior to speaking at the 2014 National Summit on Education Reform in Washington, DC, November 20, 2014 (AFP Photo/Saul Loeb)