SNL Brings Out Superstars To Spoof Democrats' LGBT Town Hall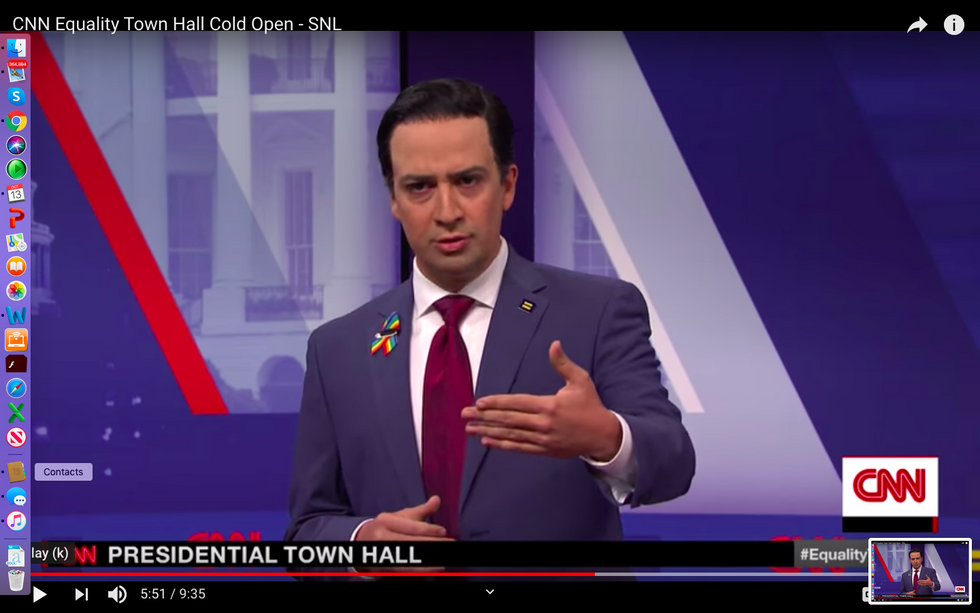 No Trump this week but still: Sparked by the wild spirit of Billy Porter, Saturday Night Live's version of the Democratic presidential candidates' LGBT town hall is amusing and even charming.
Playing himself as the emcee, alongside Alex  Moffat as CNN anchor Anderson Cooper, Porter introduces a cavalcade of talent satirizing the Democrats, featuring guests Lin-Manuel Miranda as a hilariously ingratiating Julian Castro and Woody Harrelson as Joe Biden, who replies to an audience question with a meandering "false memory" and a kiss for Moffat.
SNL cast members reprise roles they've played before, including Chris Redd as Cory Booker and Colin Jost as Pete Buttigieg, and they're all funny but it's impossible to outshine Kate McKinnon's explosive Elizabeth Warren, who springs onto the stage and never stops bouncing: "I had some apple slices backstage, and they are hitting me like cocaine!"
Click and laugh. SNL will resume the Trumpsters' true crime show next week.