'Snowmaggedon' Takes Aim At Winter-Weary U.S. East
@AFP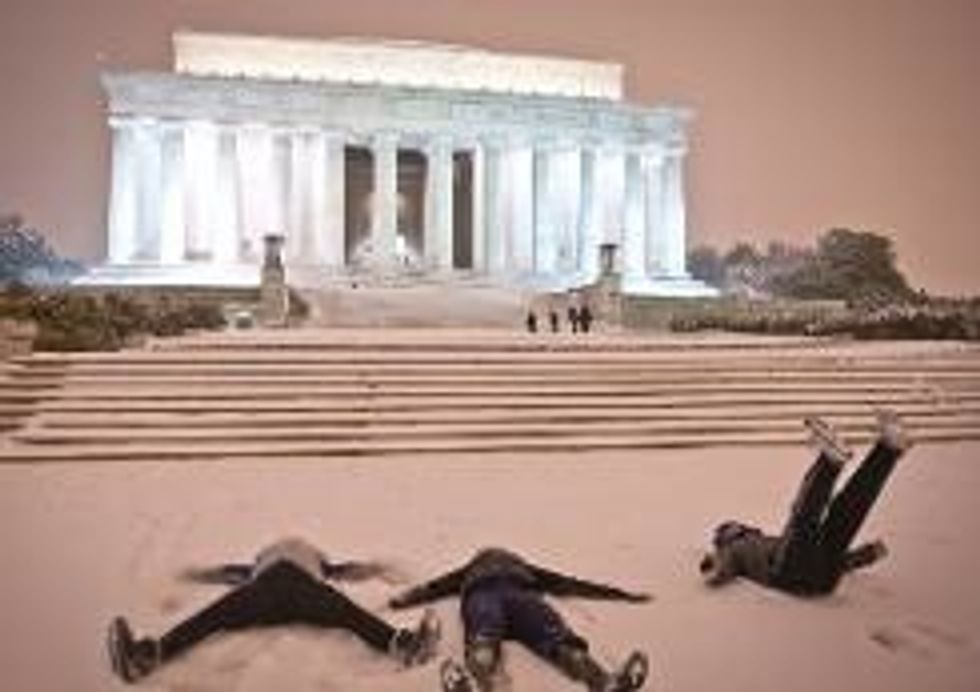 Washington (AFP) – A major storm blowing in heavy snow and ice gripped large swaths of the winter-weary United States early on Thursday, leaving a dozen people dead and knocking out power to hundreds of thousands of homes.
Thousands of travelers were stranded as flights, including at major air hubs in Atlanta and New York, were cancelled, and nearly 800,000 homes and businesses lost power, mainly in Georgia and North and South Carolina.
The latest brutal freeze to hammer the eastern states of the country since the start of the year has been dubbed "snowmaggedon," "mind-boggling" and "historic" by major television networks and forecasters.
CNN put the overall death toll at at least 10. CBS News said that at least 11 deaths had been blamed on the ferocious conditions.
"A strengthening area of low pressure will move up the east coast on Thursday bringing with it significant winter weather from the southeast to New England (in the northeast)," said the National Weather Service, which had warned of a "mammoth dome" of Arctic air.
The massive storm — which had an estimated 100 million people in its path in 20 states — hit Wednesday and by Thursday the National Weather Service had warnings in effect in numerous states, advising people to stay off the "dangerous" roads.
Earlier, President Barack Obama had declared states of emergency in Georgia and South Carolina in order to deploy federal resources to help deal with the frigid storm.
Drivers defied repeated warnings not to travel, and accidents and abandoned cars caused massive traffic jams in North Carolina, with the usually temperate cities of Raleigh and Charlotte transformed into ice- and snow-covered parking lots.
North Carolina Governor Pat McCrory urged residents to stay indoors — even if meant sleeping at work — rather than risk the treacherous roads.
"If you're in a safe warm place, stay in a safe warm place," McCrory told CNN.

"We've already had two fatalities and we don't want to see more."
– Flights badly hit –
Speciality website FlightAware said airlines canceled at least 3,700 flights on Wednesday and had already shelved 4,500 for Thursday, including many flights to and from New York, Atlanta, Philadelphia and Washington.
The U.S. capital's downtown was a virtual ghost town as snow blew in late on Wednesday night, with temperatures hovering around 26 degrees Fahrenheit (minus 3 C) but the bracing winds making it feel more like 15 degrees, forecasters said.
The Federal Emergency Management Agency said it was in contact with state emergency offices in densely populated Pennsylvania, Maryland and Virginia to assess their assistance needs as the storm builds.
In addition to the FEMA aid, various localities across the region had readied emergency shelters at churches and recreation centers where residents could stay warm should they lose power.
The severe weather has also been playing havoc with U.S. businesses and governments' bottom line.
Payrolls firm ADP said last week that the wintry onslaught has taken a toll on job growth.
Oil prices, by contrast, have been propelled higher by the extra-cold weather and succession of winter storms.
State and local governments are scrambling to cover the cost of clearing the snow, especially as road salt prices skyrocket amid shortages.
Farmers and rural residents are also facing high prices and shortages of the propane used to heat their homes and barns.
AFP Photo/Mladen Antonov