Soiled By Blatant Partisan Bias, Barrett Must Recuse — But Will She?
@julietulbert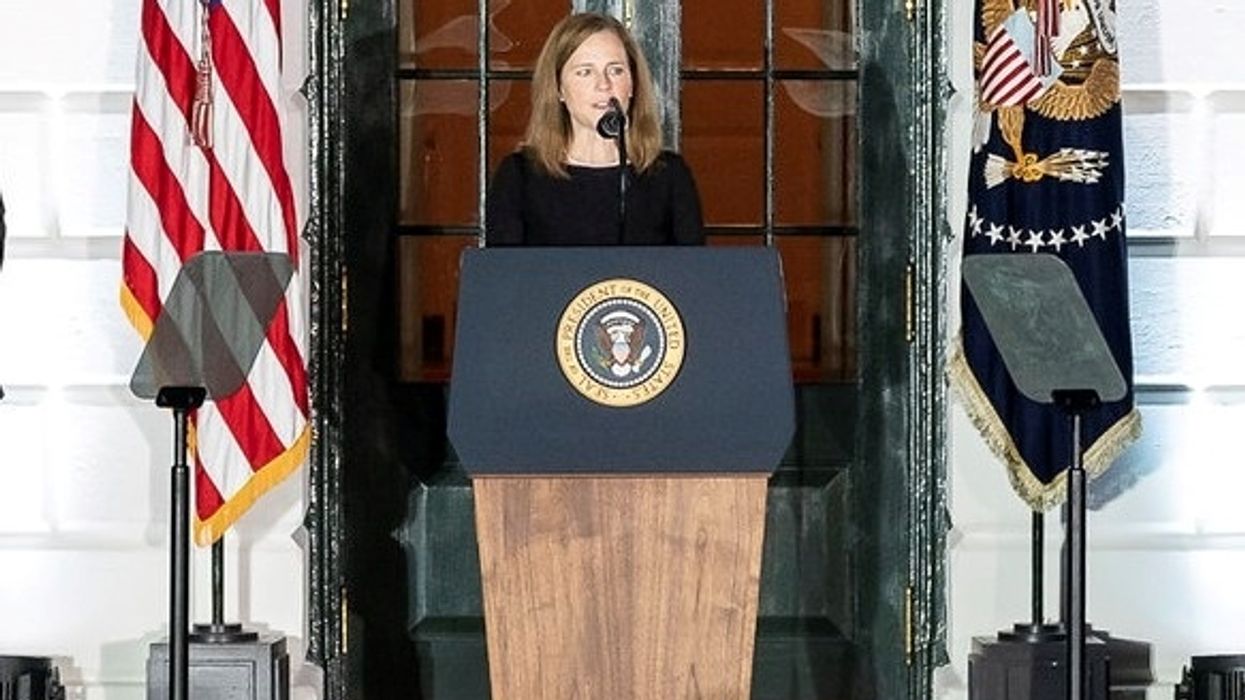 Official White House Photo by Joyce N. Boghosian
Reprinted with permission from MediaMatters
As Justice Amy Coney Barrett begins her tenure on the Supreme Court, right-wing media have argued that Barrett does not need to recuse herself from cases concerning President Donald Trump, the election, the Affordable Care Act, and Roe v. Wade. However, this narrative ignores the reality that Trump promised a Supreme Court justice who will vote for him and his interests in these cases. Given Trump's unprecedented actions toward the independence of the court, Barrett has a duty to recuse herself to avoid the indisputable perception of bias.
---
On October 26, the Senate confirmed Barrett to the Supreme Court, ushering in a far-right ideological lurch to the court and the decisions it will impart for generations. During her confirmation hearing, Barrett refused to say whether she would recuse herself from cases involving the upcoming election -- despite the fact that Trump himself has indicated that her seat needed to be filled quickly because he thinks the election "will end up in the Supreme Court, and I think it's very important that we have nine Justices" because "having a 4-4 situation is not a good situation." Trump got his wish in Barrett, who appeared at the White House for an event celebrating her confirmation which the Trump team essentially turned into an election ad.
As Slate's Dahlia Lithwick wrote before the confirmation, the president pushed the illegitimate process through before the election "because Trump needs her to weigh in on any election-related controversy on his behalf." Other legal experts agree that Barrett needs to recuse herself from any election-related cases given even the perception of bias that Trump's own words and actions impart. Pennsylvania has already filed a motion for her recusal in an election-related case that has been petitioned to the Supreme Court, citing Caperton v. A.T. Massey Coal Co., where the court stated:
Just as no man is allowed to be a judge in his own cause, similar fears of bias can arise when — without the other parties' consent — a man chooses the judge in his own cause.
The perception of bias extends to other cases that Trump has demanded the new justice rule in his interest -- most notably the ACA and Roe. In addition to Barrett's own criticism of the ACA and Roe, Trump promised before his election in 2016: "If I win the presidency, my judicial appointments will do the right thing unlike Bush's appointee John Roberts on ObamaCare." On Roe, Trump has repeatedly claimed that he would appoint justices to overturn the decision, telling Fox News' Chris Wallace at one point that "if we put another two or perhaps three justices on" the court, the overturning of Roe "will happen automatically in my opinion."
The question of whether Barrett will get an opportunity to rule on these decisions is not hypothetical. Oral arguments in California v. Texas -- a case that the Trump administration has telegraphed should result in the complete dismantling of the ACA -- are set for November 10. The Supreme Court will also consider "a case that directly challenges Roe v. Wade and has the potential to reverse the landmark 1973 decision" on October 30 -- a mere four days into Barrett's tenure. The case would determine the constitutionality of Mississippi's 15-week abortion ban, which is currently unconstitutional under Roe. But Trump's court would likely uphold this law, which will lead to a cascade of states passing earlier and complete bans without the Roe protections in place.
Right-wing media, however, have ignored all of this context and lied that Barrett has no reason to recuse herself from these cases. Outlets like The Wall Street Journal and The Washington Examiner have pushed editorials claiming Barrett "would be shirking her duty if she did recuse" and arguing that "the case for recusal rests solely on the hope of helping Joe Biden. It is purely political." The Federalist's Erielle Davidson dismissed the suggestion of recusal writing, "It seems Democrats are determined to rely on the same worn playbook of appealing to 'norms' that do not exist." National Review's Dan McLaughlin similarly dismissed the obvious need for recusal because "we all know Trump says things, and the Supreme Court tends to ignore them."
On Fox News, law professor Jonathan Turley said that calls for Barrett's recusal were "bloody ridiculous" and "utterly absurd," adding that "there is no basis why she should recuse herself from voting on these pending cases or on election cases." In an argument sure to appeal to Trump, Fox contributor Andrew McCarthy made the case for refusing recusal by pointing to the "mistake" former Attorney General Jeff Sessions made in recusing himself from the Russian election interference investigation.
Right-wing media are intentionally ignoring Trump's unprecedented attack on the integrity of the court by bragging that he would select a Supreme Court justice who would rule in his favor come Election Day and beyond. In reality, Barrett does have a duty to recuse herself, but hopefully she will not cave to the president and his right-wing media allies instead.