South Carolina Politicians Defend Compromise Over Confederate Flag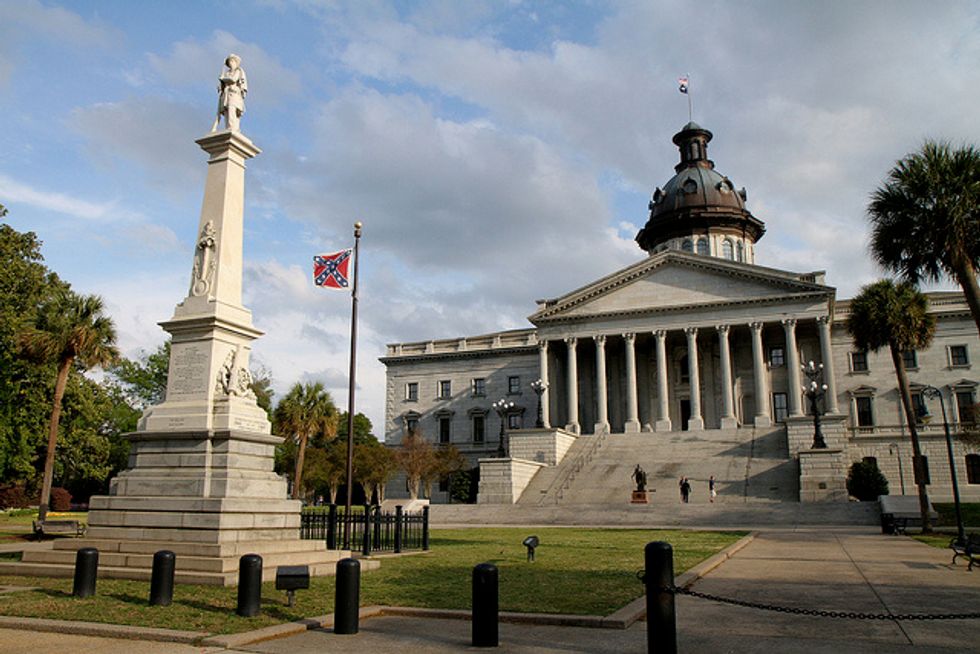 By Ben Brody, Bloomberg News (TNS)
As officials across South Carolina decried the massacre of nine people in a historic black church as a hate crime, some of the state's politicians defended a delicate status quo over flying the Confederate flag in the state capital.
U.S. Representative Mark Sanford, a Charleston Republican and former governor, said re-examining a 2000 compromise that allows the Confederate flag to fly not on the state house in Columbia but on a nearby memorial could be divisive.
"That's opening up Pandora's box," Sanford said Friday on MSNBC's Morning Joe. "With any political compromise, you do not have perfection. Both sides end up a little bit unhappy."
Calls to take down the flag, which is widely seen as a symbol of white supremacy and racism, arose again after the shooting. The suspect, Dylann Roof, drove a car with the flag on his license plate and wore symbols of white supremacy on his clothing.
Officials in Columbia lowered the U.S. flag and state flag over the capital Thursday, but the memorial's Confederate flag remained at the top of its staff.
Sen. Lindsey Graham, a South Carolina Republican who is running for president, said it might be time to "revisit" the compromise, but said the state should "move forward in a balanced way" and insisted the response to the shooting should focus only on Roof.
"We're not going to give this guy an excuse about a book he might have read, or a movie he watched or a song he listened to, or a symbol out anywhere," Graham said Friday on CNN. "It's him. It's not the book, it's not the movie, it's not the flag."
A spokesman for Republican Gov. Nikki Haley told ABC News that "the governor does not have legal authority to alter the flag" in the memorial and that doing so would require an act of the legislature.
The Washington Post reported that, in 2011, a Haley spokesman had called the compromise "a sensitive subject in a way that South Carolina as a whole could accept" and said she didn't plan to address it.
Sanford and others said that many wanted to take down the flag, which supporters say symbolizes states rights.
"But I if was to talk to other folks, you know, they'd say, 'Wait a minute my great-great-grandfather died in the battle of Bull Run, and for me, it's a symbol of either states rights or of the loss that was felt within our family,'" he said. "It's a very, very complex issue within our state."
(Elizabeth Wasserman contributed reporting.)
(c)2015 Bloomberg News. Distributed by Tribune Content Agency, LLC.
Photo: Jason Eppnink via Flickr