South Korea Seeks Arrest Warrant For Ferry Captain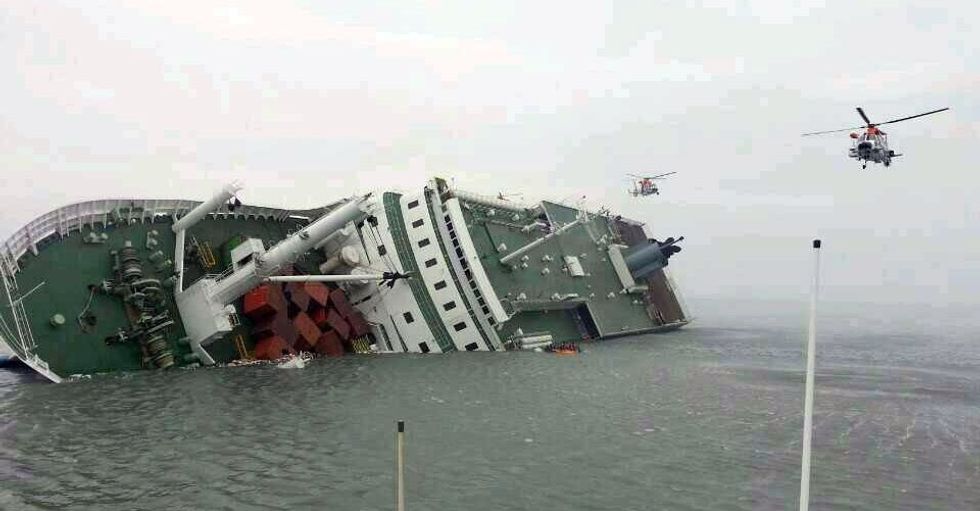 By Dirk Godder, McClatchy Tribune News Service
SEOUL, South Korea — South Korean state prosecutors are seeking an arrest warrant for captain Lee Jun Seok as investigators look into the actions of the crew of the ferry that capsized and sank off the country's southwest.
The 69-year-old Lee is accused of breaches of the seaman's code in actions that include turning over the wheel of the ship to a 26-year-old third mate.
Lee is also under investigation for being one of the first to leave while there were passengers still in danger.
Survivors state that passengers were told by loudspeaker not to move even as the ship was already beginning to capsize. According to experts, precious time was lost through the late evacuation of the ship.
Meanwhile, rescuers intensified the search for the 268 passengers, mostly schoolchildren, still missing two days after the accident.
A total of 28 were confirmed dead by Friday afternoon, and 179 rescued, Yonhap News Agency said.
"It seems like bodies have begun to spill out of the sunken ship due to current shifts," Yonhap quoted an official as saying.
All bodies recovered were found in the sea near the Sewol ferry, not retrieved from the wreck.
Rescue ships and cranes were moved into place as the hull finally disappeared beneath the waves around noon local time, the report said.
Divers accessed the inside of the submerged ship for the first time, battling strong currents and water as cold as 54 degrees Fahrenheit, Yonhap said. Underwater visibility was as low as 8 inches, according to China's Xinhua news agency.
Rescuers were also pumping oxygen into the boat to help potential survivors breathe, and restore some of its buoyancy, Yonhap quoted coast guard officials as saying.
Cranes were preparing to either lift the boat, currently lying in about 100 feet of water, or move it to weaker currents where it would be easier to access.
"We are reviewing the options very carefully, as the salvage operations may hurt survivors trapped inside," a coast guard officer was quoted as saying.
The Sewol sank on Wednesday while traveling from Incheon near the capital Seoul to the southern resort island of Jeju.
Investigators were reportedly looking into the possibility that the ship's cargo shifted, causing the capsize. The ship carried vehicles and shipping containers in addition to passengers.
Police and prosecutors have raided the offices of Chonghaejin Marine Co., which owns the ship, for information.
There were 475 passengers and crew on the vessel, including 325 students and 15 teachers from Danwon High School in Anson, near Seoul.
The school's 52-year-old vice principal was found hanged from a tree in an apparent suicide on the nearby island of Jindo after being rescued from the ship, Yonhap said, giving his name only as Kang.
U.S. President Barack Obama expressed his "deepest condolences to the Republic of Korea and the families of all those who have seen their loved ones lost" in the ferry sinking.
Yao Qilin/Xinhua/Zuma Press/MCT