Spain Public Debt Hits Record High In Second Quarter
@AFP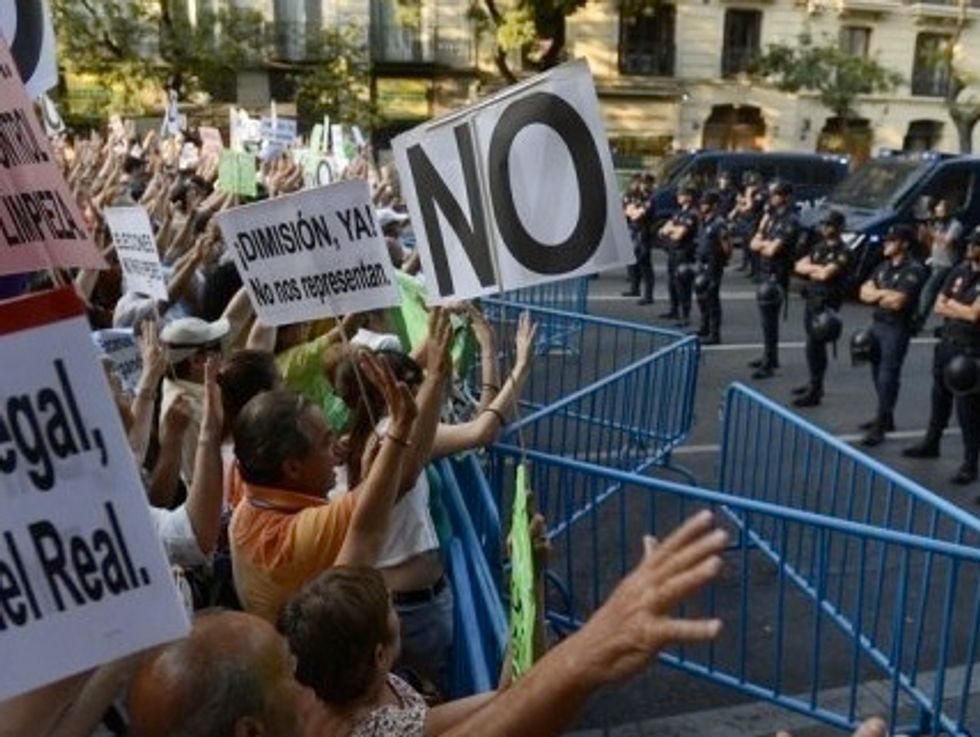 MADRID (AFP) – Spain's accumulated public debt soared to a record high at the end of June, the Bank of Spain said Friday, shattering government targets despite a relentless austerity squeeze.
Spain, which boasts the eurozone's fourth largest economy, had racked up an unprecedented public debt of 942.8 billion euros ($1.3 trillion) by mid year, the bank said.
The figure was equal to 92.2 percent of the nation's total annual economic output — up 14.7 percentage points from the same period last year.
With just half of the year gone, Spain had already missed its target of limiting the public debt to 91.4 percent of gross domestic product in 2013, the figures showed.
Prime Minister Mariano Rajoy's conservative government is battling to rein in the soaring public debt by curbing spending.
The ensuing budget cuts have sparked angry street protests as Spaniards endure a two-year recession which pushed the unemployment rate to 26.26 percent in the second quarter of this year.
High unemployment leads to lower tax income and bigger social security bills for the state, making it even harder to plug the hole in Spain's public accounts.
Rajoy's Popular Party government says it is determined to pursue austerity measures to help the country save 150 billion euros ($195 billion) between 2012 and 2014.
It aims to curb the annual public deficit from 7.0 percent of economic output last year to 6.5 percent in 2013, on the way to finally bringing it below the European Union-agreed ceiling of 3.0 percent by 2016.
The Bank of Spain also revised up the first-quarter figures to show the public debt amounted to 90.1 percent of gross domestic product rather than 88.2 percent, in line with recent downward revisions of Spain's economic growth.
Photo Credit: AFP/Pierre-Philippe Marcou