Boehner: 'Democrats Are Probably Fundraising Off Of Benghazi Just Like We Are'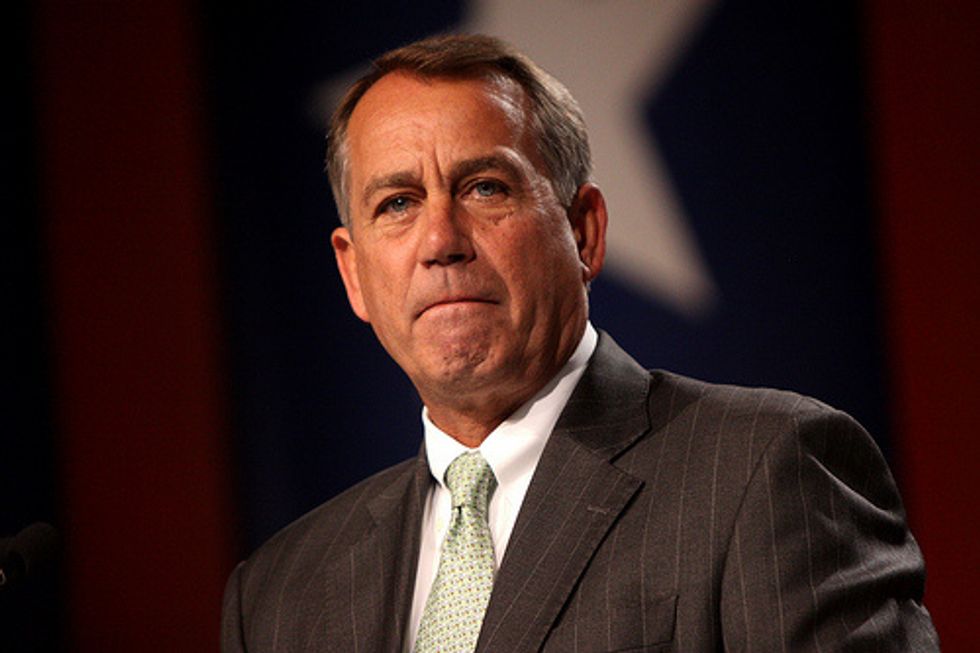 During a Monday appearance at a San Antonio Chamber of Commerce event, House Speaker John Boehner (R-OH) both conceded that Republicans are indeed using their ongoing Benghazi investigations to raise funds, and also claimed that Democrats are probably doing the same thing.
When Boehner was asked about a National Republican Congressional Committee email asking for donations between $25 and $500 to join GOP efforts to serve as a "Benghazi Watchdog," the Speaker replied by saying he is "involved in [the] investigation…not in what goes on in the campaign committee."
"All I know is that we're trying to get to the truth here," Boehner said, as quoted by Politico. "And I've got to believe that the Democrats are probably fundraising off of Benghazi just like we are."
The Democratic Congressional Campaign Committee has fervently denied Boehner's claims. DCCC spokesman Josh Schwerin told The National Memo:

Unlike the NRCC, we are not fundraising off this terrible tragedy. Speaker Boehner should show some leadership and tell his campaign committee to stop exploiting this tragedy for political gain. While Boehner may not be able to control his caucus, nobody believes that he couldn't stop the NRCC from fundraising off Benghazi if he really wanted to.
Although Boehner claims that he has nothing to do with the fundraising arm of the Republican Party, there is considerable evidence to the contrary. On Tuesday, Sam Stein, a White House correspondent and political editor for The Huffington Post, tweeted an email from the NRCC sent under John Boehner's name. The email requests donations of "$100, $50, or even $25" to help "combat liberal attacks."
Despite Select Committee Chairman Rep. Trey Gowdy's (R-SC) request that lawmakers refrain from raising money from the Benghazi investigation, many Republicans have pushed ahead with their fundraising attempts. The NRCC wasted no time in rolling out its "Benghazi Watchdog" campaign, with the homepage proclaiming, "no one will get away from Gowdy and the Select Committee." Another fundraising page is titled "Benghazi Was A Cover Up: Demand Answers."
According to Politico, Senator Ted Cruz (R-TX) sent an email in January soliciting donations and claiming that Obama "failed to mention Benghazi, the IRS, or the NSA." Rep. Scott Rigell's (R-VA) campaign requested donations to "help keep him in Congress and hold the Administration accountable," asking, "Why didn't the military respond to the events in Benghazi Were there even military assets in the region available? If not, why not? Who made the decision not to send support? House Republicans are committed to finding out the truth about Benghazi." Arizona House Speaker Andy Tobin (R-Paulden) accused Obama in an email of "covering up vital information about what happened that night" and also asked for donations to his campaign.
Other Republicans have pushed back, however. Former RNC Chairman Michael Steele told MSNBC last week, "I think Congressman Gowdy is absolutely correct…There should not be this opportunistic fundraising gorging that tends to happen around these types of things." Similarly, former Republican congressman and current MSNBC host Joe Scarborough called the fundraising "disgusting," and Rep. Jeb Hensarling, (R-TX) — who may challenge Boehner for the Speaker's gavel following the midterm elections — deemed the NRCC's solicitation emails "not appropriate."
Gage Skidmore via Flickr