How To Spot A Paranoid Libertarian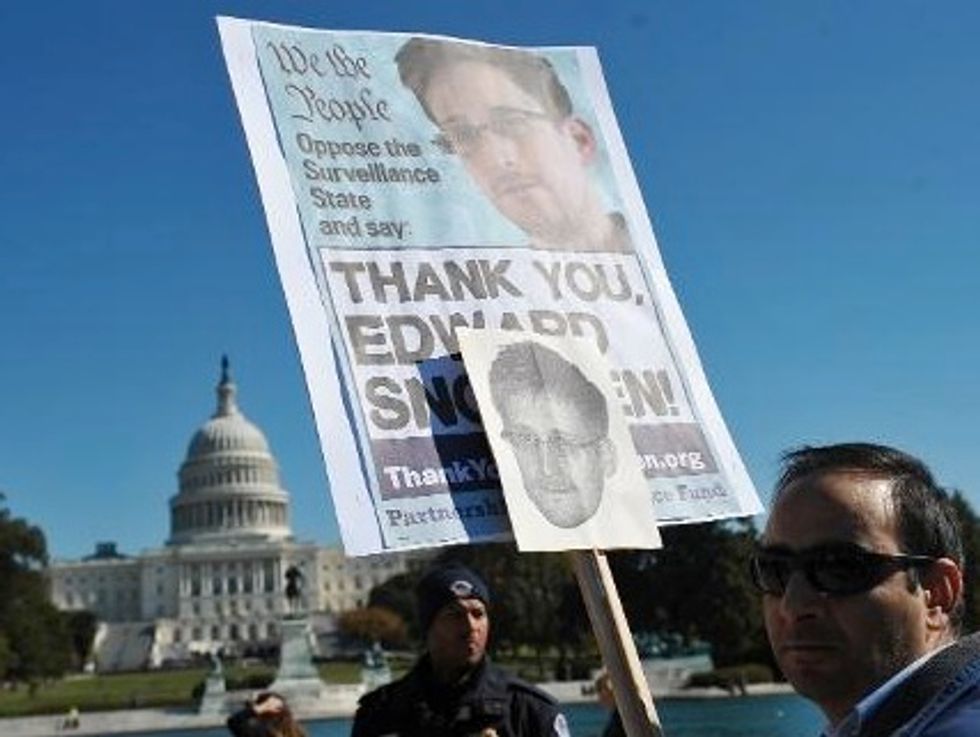 Jan. 30 (Bloomberg) — In a recent essay in the New Republic, Princeton University historian Sean Wilentz contends that Edward Snowden, Glenn Greenwald and Julian Assange reflect a political impulse he calls "paranoid libertarianism." Wilentz claims that far from being "truth-telling comrades intent on protecting the state and the Constitution from authoritarian malefactors," they "despise the modern liberal state, and they want to wound it."
Wilentz gives credit to Richard Hofstadter for the term "paranoid libertarianism," but he is being generous. Although Hofstadter wrote an influential essay called "The Paranoid Style in American Politics," he didn't call special attention to its libertarian manifestation. Wilentz has performed an important public service in doing exactly that.
Most of Wilentz's essay focuses on Snowden, Greenwald and Assange, and he offers a lot of details in an effort to support his conclusions about each of them. But let's put the particular individuals to one side. Although Wilentz doesn't say much about paranoid libertarianism as such, the general category is worth some investigation.
It can be found on the political right, in familiar objections to gun control, progressive taxation, environmental protection and health care reform. It can also be found on the left, in familiar objections to religious displays at public institutions and to efforts to reduce the risk of terrorism. Whether on the right or the left, paranoid libertarianism (which should of course be distinguished from libertarianism as such) is marked by five defining characteristics.
The first is a wildly exaggerated sense of risks — a belief that if government is engaging in certain action (such as surveillance or gun control), it will inevitably use its authority so as to jeopardize civil liberties and perhaps democracy itself. In practice, of course, the risk might be real. But paranoid libertarians are convinced of its reality whether or not they have good reason for their conviction.
The second characteristic is a presumption of bad faith on the part of government officials — a belief that their motivations must be distrusted. If, for example, officials at a state university sponsor a Christian prayer at a graduation ceremony, the problem is that they don't believe in religious liberty at all (and thus seek to eliminate it). If officials are seeking to impose new restrictions on those who seek to purchase guns, the "real" reason is that they seek to ban gun ownership (and thus to disarm the citizenry).
The third characteristic is a sense of past, present or future victimization. Paranoid libertarians tend to believe that as individuals or as members of specified groups, they are being targeted by the government, or will be targeted imminently, or will be targeted as soon as officials have the opportunity to target them. Any evidence of victimization, however speculative or remote, is taken as vindication, and is sometimes even welcome. (Of course, some people, such as Snowden, are being targeted, because they appear to have committed crimes.)
The fourth characteristic is an indifference to tradeoffs — a belief that liberty, as paranoid libertarians understand it, is the overriding if not the only value, and that it is unreasonable and weak to see relevant considerations on both sides. Wilentz emphasizes what he regards as the national- security benefits of some forms of surveillance; paranoid libertarians tend to see such arguments as a sham. Similarly, paranoid libertarians tend to dismiss the benefits of other measures that they despise, including gun control and environmental regulation.
The fifth and final characteristic is passionate enthusiasm for slippery-slope arguments. The fear is that if government is allowed to take an apparently modest step today, it will take far less modest steps tomorrow, and on the next day, freedom itself will be in terrible trouble. Modest and apparently reasonable steps must be resisted as if they were the incarnation of tyranny itself.
In some times and places, the threats are real, and paranoid libertarians turn out to be right. As Joseph Heller wrote in Catch-22, "Just because you're paranoid doesn't mean they aren't after you."
Societies can benefit a lot from paranoid libertarians. Even if their apocalyptic warnings are wildly overstated, they might draw attention to genuine risks, or at least improve public discussion. But as a general rule, paranoia isn't a good foundation for public policy, even if it operates in freedom's name.
(Cass R. Sunstein, the Robert Walmsley University professor at Harvard Law School, is a Bloomberg View columnist. He is a former administrator of the White House Office of Information and Regulatory Affairs, the co-author of Nudge and author of Conspiracy Theories and Other Dangerous Ideas, forthcoming in March.)
AFP Photo/Mandel Ngan